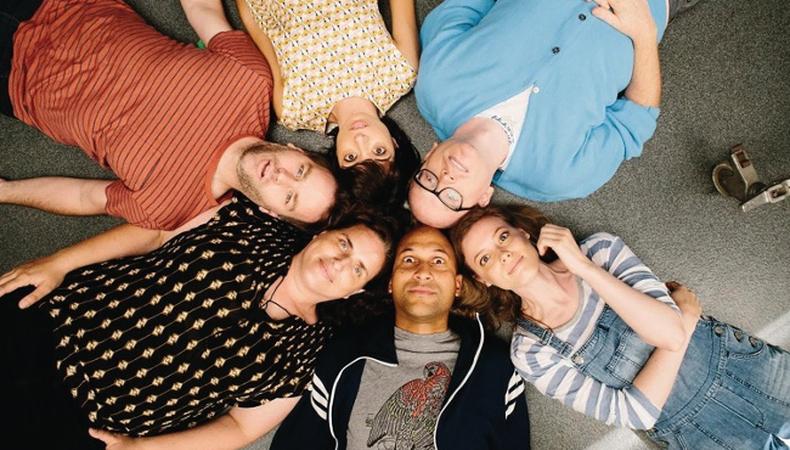 It's that time of year again when filmmakers and stars alike descend upon New York City for the Tribeca Film Festival. Running April 13–24, this year's slate features new films from some TFF alumni, more innovative content from new filmmakers and creators, and exciting performances from some of our favorite actors as well as new faces. But these eight performers are switching up their roles and taking on directing duties, too. From Katie Holmes to Danny DeVito, check out what the 15th annual TFF will bring.
"Dean"
Dubbed a "coming-of-adult-age story," writer-director Demetri Martin plays the title role in this quirky comedy about an artist losing his grip on the elements that enabled his somewhat immature approach to life. After his childhood home is sold and he leaves a long-term relationship, he must come to terms with his own stagnation on a trip to Los Angeles. "Dean" also stars Gillian Jacobs, Mary Steenburgen, and Kevin Kline.
"Women Who Kill"
Known best for her Web series "F to 7th," Ingrid Jungermann is back with a feature-length comedy about a couple (Jungermann and Ann Carr) who host a successful true crime podcast. The film follows them as they spiral into a cycle of paranoia and fear after meeting a mysterious woman (Sheila Vand, "A Girl Walks Home Alone at Night"). "Women Who Kill" is competing in the U.S. Narrative section.
"Madly"
This series of six short films presented as one explores love and all its permutations across the world, including Argentina, the U.K., the U.S., Japan, India, and Australia. "Afterbirth," about a mother's struggle with postpartum depression, and "Love of My Life," about how a couple's fluctuating relationship is affected by a pregnancy, are directed by Mia Wasikowska and Gael García Bernal, respectively. Other helmers include Sebastian Silva, Anurag Kashyap, Sion Sono, and Natasha Khan.
"All We Had"
Katie Holmes is doing double duty starring in her feature film directorial debut opposite Stefania Owen, Luke Wilson, Judy Greer, and others. Based on the 2014 novel of the same name, this film follows a mother (Holmes) and daughter (Owen) as they try to keep some semblance of stability in the face of the Great Recession.
"Don't Think Twice"
This film is jam-packed with big-name comedians including Keegan-Michael Key, Gillian Jacobs, Tami Sagher, Chris Gethard, Kate Micucci, and writer-director-star Mike Birbiglia. Following up his directorial debut "Sleepwalk With Me," Birbiglia has gathered regulars from the improv world for a film about feeling like a failure after your friends find success, and the serious side of the comedy business.
"The Family Fang"
Jason Bateman directs and stars opposite Nicole Kidman, Christopher Walken, and Maryann Plunkett in this drama centered on a dysfunctional family of artists who frequently stage elaborate scenes of trickery in the name of art. But when the parents (Walken and Plunkett) go missing, their children must determine if something has gone wrong or if this is just another prank.
"Curmudgeons"
Featured in the narrative shorts section, this foul-mouthed comedy stars David Margulies opposite director Danny DeVito as two elderly men who form a bond that shocks their families.
"Parents"
Directed by notable Danish actor Christian Tafdrup, this film follows a middle-aged Danish couple trying to rediscover the love of their youth after their children move out. A touch of surrealism and classic deadpan Nordic humor make this film a gem about family, identity, and growing old.
Visit tribecafilm.com/festival for the full 2016 slate.
Inspired by this post? Check out our film audition listings!