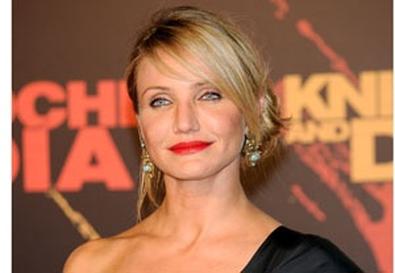 Fern Champion on Cameron Diaz
We were working at New Line, casting 1994's "The Mask." The story that everybody knows now is that Anna Nicole Smith was the first choice because the men at New Line thought she was stunning. Didn't say she could walk and talk, but she was stunning. We needed someone to talk. The good news is Anna Nicole opted to do "Naked Gun 33 1/3." Oh, too bad. So Fern's back to the drawing board. I'm at my wit's end, because we had gone through all the top models and all the top actors, and nobody was pleasing New Line co-CEO Bob Shaye, executive producer Mike De Luca, and director and executive producer Chuck Russell.
I called my girlfriend at the talent agency upstairs at the New Line building, and I said, "Is there anybody we haven't seen?" She said, "I have to tell you something: There's one gal; she hasn't done any acting. She was just here this morning. She's got a great sense of humor. She's a real gal's gal. Maybe you should meet her." Not a problem, because I don't have a lead. To say something stupid like "The rest is history," she walked in, and she's a broad. She said, "I have no idea what I'm doing here, but it sounds like fun. Maybe I can get a small part." And I read her.
First of all, she has a laugh that can launch ships. I mean, her giggle is better than any female's I've ever met. I just liked her. And to me that's so important for the character. She had to be gorgeous, we know that, for the men. But this kind of character, the women had to like. So I said, "Okay." And it went on and on, because between Chuck Russell and the men, well, "Who is she?" and "She doesn't have big breasts" and "Would she do implants?" And Cameron, basically, when they did get to her, said, "Here's the deal: You can give me any pushup bra you want. But I am who I am; they are who they are." And she never did a thing to them, and it worked out fine.
I said, "Okay, Cameron, here's what we're going to do. We're going to put you in dance lessons, and I'm going to put you in some acting classes. Because while they're deciding it's not you, let's just get you ready when they realize it is you." And she was totally game. So for, I would say, about three weeks, Chuck Russell dismissed her. And then after about three weeks, he said, "What about that girl?" So it wasn't an instant love. There was something to her that Chuck picked up on. He said, "Bring her in again." She'd been in training; she'd been doing her stuff; she'd been doing her homework. She came back in and wowed him. So everything that I had done with her, everything she did for herself, paid off. It was only a couple of weeks. But she wanted to do this. "The Mask" was not a difficult piece. It was a cartoon. This was fun. She was having a good time with it. You realize that's the kind of young lady she was, and that's the kind of woman she still is. She loves what she does. She enjoys who she is. And there's no bullshit to her. To this day, she's accessible, she's lovely, she's earned while she's learned.
I think Cameron is one of the best at comedy. Don't get me wrong: If you see "Vanilla Sky" and you see "Being John Malkovich," she can go deep. So this was not just a flash. And regardless of me saying, "I discovered her," she did it on her own. She dug deep; she went for it. And Chuck Russell said, "I'll put my house up for her," because they said, "We need a name." He said, "This is the deal; this is who I want." Mike De Luca jumped on board and said, "I think she's great."
My son Spencer—who's now 22—when he was 13 he invited her to be his date at his bar mitzvah. And she was. And she wouldn't dance with anybody but him. And last summer, when she got the star on Hollywood Boulevard and I was invited and she gave me such great accolades about why she's here and who I am, she invited Spencer. Still loves this little boy Spencer: "Well, he invited me; I'm inviting him." This lady is all good. There's no B.S. to her. She works hard and she plays hard and enjoys everything she does. I believe in our industry you have love what you do; otherwise it's just no fun.
Fern Champion started in New York casting for such directors as Sidney Lumet, John Badham, Alan Pakula, and Herbert Ross. She relocated to Los Angeles when she was asked to cast "Sgt. Pepper's Lonely Hearts Club Band." A love of comedy led her to cast the "Naked Gun" and "Police Academy" movies, as well as films featuring Carol Burnett, Gilda Radner, Rodney Dangerfield, Dan Aykroyd, and Cheech and Chong. She cast Billy Wilder's final film, "Buddy, Buddy," with Walter Matthau and Jack Lemmon. She ventured into the action/horror genre with several "Friday the 13th" movies, "Pet Sematary," and "Mortal Kombat." During the 1990s, her work shifted to television, for which she cast "Beverly Hills 90210," "Highlander," and "Babylon 5." Besides Cameron Diaz, Champion also helped launch the acting careers of Mickey Rourke, Danny Glover, Kim Cattrall, Kelly Preston, and Sharon Stone, who Champion cast in the miniseries "War and Remembrance."
Heidi Levitt on Hiep Thi Le
I am incredibly proud of the work I did with Risa Bramon Garcia and Billy Hopkins on the Oliver Stone film "Heaven and Earth." We reached out deep into the Vietnamese community and held open calls throughout the United States. The process of casting that film was like no other, and the results were absolutely rewarding on both sides of the camera. I was truly inspired by the spirit of the Vietnamese people and their compassion and willingness to share their personal stories with us. Oliver recognized my passion for discovery and my love of finding the authentic. He supported this quest completely and even hired me to do the same thing for the film "Evita," which he was originally going to direct with an unknown actress. I think Oliver was so confident that I could discover the real Evita Peron because I had discovered Hiep Thi Le at an open call in San Jose, Calif.
Hiep was a premed student at U.C. Davis and had come to the call with one of her sisters. The way we did open calls then was without the aid of the Internet. We reached into a community, did press with the local papers and TV stations, and told our story about searching for potential talent to create an authentic film. Our story was heard loud and clear, as the film was not only being directed by Oliver Stone but was based on the book "When Heaven and Earth Trade Places" by Lely Heyslip, a well-known Vietnamese immigrant who had suffered much pain but turned her life around.
The day of the open call, we had thousands waiting for us in the San Jose State auditorium. Risa was the reception committee, and then the potential actors were sent on to do improvisational scenes. I remember the moment that Hiep came in the door. She was a slight but fiery presence with a huge twinkle in her eye. I asked her to improvise a scene about leaving her mother behind and getting on a boat to sail to America. I pretended to be her mother. She jumped right into it. She suddenly was back in 1974, and the moment was completely present. In fact, Hiep really did escape on a boat with her young sister to come to a faraway place she knew nothing of. It took her months to find her father in a refugee camp and years to reunite with the rest of her siblings and finally her mother too. Hiep must have come back to audition at least a half-dozen times more before she was finally chosen to play the role of Lely Heyslip.
Today Hiep continues to act, but as a practical woman, she has followed the footsteps of the character she played and has opened her own business in true American style. She owns, cooks for, and runs China Beach Bistro in Los Angeles and has recently written a memoir of her childhood. Her talent as an actress is based on her own true sense of self and trust in her instincts. She deserves to act more because she lights up the screen, and I only wish there were more roles written for Asian-American women. She inspires me every day when I think of her, because she marches forward without expecting anything to be handed to her. She acts with truth and has the same attitude of survival as she did when she was 9 years old and put on a fishing boat to America.

Heidi Levitt has cast such successful films as "JFK," "Nixon," "Natural Born Killers," "Nurse Betty," "The Rock," "The Joy Luck Club," and "Lakeview Terrace." She has repeatedly worked with directors Oliver Stone, Wayne Wang, Wim Wenders, and Neil LaBute. She recently created the iPhone app Actor Genie, providing information on what's casting in film and TV and who's who in Hollywood, plus tips from well-known actors, directors, and writers.
Lucy Bevan on Gemma Arterton
I remember vividly the first time I saw Gemma Arterton on stage, early 2007. It was not a great play, in a dingy basement studio at drama school—the Royal Academy of Dramatic Art—and I had missed half a dinner party to be there, so I was quite grumpy. Gemma then walked on stage and shone out.
At the time, I was casting this British comedy called "St. Trinians," with Rupert Everett, Colin Firth, and Russell Brand. The actress we had cast to play the lead girl had just dropped out, and I went from feeling awful about that to being literally thrilled by the opportunity to cast someone completely fresh and new.
Gemma did brilliantly in her auditions, held her own at a fairly intimidating table reading with Rupert Everett, and—with a little persuasion of the director and producer that casting a complete unknown as their leading lady was a good idea—she got the part. From the first day I met her, through those first auditions, and now with all the great and well-deserved success that she has had, Gemma has always been one of the most delightful, funny, charming, honest, and ballsy girls I have ever had the pleasure of spending time with. I absolutely adore her and love the fact she is doing so well.
Lucy Bevan got her first job, as a runner, by literally knocking on doors in Soho, London. She then became assistant to producer Sarah Radclyffe when Radclyffe made Tim Roth's directorial debut, "The War Zone." After a few years, Bevan decided her heart lay in the casting process. She worked for Mary Selway for four years, calling it "the finest training I could have wished for." Bevan's first film was "Chromophobia," for Martha Fiennes, followed by "The Duchess," the "St. Trinians" movies, and "An Education." Recently she contributed to casting on "Pirates of the Caribbean 4."
Dino Ladki on Kiele Sanchez
Kiele Sanchez, who has been on several series—"Married to the Kellys," "Related," "Lost" for a season, "Samantha Who" for a season, and she did a pilot this year called "The Glades," which was picked up by A&E—came in to read for me a decade ago, when she was just starting out. I was head of casting at MTV at the time. Before she came in, she had placed second or third in an MTV VJ contest, which got her representation, and then she found her way to me. She hadn't really acted much, but she was very pretty and you could tell she really had a raw ability, so I took an interest in her and worked with her. She ended up testing for at least three MTV pilots that I did. And the thing with her is that she made progress so quickly. You could see that she could take direction and perform well. She understood the notes. She took them and fed them right back very easily. You could tell she was smart. So it was very easy to turn a novice actor into somebody who was testing for shows in a relatively short period of time.
While she didn't get any of those jobs, I did set her up with her first manager, who she still has—a guy named Dan Spilo, of Artistry Management. So she's done very well. I kind of feel like all the work we did together helped her come along as an actress. I haven't spoken to her in probably 10 years, but I still follow her career. So in terms of actors I love, yeah, I love her, and anything she's in I will probably tune in to watch.
I have a lot of stories where I'm begging people to hire an actor and they don't hire them, and then that actor goes on and does something amazing and I can't take credit for it. I wish I had stories where they got that job and it made their career take off—that's kind of the holy grail in a way—but I don't.
Another story that's similar is about Michael Pitt. I did a casting trip to New York for an MTV pilot, "Locust Valley," and he came in. He hadn't been in television or movies yet. He had just done some theater. He was this sweet, likable kid who was good right off the bat. He definitely had the "it" factor. I brought him back to meet the producers, and they declined to hire him against my great begging. And after that, he would always follow up with me, sending me post cards and whatnot every time he booked something. And the next thing I know, he's starring in the film version of "Hedwig and the Angry Inch," and I was like, "See, there you go. Michael Pitt. I knew it." And he's gone on to do great work.
On that pilot that Michael read for, they also rejected Maggie Gyllenhaal, Ellen Pompeo, Elisabeth Moss, and Erika Christensen, all of whom had done almost nothing yet (except Moss, who had been a successful child actress). I have more stories like that than anything else. Those might-have-beens, could-have-beens. It's very frustrating. You can only push producers so far. You have to just go on until they're happy. Sometimes you have to fool them into thinking they found the right actor themselves when they didn't. Sometimes they say no initially because they're not in a good mood.
I had a situation where they didn't like an actor named Matt Carey. The producers said, "Nah, I don't think so," but then I kept having him come in and be a reader, and he eventually became their choice for the role I brought him in for. I knew if they could see him a little more, they would like him, and eventually he got it (though the pilot was never made). With good actors, their time does come. And I'm sure there are casting people left in the wake who have seen them do that great work and just wished they had been able to cast them in that project. It makes all the difference if you can claim that you gave somebody their first break. And I could have had that claim at least five or six times with people who went on to very good, well-known work, and I can't because somebody else got to make that claim. And oftentimes the actor doesn't know that the casting director felt that way.
Dino Ladki is an independent casting director whose first post-associate gig was originating and heading MTV's casting department (scripted series). He went on to cast two pilot-to-series projects for ABC/Carsey-Werner before transitioning to indie features. His films include "The Lost"; "Harrison Montgomery," starring Martin Landau and Melora Walters; "X's & O's"; and "I Know Who Killed Me," starring Lindsay Lohan, Julia Ormond, and Neal McDonough. He has worked for Universal Studios, Showtime, NBC, and Fox and has cast commercials for McDonald's, Sprite, Twix, Bushmill's Whiskey, and Gold's Gym, among others.



John Frank Levey on Angel Laketa Moore
Angel Laketa Moore came out of the U.C. Irvine program three seasons ago. I saw her in her university showcase program, and she seemed to me to be as ready as anybody. I met with her and several other people from her class shortly after the showcase. We still had "ER" on the air, and I introduced her to the showrunner at the time, David Zabel, and expressed great enthusiasm about how much heart and humor I thought she had and how impressive her dramatic chops were. And David created a one- or two-line role for a nurse in what I call the "trampoline ensemble"—not the leads, but the place where the leads got to jump on to get up higher. One of the great secret—or not so secret—successes of "ER" was how fantastic that "under" cast was, giving the leads a great opportunity to always have someone to play off of. Angel did that one episode and then went on in the last two and a half years of "ER" to do upward of 50 appearances, with story lines that ranged from not much to quite a bit. It's that kind of casting that makes me feel the proudest—helping somebody at the beginning who's ready but may not be easily noticed and to give her an economic foundation and place to be seen in a very positive light. It's a great thrill for me.

John Frank Levey has received four Emmy Awards and four Artios Awards for his work as a casting director. Last year he was honored with the Hoyt Bowers Award at the Casting Society of America's Artios Awards. Casting credits include "Southland," "ER," "China Beach," and "The West Wing."