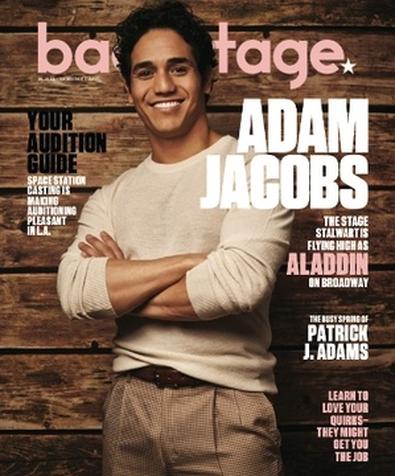 "Aladdin" star Adam Jacobs graced our May 15, 2014 cover and chatted with Backstage about his career.
Audition for Broadway's "Aladdin" Sept. 8, 2016!
---
Adam Jacobs on Paying His Dues
While Adam Jacobs is now reigning over Broadway in all his princely splendor, the roles he's played in the past weren't always so illustrious. "I did cruise ships, I did theme parks. I did Renaissance Cruises before they went bankrupt…. I also did Great America; they have the Oktoberfest thing. It was the worst job I ever had. It was in the cold and I had to wear this rag, basically.
"We set up our own set, we were in the crowd, and we had, like, a $10,000 magician's guillotine. We had a mock trial—'You're a warlock,' 'No I'm not!'—and then I had to put my head in there and they made a plaster mold of my head, so there's a fake head…and then I had to sit under the stage in, like, hay, in the cold, waiting to go back onstage. It was awful."
Despite the lackluster parts he was playing, Jacobs is grateful for the time he spent on them; not only for the experience but because he also met his wife Kelly during a Christmas show at Hersheypark!
Inspired by this story? Check out our Broadway audition listings!