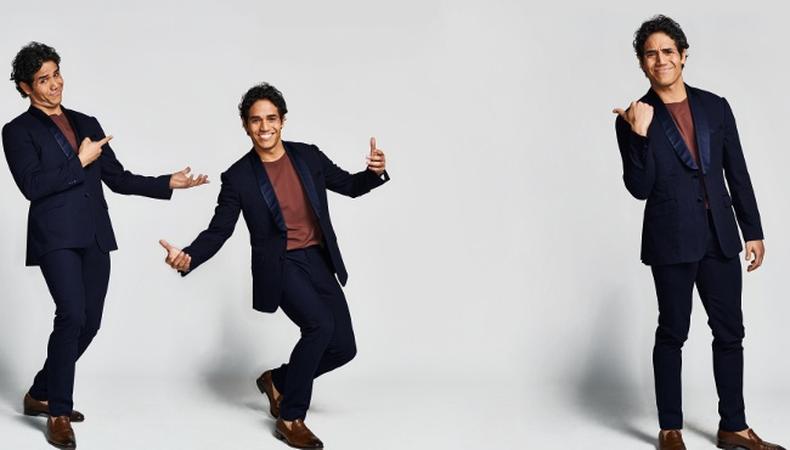 "Aladdin" has always had something to prove. Respect for animation had just begun to arrive when Disney released the film in 1992; the year prior, "Beauty and the Beast" was the first animated feature-length film to be nominated for a best picture Oscar. To follow up the success Disney animators presented Aladdin, a hopelessly romantic street rat who, with the help of a magic genie and his monkey, Abu, gets the girl and the life he'd always wanted.
Now "Aladdin" is taking on Broadway in a glittering production that has a very sincere (and hunky) human at its vibrant center: Drama Desk nominee Adam Jacobs.
Like Aladdin himself, Jacobs gives the impression of handling any problem with cool assurance, but even he admits that beginning rehearsal for a major Broadway musical on the day his wife gave birth to twin boys was overwhelming.
"I don't think I could've prepared myself for the scope of opening a Broadway show and especially having the boys," he admits. "Just the whole thing happening in my life…there's no way to prepare for that mentally. There's just no way to prepare for that."
Despite the impossibility of full preparation for fatherhood, Jacobs, who made his Broadway debut as Marius in 2006's production of "Les Misérables," is taking another cue from his current character and thinking on his feet when it comes to balancing the dual roles of daddy and riffraff.
"The thing I loved about Aladdin is he always made everything seem so effortless; he's just cool," he says. "I definitely wanted to bring that to the stage—his ease, his effortless quality running away from guards, and that whole thing." Looking at Jacobs now, he seems at ease in the face of managing the full schedule of a Broadway star—he has a blazer and a lavender button-down shirt for when he has to run to a performance after our interview at Grey Bar & Restaurant in the Flatiron District of Manhattan.
To keep his performance in check, in addition to a preshow wind-down with "$1.79 self-serve Walgreens coffee" and some fruit, Jacobs is taking all of the major events in his life and putting them into Aladdin—a strategy he feels is especially pertinent when performing the first-act song "Proud of Your Boy." Written by the film's original lyricist Howard Ashman but cut from the final movie, Jacobs admits that "Proud," a song in which Aladdin addresses his departed parents, has taken on a whole new meaning after his boys' birth in January and the passing of his grandmother last year.
"All these life experiences that have happened sort of recently have influenced how I perceive the character, how I perceive myself in the show," he says. "And in a way, it has to influence Aladdin's character. It's impossible for it not to because it's so much a part of me." He says the song also allows him to "go a level deeper." "I'm just happy that I get to sink my teeth into a lot of the material that was in the original that was left out of the movie," he says. "It really fleshes out the character—especially about his mother."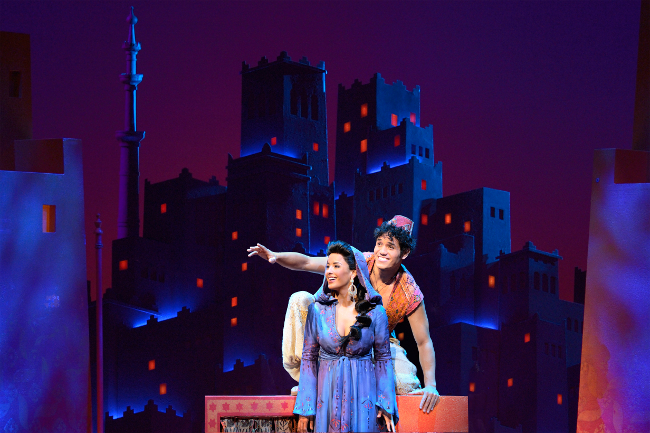 The opportunity to take on a more developed version of Aladdin is part of what attracted Jacobs to the role. When he was still playing Simba in the touring production of "The Lion King," Jacobs was approached by head of Disney Theatrical Group Thomas Schumacher and producer Anne Quart to attend a workshop. "So they flew me out to New York for a week," he explains. "I took a break from 'Lion King,' and redid the workshop. I felt really special, like they wanted me specifically for this role to help work on it. That was really exciting when I got that call from my agent saying that they wanted to use me."
From the start, Jacobs showed Schumacher and Quart that he not only looked great in a vest with no shirt, but he had the acting chops to back up the new role; he's been with the production through its three-year, three-city development. "It's pretty amazing that all these principals got to stay with the show, to go from Seattle to Toronto to here, because that's very rare to have that sort of loyalty and continuity."
While the production retained many of its performers from previous incarnations, Broadway's "Aladdin" is refreshed, riffing on the movie while adding a modern element and a batch of never-before-heard songs. Timely Internet references give the performance a 2014 feel, and with a cast like James Monroe Iglehart as Genie, Courtney Reed as Jasmine, and Jonathan Freeman—reprising his role of Jafar from the film—Jacobs is in great company. Add Tony-nominated director-choreographer Casey Nicholaw, and you ain't never had a show like this.
"[Casey] makes rehearsing super fun; he just gets on your level, being an actor himself," says Jacobs. "He sits down with us on the floor, and talking about moments in the show, you never feel intimidated…. Having worked now with him and [onstage friends Brian Gonzales, Brandon O'Neill, and Jonathan Schwartz], I think my comedy weapon has been more, you know, upgraded…. It's been a master class watching a lot of these guys work."
With "Aladdin" garnering five Tony nominations, it's clear Disney is back on track with its musical releases. In the wake of fast fizzles such as "Tarzan" and "The Little Mermaid," the corporation had to show Broadway they still had it, and "Aladdin" is dazzling proof.
"I think they're a little behind the eight ball when it comes to bringing new shows," says Jacobs. "[People] have something against the 'Disneyfication' of Broadway, but in reality, they've transformed Broadway—they've saved Broadway in a lot of ways. It's great to see that Disney Theatricals is being considered a contender, and is being respected for the shows that they're doing."
While the show received some backlash about its casting choices for a show set in the Middle East, many critics gave it the nod of approval. And Jacobs shrugs off the ones who didn't.
"I just remind myself that it's just one person's opinion when the criticism comes out," says Jacobs. "I just think about all those smiling kids in the audience and I know we're doing something right."
Inspired by this story? Check out our Broadway audition listings!