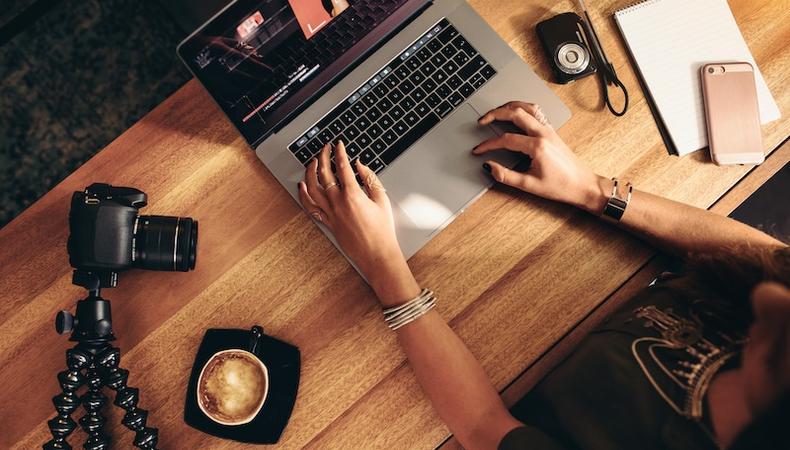 In many cases, graphics make a world of difference to your productions, particularly with demo reels, documentaries, news productions, and many films and video.
There are many different types of graphics. Lower thirds (also known as chyrons) give viewers information about what they're watching, like names of reporters, interviewees, and locations. Slates introduce actors, titles, and can serve to segment scenes or parts of your production. Logos make great branding enhancements.
Physically adding graphics to videos is the easy part. It's designing them that makes the task more daunting. What we perceive as a simple graphic actually requires a bit of thinking. Fortunately, conceiving of and adding graphics to your videos is something you absolutely can do on your own, and it's relatively inexpensive.
Here are a few things to consider that will help you create great graphics for your production.
Plan a theme.
Any designer or design instructor will tell you that creating a solid theme for your graphics is paramount. If graphics don't have the same look or feel throughout your production, it can come across as amateurish and distracting for viewers. Pick a color scheme, a particular font if you're need text, any images you may want to include, and how you want to integrate them into your video in a consistent way.
Design your graphics.
Simplicity is best! Graphics are meant to supplement your production, not overpower it. If you're creating a lower third, you may want to consider a background for the text so it's more visible and distinct from the other visual elements of your production. Consider adding color gradients to that background to create more texture. Choose simple, easily readable fonts for your text (sans serifs are best), use drop shadows on it text for better visibility, and limit your words.
If you have some money to spend, the full suites of Adobe Photoshop, After Effects, and Illustrator are widely regarded as ideal applications for creating graphics. If you are looking for something a little less expensive, there are some great mobile versions and other desktop apps available to help you assemble graphics. Adobe Photoshop Express (iPhone, Android, Free), Photoshop Touch ($9.99 for tablet and $4.99 for smartphone), and Gimp (Mac, PC, Free) are good options. These apps both have a range of options for graphic design, and allow you to easily export them for inclusion in your video projects.
Add graphics to your video.
Once you've created your graphics, you'll want to make sure they are exported as files that are compatible with whatever video editing software you are using. JPEGS, PSDs (Photoshop documents), PNGs, PDFs and TIFFs are generally acceptable. Some video editing software like After Effects and Final Cut Pro allow you to create graphics on the spot while you're working with your video, but if you've exported graphics from another application, layered file types like a PSD will work best if you will want to manipulate them further within your video editing software.
For all types of graphics, it's important that they be visible within your production for enough time that the audience can digest them. If text is included, you'll want to leave it up for as much time as it would take for viewers to read it—especially for slates and lower thirds. You also want to make sure any graphics placed in your video timeline do not obscure or overpower anything essential, like faces or actions.
Help!
If you are having trouble, or do not even know where to start when designing graphics, creating them or editing them, you can easily seek outside assistance! Don't be afraid to tap a design-savvy friend for assistance or advice. Or take advantage of online tutorials like Lynda.com.
Find and apply to the latest video editor and post production jobs on Backstage here.