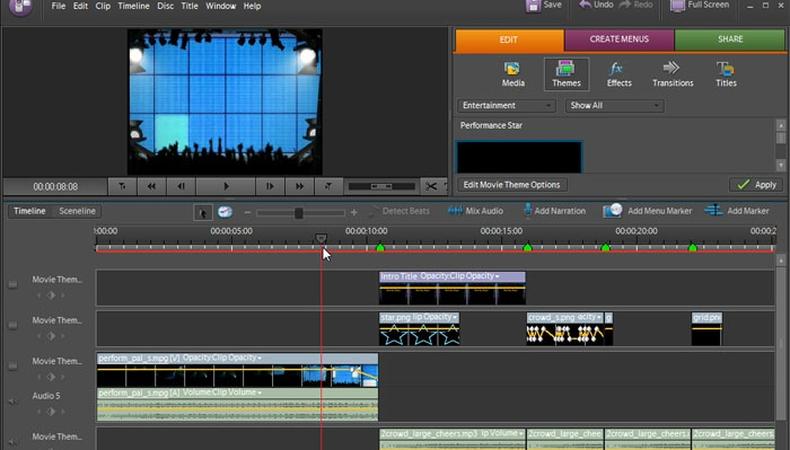 What It Is
Adobe Premiere Pro CC
What It Does
Powerful video editing software with Creative Cloud integration.
Where to Buy It
http://www.adobe.com
What It Costs
New users: Full Creative Cloud suite $49.99 per month; single application $19.99 per month
Full suite upgrade from CS3-CS5.5: $29.99 per month for first year
Full suite upgrade from CS6: $19.99 per month for first year
Single application upgrade from CS3-CS6: $9.99 per month for first year
Student and Teacher edition: $19.99 per month
Let's face it: The democratization of web video has lowered the quality bar overall. This doesn't mean that viewers don't want videos that look good—scratch that, look great—but they're willing to settle for ones that don't. So if you're not a full-time professional moviemaker (behind the cameras, that is), chances are you won't ever need anything as powerful as Adobe's Premiere Pro.
But Creative Cloud has changed the math. Whereas older versions of Premiere could run you upwards of $600, now you can get constantly updated versions of it for $50 a month—and get every other Adobe products with it. And given how integrated Premiere Pro has long been with other products (After Effects, Audition/Soundbooth, and so on), this is a potential benefit that non-studio video creators have not had easy access to before.
It may be a tough (and still expensive) choice, but more than any other major CC release, Premiere really piles on the new features. The timeline has been redesigned and simplified. You can tell at a glance whether you're reusing frames or employing through edits. If you like to use certain effects over and over again, the Paste Attribute function lets you do so automatically. The Audio Clip Mixer gives you a simple, in-software way to adjust the way your clips sound.
Having trouble locating all the clips you want to use in your project? Even if they're scattered among multiple drives or moved recently, Link & Locate will help you find them with a minimum of effort.
Want to implement closed captioning on your video? Captions are now much easier to import, export, and work with.
Looking for Photoshop-like ways to instantly improve your clips' color? The new Lumetri Deep Color Engine, makes that possible.
Using a powerful laptop or desktop with discrete graphics? New functionality tweaks for the better the ways video cards handle playback and exporting projects.
Add in all the other basic CC-based functionality, such as the ability to instantly carry over settings between systems and share what you're working on over the Behance portfolio service, and you have a particularly powerful tool for doing just about anything you can imagine with your video—and then some.
As always, Premiere faces stiff competition not just from Apple (in the form of its widely adopted Final Cut Pro) but also itself. Every generation its own Premiere Elements consumer video software gets better and better, and as its one-time-only cost is $100, that remains a compelling option for the budget-strapped. But it's never been easier to do more, more easily, than with the newest Premiere Pro, so it's definitely worth a look—especially if you're already glancing in Creative Cloud's direction.