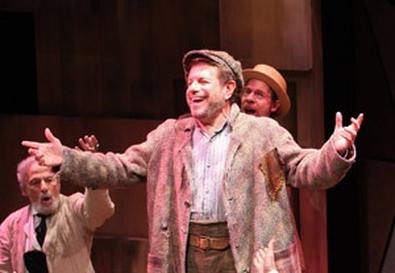 The snappiest new musical you may see this summer is
Folksbiene
's "The Adventures of Hershele Ostropolyer." It's in Yiddish, but seamless supertitles in English and Russian, projected onto the rectangular shapes of Roger Hanna's modernist set, never miss a beat. The title character, according to the program, is based on a real-life folk hero, a beggar who helped out the downtrodden and coaxed generosity from the miserly. Director-choreographer Eleanor Reissa has adapted Moyshe Gershenson's three-act play, itself adapted by Joseph Clickson, and, aided by Chana Mlotek and Zalman Mlotek, added a compiled score. The result is a one-act musical that flies by.
A "nigun" (a wordless melody) opens the show as the cast emerges from darkness in modern dress, introducing and then entering the story. Sweethearts Berl (Nimmy Weisbrod) and Tsipke (Dani Marcus) cannot marry until Tsipke retrieves her grandmother's ring from pawnbroker Kalmen (I.W. "Itzy" Firestone). The itinerant Hersheele (Mike Burstyn), looking for a place to stay, tricks Kalmen's housekeeper Dvoshe (Daniella Rabbani) into letting him in, only to be ousted by the pawnbroker. Angry at his dismissal, Hershele decides to help the lovers, which involves tricking innkeeper Genendl (Lori Wilner); her husband, Zaydl (Steve Sterner); the town policeman, Stanavoy (Edward Furs); and even Kalmen himself, who comes to fear that he's gone crazy. Then Hershele adopts a disguise as a specialist from Kiev with a cure, accompanied by his pal Bunim (Shane Bertram Baker).
It's all in good fun; unlike stories by I.B. Singer, there's no darkness lurking. When Hershele serenades his coat with "Di Oreme Kapote (My Poor Coat)," there's pathos in his strong voice, but it's funny. And the sly gags keep things moving: When Hershele convinces two people, just for fun, that the other is deaf, it's laugh-out-loud, Mel Brooks funny.
The company is first-rate. The Broadway-tested Burstyn highlights the Yiddish humor with his quick steps and tongue-in-cheek delivery. Folksbiene fave Firestone makes town miser Kalmen misguided but cuddly. Wilner nails the deadpan style of Yiddish insults and has a great belt voice, while Marcus provides her sweet ingénue with a soaring soprano. Furs' ruddy-cheeked, dim policeman makes even graft forgivable. The four-piece Folksbiene Klezmer Band, led by Dmitri "Zisl" Slepovitch, shines.
Many songs are drawn from Yiddish theater and folksongs. Some of the audience will know the climactic song, "Lomir Zikh Iberbetn (Let's Make Up)." You can tell when you hear them singing it—and you will want to as well.
Presented by the National Yiddish Theatre, Folksbiene, at Baruch Performing Arts Center, 55 Lexington Ave., NYC. June 3–27. Tue.–Thu., Sun., 2 p.m.; Wed. and Thu., 8 p.m.; Sun., 6 p.m. (212) 352-3101, (866) 811-4111, www.theatermania.com, or www.folksbiene.org.