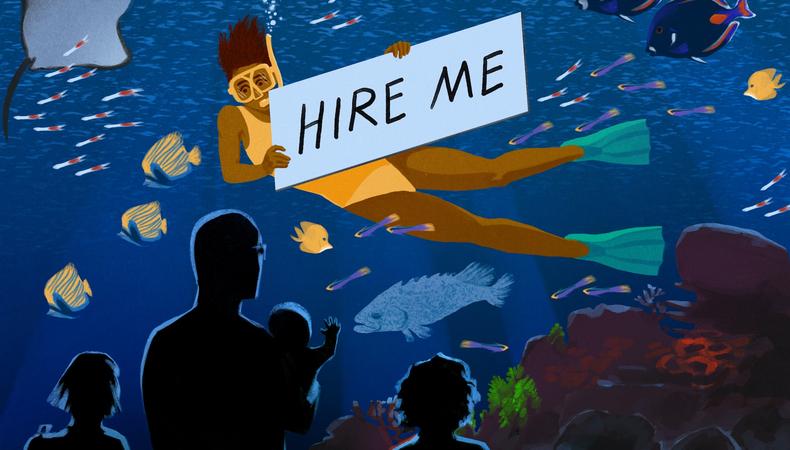 You've been acting and training for years. You are desperate for your big break. You've tried everything to get their attention—postcards, emails, newsletters, self-submissions. Then, finally, you have your "eureka" moment: Why not rent billboard space advertising your talent on the way to the producer's office? Brilliant, right? Um, no. Please. No.
You might remember the woman who did this very thing last month. In the hopes of catching Tyler Perry's eye and booking a job with the multihyphenate filmmaker and producer, New York actor Racquel Bailey bought out two billboards in Atlanta. Her message indeed caught Perry's eye, but in all the wrong ways. Using two months' worth of rent to pay for her $2,000 ads, the 32-year-old Bailey plastered her headshot on the billboards along with the message "Attention Mr. Perry: Racquel Bailey is your next leading lady."
Apparently, this isn't the first time someone has pulled such a stunt in hopes of getting cast by Perry, so he decided to take to Instagram to respond to Bailey and to offer her—and actors everywhere—some advice from the top. "Here's the deal. This is not the way to get my attention if you're looking for a role in one of my shows," he wrote, adding that actors, of all people, should be saving their money. "This is the third time that someone has done this. PLEASE STOP! To audition is FREE!! I'm sure you can use that money for a better purpose."
Perry continued by saying that while actors should be investing in themselves and that he loves that actors want to work with him, Bailey's billboard investment was a bad idea. "When you do things like this, it puts my team on high alert and makes me look at you sideways. I know the message that you want to send is a positive one, but this comes across as the opposite."
In other words, Bailey's stunt made him wary of her. She came across as desperate, put his team on "high alert," and lost her power. That's not someone people are queueing up to work with.
"Again, the best way to work for me is to AUDITION and it's FREE! We post breakdowns all the time for actors. JUST COME AND AUDITION," Perry concludes, even telling Bailey that he was already familiar with her work on the HBO miniseries "The Night Of." "And by the way, you were great in THE NIGHT OF! It was my favorite show a couple years ago. I ALREADY SAW YOU!! So just audition and keep your money!! Again, I appreciate your effort, but that's not the way to work for me. God bless you dreamer. I have no doubt you will make it one day!!"
(Bailey recently told TMZ that she's since booked an audition with Perry's team, but even so, Perry's words should be heeded.)
Bailey's billboard tactic reminds me of an actor in Los Angeles named Dennis Woodruff who used to plaster his entire car with photos of himself and text saying "Cast me! Producer needed to make my movie! Born to act!" He would park in front of studios all over Hollywood and walk back and forth across the street for hours wearing a sandwich board with the same text. He was somewhat of a local character around town. He didn't work much—he mostly got jobs playing himself—and that's because, again, he was sending the wrong message. Please, don't let this happen to you!