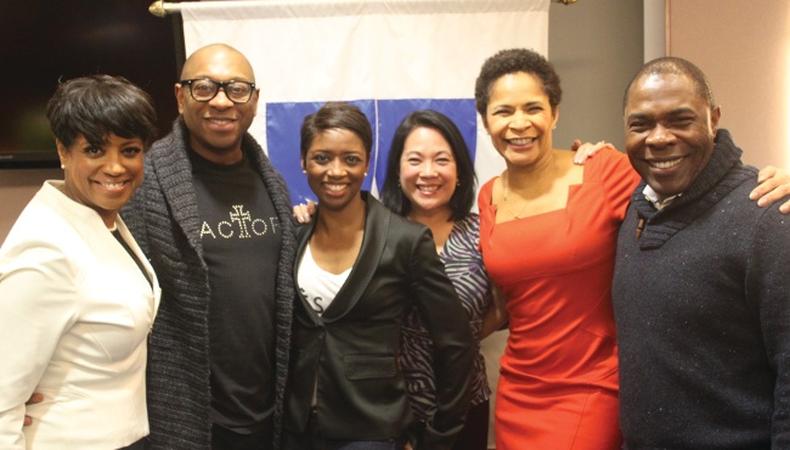 If acting is a tough business, it can be even tougher for African-American performers. But at Actors' Equity Association's panel "African American Actors on Broadway: Life, Work and Inspiration," four artists—Montego Glover ("Memphis"), Michael Potts ("The Book of Mormon"), Marva Hicks ("Motown: The Musical"), and Alton Fitzgerald White ("The Lion King")—joined moderator Allyson Tucker to talk about career advice and the future of Broadway.
"Go in prepared," Hicks advised. For the actor, who's worked with Michael Jackson and Lena Horne in addition to her stage credits, nothing substitutes preparation. For White, who recently surpassed 4,000 performances as Mufasa in "The Lion King," the key has been finding interests outside of the theater, which "allows you to show up as yourself fully because your eggs aren't in one basket," he said. "Then you can just relax and really share."
The panel also addressed the issue of opportunities available (and granted) to actors of color. The term "nontraditional casting" is the industry moniker for the push to cast based on talent, regardless of ethnicity. But Potts described a practice of nontraditional casting in which only specific roles are ethnically ambiguous, like Horatio in "Hamlet" but not Hamlet himself. Potts continues to push boundaries, however, and auditions for all types of roles—after his agents assure him that the director is truly open to possibility.
Glover, on the other hand, said she knew of two times in the last year alone when she got jobs slated for Asian or Latina actors because she gave the best audition. To that end, Hicks insisted, "If you know you are going in for a role that was originally written for a white actress [or other race], convince them that you are right for the part." Be the best in the room, even if that means repeating your audition upon request (an inquiry the panelists encounter often). "If you hit it and they ask you to do it again, in a way you're kind of educating them," says White. "Is it fair? Absolutely not. But it is how it is and that's how it starts to change."
Still, booking the job is just the beginning. "Once you get the job you must deliver across all platforms," Glover said. "That means on time to call. That means absolutely malleable and collaborative in the workspace. That means know your lines. That means please and thank you." Actors need to cultivate a reputation beyond the audition room. If an actor proves her talent and value as a worker, the likelihood is that she'll be asked back. This also sets a precedent that casting the most talented person does work.
It's a continuous battle, but the industry is making progress. "One of the things [Disney] prides themselves on is color-blind casting," said White. "It's all about relationships. The question isn't 'Do you look right?' but 'Do you believe the relationship?"'
Of course, actors can only control their art. "The key is ownership," said Glover. "I am just as committed to the roles of Celie, Nettie, Felicia Farrell, Aida, Ti Moune, as I am to Dr. Lena Price, FBI Agent Amy Lawrence. There is a mental space in which you focus on 'I own this no matter what it is.' "
Inspired by this post? Check out our Broadway audition listings!