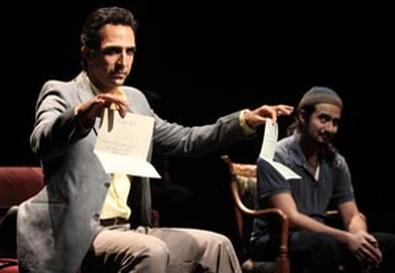 Simple isn't easy, but playwrights Erik Jensen and Jessica Blank prove just how powerful it can be in their disquieting, moving, intensely human docudrama "Aftermath." Nine actors play eight refugees from the Iraq war and their translator. The text, taken from their own words, recounts the terrible toll war and its consequences have taken on them and their loved ones. It all makes for riveting and important theater.

We meet a dermatologist, an artist, a theater director, an imam, a pharmacist, a married pair of cooks, and a wife and mother. All have been forced to flee to Jordan, their lives irreversibly scarred in appalling ways. But this isn't a cornucopia of woe. Instead, what we come away with is the amazing resilience of the human spirit. Not in a Pollyanna sort of way, however. These people co-exist with awful damage, yet none is defeated by it, and all are intent on retaining their humanity and moving forward with their lives.

Jensen and Blank wisely eschew the political arguments of whether the U.S. should or should not have attacked Iraq. Instead, they focus tightly on the personal. The result is to remind us of what can happen to people in wartime, and so we should remember the appalling civilian carnage any armed conflict is likely to create before choosing to initiate one. The tightly structured script unfolds seamlessly and has been arranged impeccably, with stories interweaving in surprising, reinforcing ways. The choice of including the interpreter is an inspired one, allowing the characters to initially speak in their own language, then segue effectively to English while making it clear they are not really speaking it. Even better, the interaction between the interpreter and the characters reveals things about them they don't show us directly. Finally, the running use of a TV broadcast of a World Cup Qualifiers soccer match between Iraq and Australia proves a canny device that results in a highly effective understated dramatic climax.

Blank's invisible direction knows just when to linger and when to accelerate, and her simple staging on the black-box set filled with nothing but an assortment of living-room chairs seems inevitable. She is aided immeasurably by the superb company, composed of actors of Middle Eastern descent. Omar Koury and Rasha Zamamiri are a completely convincing husband and wife as the cooks forced to flee due to postwar religious strife. As another married couple, Maha Chehlaoui is full of shy charm as an artist who struggled against losing the will to create, while Daoud Heidami cleanly captures the unconscious theatricality of a man who puts on plays for a living. Laith Nakli's pharmacist moves effortlessly from determinedly jocular hospitality to bewilderment and rage. Leila Buck's wife and mother is devastating in her emotional directness. Demosthenes Chrysan as the imam masterfully negotiates his long sequence recounting his experiences in being charged as a terrorist. Following his fine work last season in Christopher Durang's "Why Torture Is Wrong," Amir Arison does even better as the cocky, materialistic dermatologist who has his alpha-male attitudes ground to powder. As the translator, Fajer Al-Kaisi is a calming presence whose intent listening tells much.

If I had any reservation, it would only be that in a show like this, which feels as if it wants to use this group of characters as a composite portrait of a society, there is no gay or lesbian character. The world is not monolithically heterosexual, and there are certainly gay Iraqi refugees out there. That caveat aside, don't miss "Aftermath." It's an inspiringly good piece of theater.

Presented by and at New York Theatre Workshop, 79 E. Fourth St., NYC. Sept. 15–Oct. 18. Tue., 7 p.m.; Wed.–Fri., 8 p.m., Sat., 3 and 8 p.m.; Sun., 2 p.m. (No matinee performance Sat., Sept. 26.) (212) 239-6200, (800) 432-7250 or www.telecharge.com. Casting by Jack Doulin.