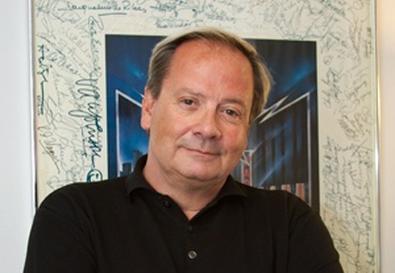 Jim Wilhelm is glad he's not an actor anymore. A principal talent agent with the New York City–based Douglas, Gorman, Rothacker & Wilhelm Inc., he loved acting and fondly recalls performing in community theater as a young man. Indeed, Wilhelm is still a proud member of Actors' Equity Association, having earned his union card at Pittsburgh Civic Light Opera. But he never pursued a stage career because of debilitating audition anxiety. "Still, I wanted to work in the theater and be good at what I did," he says.

To judge by his roster of clients, Wilhelm has scored. The actors he has repped include Hollywood legend Olivia de Havilland, Lainie Kazan, Stephanie Zimbalist, Sharon Gless, Lea Salonga, Alice Ripley, Elaine Paige, Harry Groener, Kathleen Chalfant, John Rubinstein, Douglas Sills, and Brian Stokes Mitchell.

Choosing talent is always tricky, but Wilhelm is a strong believer in trusting his instincts, regardless of changing cultural sensibilities. "Talented singers and actors never go out of style, but there's a shift in genres," he says. "Some of the rock musicals require a different kind of talent and style in singing from what we saw in the '70s and '80s. You can try to adjust your thinking to seek out those actors to fill roles in those shows or seek out what you respond to. I respond to singers who can do Rodgers and Hammerstein. In that way I'm old school. Some performers can make the switch. Others cannot."

Wilhelm also brings on board performers who have no track record. He was blown away by an unknown Alice Ripley the week she arrived in the city. He remembers her auditioning for him in an apartment on West 44th Street. "She sang so beautifully and was so interesting to watch," he says. Ripley later won a Tony Award for her stunning performance as a bipolar mom in "Next to Normal."

Unlike Ripley, most new talent comes to his attention through industry showcases presented by the major theater conservatories each spring. "The days of going to Off-Off-Broadway shows and scouring the netherworld for talent are long past," he says. "I don't know anybody who is doing it. Yes, that does mean kids who go to these schools definitely have an advantage."

Born in El Paso, Texas, Wilhelm majored in communications at Gannon University in Erie, Pa., and went on to work as a stage manager, a public relations director, and a casting director before becoming a talent agent. It was the natural next step. He had a business background, and more important, he "had an affinity for actors and was sympathetic to their frustrations and anxiety." After serving as an agent for other bosses, he co-founded his operation, DGR&W, in 1988.

During his tenure, the biggest change has been the ubiquitous presence of technology, and Wilhelm loves the speed and efficiency with which information can be exchanged. Not that technology should ever "replace dialogue" or the face-to-face auditions that continue to be routine in New York theater, he says. Still, if an actor cannot audition in person, video auditions are useful, at least as a preliminary step. Wilhelm checks out actors' websites, reels, and YouTube clips but does not foresee a time when an agent will become obsolete as the actor goes directly to the casting director without the benefit of an intermediary.

"Our job is more than submission," he says. "It's to create opportunity and make the follow-up call and ask a CD to see a client. It's a who-you-know business. I have access to people that actors don't. I also negotiate contracts and would like to believe I provide wise counsel."

Thinking back to his years as an actor, Wilhelm appreciates all too well that agents are misunderstood and often viewed as adversaries. "Nothing is further from the truth," he says. Still, Wilhelm knows actors have had a range of experiences with agents. But subjectivity is the name of the game throughout the industry. "Embrace the fact that everything about the business is subjective," he advises.
Want advice from an agent? Check out this video:
Inspired by this post? Check out our audition listings!