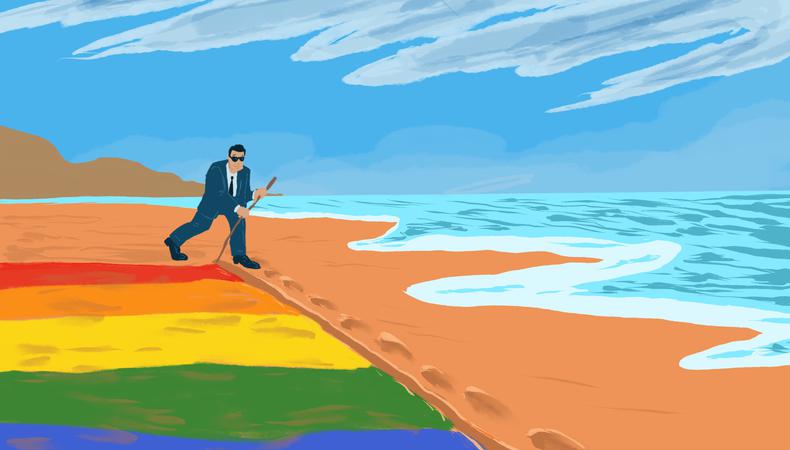 Thirty-seven years ago, Al Pacino played a Cuban character in "Scarface" and, 10 years later, a Puerto Rican character in "Carlito's Way." Ten years ago, Jake Gyllenhaal was cast as the Middle Eastern lead in "Prince of Persia." And just seven years ago, Johnny Depp played the Comanche sidekick Tonto in "The Lone Ranger."
I don't see any of that happening today.
The recent push toward authenticity in casting is a welcome development. There are all types of people on this planet, and that should be reflected in our entertainment. Visibility leads to progress.
READ: Diversity Onscreen Is Essential Today—But Where's the Line of Race + Representation?
But what about characters that are under the LGBTQ umbrella? Do those roles have to be played by actors who are in that group? The answer is yes. Why should those parts be any different? We can't hedge our bets on inclusivity. We have to go all in.
I have a crush on Scarlett Johansson, but I'm glad she was forced to step down from playing the trans lead in "Rub & Tug," a feature that was supposed to be produced in 2018. The bad news is the movie never got made. The good news is it's finally going forward as a TV series with a trans writer and lead.
"You can give power to others without losing your own. Inclusivity isn't a zero-sum game."
Some would argue there are no transgender actors who are famous enough to open an expensive studio film. To me, that's nonsense. I would argue that you could easily cast a transgender performer in that lead and then, if you must, surround that person with "name" actors who have box office muscle.
There's been more progress on the indie front, but do you remember when Felicity Huffman received an Academy Award nomination for playing a trans character in "Transamerica"? (It's right there on her résumé, next to fraud.) What would happen if that part were being cast today?
Sadly, there will always be people in this world who blame the advancement of others for their own lack of achievement. At a workshop I attended last month, one of the actors expressed his frustration at being straight and not being allowed to play gay characters. He felt it would limit his opportunities. I had to explain that you can give power to others without losing your own. Inclusivity isn't a zero-sum game.
That said, despite the infinite wisdom I display in this column, I don't always have all the answers. For example, what if a show wants to cast a gay actor in a gay role? As an agent, it's my job to submit people who are right for that part, but this puts me in a tough spot. I can't just ask clients if they're gay. That's not appropriate. So how do I handle this situation?
Another group that needs more respect is the disabled community. Over the years, I've met quite a few actors with disabilities who are super talented but cannot catch a break. So here's some food for thought: Can sighted performers play blind characters? Should they? You can find the answer in the column above.
The list of questions around authenticity in casting will only continue to grow—and that's a good thing, because those questions will force us to deal with the issues at hand. Acknowledging a problem is the first step toward fixing it.
This story originally appeared in the Aug. 13 issue of Backstage Magazine. Subscribe here.
Looking for remote work? Backstage has got you covered! Click here for auditions you can do from home!