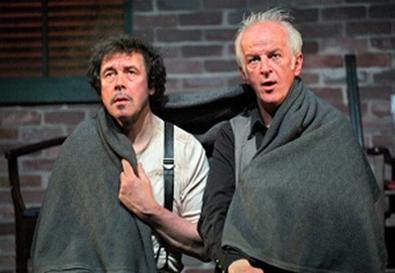 "Where the hell are we supposed to be? The East? The South? East of the Mississippi? Woods. Creeks. Frogs. Where is this? Doesn't feel like home to me." So speaks Byron to his pal Ames in Sam Shepard's bizarre one-act "Ages of the Moon." Byron could be speaking for the audience as well as himself and his friend. Though both men seem fairly clear about their location and intentions at the beginning of this unsettling play, by the end of its 75 minutes these two grizzled amigos are lost in a barren landscape. They are like American versions of Beckett's tramps in "Waiting for Godot": cut off from the rest of humanity, nowhere to go, waiting together for a change to their existential angst that will never come. Interestingly, Shepard, the quintessential American author, was commissioned to write this work by the Abbey Theatre in Ireland—Beckett's homeland. This staging at the Atlantic Theater Company is a transfer from the 2009 Abbey premiere, with the original Irish cast.
Desolate because his wife has left him over a long-ago infidelity that has come to light, Ames has summoned his best friend, Byron, whom he hasn't seen in years, to his isolated home in an unnamed state. It's gradually revealed that Ames has a similar problem, but with a sorrowful twist. While sitting up on the porch in anticipation of a lunar eclipse, they put away a good deal of liquor, argue about conflicting memories, philosophize on the differences between the sexes, fight violently, and finally collapse in exhaustion, huddling together with only a blanket for protection and comfort. The dialogue starts out as mundane, almost boring, but Shepard skillfully draws us into Byron and Ames' stark universe of unclear recollections and blighted horizons, where even the moon is in shadow. By the final fadeout, we've crossed over from drab day to poetic night.
Director Jimmy Fay and his two-man cast slowly build the tension so that the shift from naturalistic bickering to surrealistic dreaming is barely noticeable. Stephen Rea and Seán McGinley give these old coots, like a pair of hermit crabs, the necessary crusty shells while slowly exposing their soft underbellies. Rea—who also appeared in Shepard's "Kicking a Dead Horse"—is barely recognizable from his role as the cheeky young hero of the film "The Crying Game." He has totally submerged himself in the dissolute, volatile Ames, unshaven and unkempt, offering a shot of whiskey one minute and a shotgun the next. Though his American accent is a little weak, McGinley is in full command as the seemingly more stable Byron. He beautifully and simply delivers a moving monologue explaining how Byron's lonely position is eerily similar to Ames'. It's a heart-stopping moment in this weirdly compelling two-hander.
Presented by and at the Atlantic Theater Company, 336 W. 20th St., NYC. Jan. 27–March 7. Tue.–Sat., 8 p.m.; Wed. and Sat., 2 p.m.; Sun., 3 p.m. (212) 279-4200 or www.ticketcentral.com. U.S. casting by Telsey + Company.