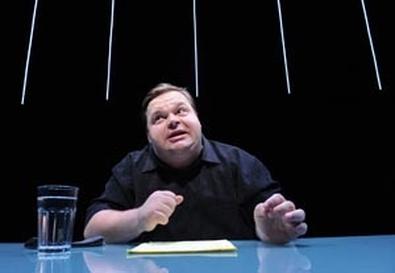 Apple may not always have the most market share, but it has the most mind share, monologist Mike Daisey explains in his one-man show "The Agony and the Ecstasy of Steve Jobs." The launch of a new Apple product creates a mass frenzy among the company's dedicated followers, and Daisey hopes to wield the same power over his audience's thoughts. He succeeds, thanks to his subject matter. Audience members laugh and clap as he slowly disillusions them about their favorite products.
I am one of those Apple aficionados, and while I didn't guffaw and clap furiously like my neighbors, I connected with Daisey's story on a personal level. I grew up in the heart of Silicon Valley, a stone's throw from what would become Apple headquarters. I came of age with the Macintosh and vehemently defended Apple when my college peers assumed I had an iBook only because it was pretty. Yes, it was attractive, thanks to Jonathan Ive's sleek industrial design, but I loved Apple before the age of Ive.
Like Daisey and me, most Apple lovers feel personally connected to the products. Daisey's own story is the more compelling end of his two-part narrative. He details how he learned to write on an early Macintosh. He remembers religiously watching every Apple product announcement, when Apple CEO and co-founder Steve Jobs introduced products that consumers didn't even know they wanted.
Daisey parallels his product-obsession tale with a recounting of his journey to Shenzhen, China, the location of a Foxconn plant. Foxconn builds consumer electronics for many companies, including Apple, and made national news in early 2010 when employee suicide became a problem. With the help of a translator and a little luck, Daisey interviewed workers from the plant—some were only children—and heard about the physical abuse they endured working 16-hour days. One man had never seen an iPad turned on, and when Daisey shared his, the man said in awe, "It's kind of like magic."
The transitions between the two parts of the show are abrupt at times, and director Jean-Michele Gregory signals each shift by having Daisey turn over a leaf of yellow paper on the translucent glass desk that constitutes the set. Seth Reiser's sometimes flashy lighting also helps the shifts.
Daisey's story acts almost as an accidental eulogy for Jobs, who passed away earlier this month after years of battling pancreatic cancer. Daisey has added a new part to the show—about how he experienced the news—which comes across as overly sentimental. He continually affirms that Jobs was against nostalgia. His success came from his ability to "kill the baby" and move forward with new products, as evidenced by his ending production of the iPod Mini, then one of the company's most popular products, and introducing the slimmer, lower-capacity Nano. This acknowledgement of Jobs' passing is expected, though it feels unnecessary.
As I was riding the train home after the show, a tourist leaned over and said, "Can I ask you where the Apple store is?" I pointed her toward the stop for the Fifth Avenue flagship store, a 24-hour mayhem center for the Apple-obsessed. "It's open 24 hours," she remarked. "That's mad." It is—that one man (or "oracle," as Daisey calls Jobs) could create an empire that people from around the world would flock to at all hours of the night. And it's sad to know that someone in China is assembling the next great product at each hour as well.

Presented by and at the Public Theater, 425 Lafayette St., NYC. Oct. 17–Dec. 4. Tue.–Sat., 8 p.m.; Sat., 2 and 8 p.m.; Sun., 2 p.m. (Additional performance Sun., Oct. 16, 8 p.m. No performance Tue., Oct. 18.) (212) 967-7555 or www.publictheater.org. Casting by Jordan Thaler and Heidi Griffiths.