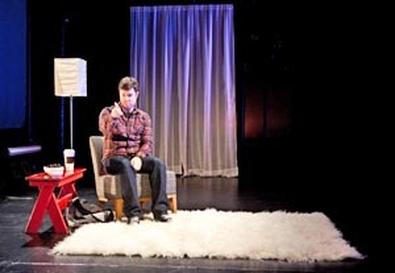 I have no doubt that Dan Horrigan's decision to write and perform this one-man show about his contraction of the HIV virus was brave. What's more, this personable young man from Buffalo can hold a stage, forging an easy rapport with his audience. But bravery and charm aren't enough to turn a familiar and rather naive story into riveting theater.
"My AIDS" is actually more about the 31-year-old's attempts to grow up than it is about his disease. It's a pretty standard-issue tale about a youngster from the provinces arriving in the big, bad city with stars in his eyes and dreams of theatrical success in his head. There are the apartment woes (Shoko Kambara's set suggests one of those makeshift starters), grueling menial jobs, circle of gay friends, first boyfriend, first relationship, first breakup, and such. There are the visits home to a conservative family and the coming-out story. There's lots of hot anonymous sex, fueled by drugs and alcohol. And there are the inevitable consequences. All of it, of course, peppered with pop-culture references—a grand entrance to Max Steiner's "Tara's Theme" from "Gone With the Wind," mentions of "Gossip Girl" and Mary Kay Letourneau—and served with a determined suburban sunniness.
Horrigan's dramatic arc is to admit up top that he hates difficult questions about his HIV, such as how and why he got it, and then climax with a hard-won admission that he alone is responsible for his infection. However, the admission sounds as if it comes from a therapy patient who understands it intellectually but has yet to integrate it emotionally. Horrigan's unwillingness to look more closely at his clearly dysfunctional family—why are his father and stepfather barely even mentioned?—and his sad disclosure that he hasn't dated in the four years since his diagnosis, calling it "a retarded waste of time," seem like clues to deeper problems that remain unaddressed. So does his decision to use the creation of this show as a vehicle for forcing himself to tell his mother about his diagnosis.
Horrigan's final vow is "I'm gonna stop focusing on who I'm supposed to be. I'm just gonna focus on who I am." Speaking from unfortunate personal experience, I can heartily endorse those wise words. However, until this likable guy learns more about just who he is, he's not going to have the tools to fashion "My AIDS" into the success he deserves.
Presented by At Hand Theatre Company at the 30th Street Theatre, 259 W. 30th St., NYC. Feb. 15–March 1. Sat., 10:30 p.m.; Sun. and Mon., 7 p.m. (212) 868-4444 or www.smarttix.com.