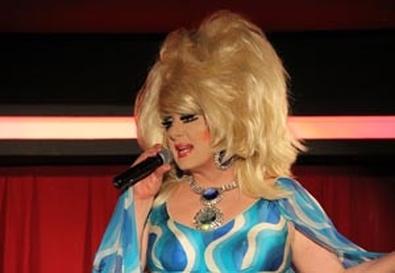 We shouldn't hold it against Lady Bunny that Tuesday at 8 p.m. is not the best time of the week to experience her brand of crass humor and dirty charm. Dick jokes and dead Amy Winehouse gags go over much better after a few more hours have passed and a few more vodka tonics have been imbibed.
Bunny, a co-founder of Wigstock, has been drag-queen royalty for more than two decades, but she is now probably best known for her viral YouTube parodies of pop songs and their celebrity singers. These short videos are the ideal medium for Bunny's panache as a cultural propriety popper, using her trashy persona to justify attacks that hit further below the belt than is tolerated by our overly polite public sphere. Bunny's message is consistent and simple: "Get over yourself."
I hope she will forgive me, then, for offering my disappointment in "That Ain't No Lady!," her first one-woman show in a decade. Though dressed in her finest (including a flowing sea-green number that lights up the second act), Bunny shares the same set pieces she's delivered numerous times before. Already weakened by being familiar, they feel uncomfortable strung together, lacking the dynamic momentum necessary for a singular 90-minute evening. A writer-comedian at heart, she needs a more directorial imagination to handle the specific demands of long-form cabaret. She seems more comfortable on camera, and the few longer film sequences that punctuate the evening (including a burlesque of "Burlesque") are its highlight.
So what? Bunny is funny, and what's more she's been around long enough to merit attention. When she goes off script—to mourn the loss of a seedier Times Square or to chastise gay audiences for ceding ground as pop-music tastemakers—she stands as a testament of how far gay New York has come (and fallen) since she arrived in the mid-1980s. "That Ain't No Lady!" is what it is: a classic drag show with contemporary subject matter that works best complementing a night out rather than claiming the spotlight as a stand-alone theatrical event. Bring enough friends and have enough drinks—La Escuelita's comfortable club atmosphere is a perfectly fine décor—and the evening will go down like a smooth Jell-O shot.
Presented by Pig in a Wig Productions at La Escuelita Cabaret Theater, 301 W. 39th St., NYC. Opened Dec. 6 for an open run. Tue., 8 p.m. (800) 838-3006 or www.brownpapertickets.com.