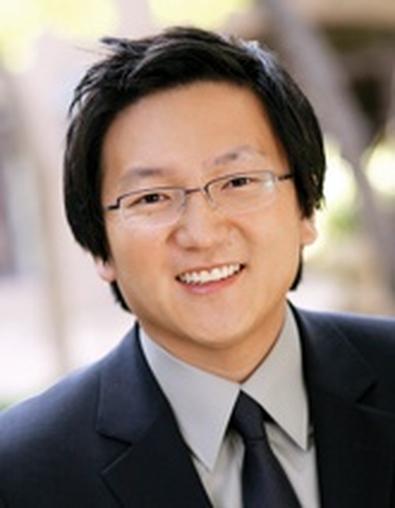 Every actor has his or her own method and mindset for surviving the brutal gauntlet known as pilot season. Masi Oka simply remembers that "it's a marathon, not a sprint" and tries to have fun with his auditions. Ana Ortiz keeps a change of clothes in the car and a sturdy support system of friends on speed dial, and she repeatedly tells herself she's in "acting boot camp." Lizzy Caplan drinks "400 cups of coffee" and says it's all about going in with confidence -- or at least feigned confidence. "You've got to walk in every room like you already have the part," Caplan says. "Buckle your seat belt and know that [pilot season] totally, totally sucks in every way, but if you go in with your head up and your chest puffed out, then you've got a better shot."
These three actors took on pilot season last year and walked away with the proverbial brass ring: Each won a regular role on a pilot that went to series and is still gracing the airwaves. The actors are also undeniable scene-stealers on their respective shows and have broken out this season as notable talents to watch.
More Than a Hiro
For Oka, 2006's pilot season was blessedly brief. His first audition just happened to be for a part that seemed tailored precisely for him: endearingly nerdy Japanese office drone Hiro Nakamura on the superhero-themed drama Heroes. "There are a lot of things I share with [Hiro]," Oka says. "[He's a] guy who wants to live his dream and go on adventures."
Heroes has certainly turned into the best kind of adventure. The NBC series is a runaway hit and recently netted Oka his first Golden Globe nomination. As fan favorite Hiro, a comic-book-loving optimist who discovers he has the ability to manipulate time and space, the actor is the lovable, endlessly enthusiastic heart of the show.
It's all a bit ironic, considering that Oka had pegged 2006's pilot season as his last. He was planning to put performing on the back burner for a bit and focus more on writing and producing. "I actually hooked up with a showrunner, and I was going to go pitch a show," he recalls. "I said, 'Okay, sure, sure, after pilot season let's go ahead and go into development season and see where we can shop this show around.' I was in the mentality of just being a producer and writer. I think it kind of helped me [during pilot season] just knowing that whatever happens, happens. And then [I] just bumped into this amazingly extraordinary show called Heroes. You get lucky sometimes."
His first pilot season, in 2000, was also somewhat lucky. Though it didn't yield a blockbuster success like Heroes, it netted him his first professional acting gig in Los Angeles and got his career off the ground. Oka, who was born in Tokyo and moved to the States at age 6, was living in the Bay Area and working in special effects for George Lucas' Industrial Light & Magic. After earning his Screen Actors Guild card doing industrials, he decided to head down to L.A. and try making it as an actor. "I figured, 'I'll give pilot season one shot,' which is, like, the most naive thing in the world," he says. "I wrote it into my [Industrial Light & Magic] contract, saying if I didn't get a recurring role on a pilot or a supporting role in a feature film in the first year of my being in L.A., I would have to go back to San Francisco. They were thinking, 'There [is] no way it's gonna happen.' And me, I was thinking, 'I'll know in the first pilot season whether I [am] cut out to be an actor or not. If it doesn't happen, at least I'll have stories to tell my grandchildren: Grandpa gave acting a try, and it didn't work out, but here's my Oscar in visual effects.'"
Oka nabbed a recurring role on a single-camera FX pilot set in an office. He remembers people being excited about the potential series but, as is the case with so many pilots, it wasn't picked up. Still, the actor was encouraged by the experience and soon landed guest-star parts on series such as Reno 911! and Without a Trace, and a memorable recurring role as lab tech Franklyn on Scrubs. He estimates he's been through about five pilot seasons, but Heroes is his first series-regular gig. His recommendation for actors trying to survive pilot season is to "just breathe." "There are going to be things that are going to be right for you, things that are going to be wrong for you; you're not going to get everything," he says. "All you need is that one [role]. Just focus on the craft, and remember why we are doing this in the first place. Think of every audition as an opportunity to perform for someone, whether it's comedy or drama. You have an audience who wants to see you do your best."
He also advises that you never try to second-guess what the show producers are looking for and cites the example of Heroes castmate Sendhil Ramamurthy, who plays broody genetics professor Mohinder Suresh. That character, Oka says, was originally written for a much older actor. "You can change their minds," he says. "Just blow them away with your talent."
Oka also strongly recommends having interests outside of acting and figuring out what besides performing will keep you happy. "That will give you the creative freedom, [so you're not] feeling desperate while going in to audition," he says. For him, writing provided that outlet. It helped him go into 2006's pilot season with the feeling that he had nothing to lose, and it has given him insight into the nuts and bolts of making a show. "Writing just gives you an appreciation for the words and the process," he says. "There [are] a lot of actors who like to improvise or paraphrase things in the audition room, but there's a reason why certain things are written that way."
Betty's Big Sis
Like Oka, Ana Ortiz felt an immediate connection to one pilot script in particular. In her case it was Ugly Betty, a colorful comedy focusing on a good-hearted, not-so-stylish assistant at a fashion magazine. The series has scored blockbuster ratings for ABC and recently nabbed Golden Globes for best comedy and leading lady America Ferrera. "I was going out a lot [for pilot-season auditions]," Ortiz recalls. "But when I read Ugly Betty, I thought, 'Oh, my God, that's my family.'" Ortiz is equal parts heartfelt and hilarious as dowdy Betty's outspoken, no-nonsense sister, Hilda, but Ortiz first auditioned for a different role.
"When I first went in-this is so crazy-they had me audition for Betty," she remembers, laughing. "I read the script, and I told my agent, 'I'm not Betty; this is insane.' He was like, 'Yeah, they just want to see you. Just go in and look dowdy and wear lots of layers.' As an actor, I always look at auditions as an opportunity to show [my] stuff." Fortunately, the actor was asked back to read for the part she wanted: Hilda. The Hilda we see on screen is a brassy single mom with a penchant for bright, eye-burning patterns and big jewelry. But, like so many personas that evolve from pilot to series, the character started out completely different. As originally conceived, Ortiz says, Hilda was pregnant, married, and on the hunt for a minivan.
"When they called me back for Hilda, even though I knew the character was pregnant, I thought, 'You know what? I'm just gonna go in and look really sassy and kind of hot but professionalish -- my Queens version of what that would be,'" she says. "I'm born and raised in New York, and my grandmother lived in Queens most of my life."
Ortiz's take on the character got her called back, and she went through the usual grueling rounds of pilot auditions. "You audition once, and then you audition again, and then you get the call that you're testing, which is so exciting," she says. "And then you go in for network, and you're just sweating bullets, and 10 different people are giving you 10 different notes, and ultimately you just have to kind of go with your gut and say, 'Well, this is what's gotten me this far.' Luckily, the man who directed the pilot episode, Richard [Shepard], and Silvio [Horta], the executive producer, were really on the same page. So I just kind of focused on what they had to say."
Ortiz moved to L.A. from New York about eight years ago and estimates she's landed seven or eight pilots. In addition to regular gigs on short-lived series, including Kristin, and recurring roles on Over There and Boston Legal, she has been a part of several pilots that never made it to series, including a Judd Apatow project and a potential USA Network series with Nora Dunn. "At first it was just incomprehensible to me; I had no idea that's how it worked, that things didn't even get picked up, that they just made hundreds of pilots and spent millions of dollars for naught," she says. "So I had to wrap my head around that."
Ortiz says it's devastating when a series gets canceled or a pilot never makes it to air, but she stays encouraged by taking classes and acting in local theatre. In the L.A. area, she has performed in the South Coast Repertory production of José Rivera's References to Salvador Dali Make Me Hot and co-starred alongside Hector Elizondo in Garry Marshall and Lowell Ganz's Wrong Turn at Lungfish at the Falcon Theatre. She also takes improv classes at the Upright Citizens Brigade Theatre and studies acting with Lisa Robertson. Ortiz says these creative outlets keep her sane and ensure that she's ready when an opportunity such as Betty comes along. "I stayed in class, I did theatre as much as I could and just knew that there wasn't really any other option for me," she says. "As much as my mother sends me grad school applications-and she does, bless her heart-you pick your path and you have to fight for it. Everything is a challenge. You can't come out here and expect immediate greatness."
For pilot season, she also recommends getting coached on the auditions you really care about. And if you have four auditions in one day, just maintain that acting-boot-camp mindset. "It's four different opportunities to just kill it," she says. "Chances are, three will go great and one's going to really stink it up. You just have to make sure it's not the one you're really attached to. Pace yourself. If you have four auditions and two of them you absolutely adore and two of them are okay, focus on the two that you absolutely adore."
Given that she adored Ugly Betty and the character of Hilda from the very beginning, that strategy certainly seems to have worked. And now that she's part of one of this season's most successful shows, is mom still sending her grad school applications? "No," Ortiz says, laughing. "She's so thrilled; she is just ecstatic. I'm sure she's collecting them just in case."
Classy Kat
For Lizzy Caplan, pilot season started out a bit differently than it did for Oka and Ortiz. For starters, Caplan didn't think she had to nab a series regular role, because she already had one. She was starring as free spirit Marjee Sorelli on the WB series Related and was convinced that the show would be picked up for a second season. "Normally pilot season is the worst nightmare of all time," she says. "I was really excited because I thought I wasn't going to have to do it last year." When Related's sophomore season prospects began looking iffy and her co-stars started auditioning for other shows, Caplan decided it might be a good idea to have a backup, and she booked the role of acerbic Kat Warbler, part of a reunited group of third-grade classmates in CBS's ensemble sitcom The Class. The show recently picked up a People's Choice Award for favorite new comedy.
As Kat, Caplan spits out twisty one-liners with acid-laced finesse while somehow making the character undeniably likable. She initially resisted going out for the role, she says; she didn't want to do a sitcom, and she didn't want to play a character who seemed similar to her breakthrough role as cynical teenager Janis Ian in Mean Girls. "But I think the character has really turned into something wonderful; it's not the same as Janis," Caplan says. "There's a sort of sex appeal to how they present her, which is always fun to play. And she's a badass."
The actor went through several rounds of auditions and tried to keep her nerves at bay. "I know there wasn't anybody else [called back] for the network, which you'd think would sort of ease my mind, but it never does. CBS is sort of notorious for saying no to everybody-like, [if] three people are testing, saying no to all of them. It was very scary. I woke up [for the test] at 7 in the morning and had a drink, which is always a good idea," she says, chuckling.
Los Angeles native Caplan, now 24, estimates that she started going out for pilots around age 18. In addition to Related, she has been a series regular on The Pitts and Tru Calling and has guest-starred on Smallville and Freaks and Geeks. She notes that no matter how far you get in the pilot process, nothing is ever certain. "It's so difficult to get the part and go through the testing process, and then after that you have to not get recast after you do the pilot, and then you have to see if it gets picked up, and then you have to see if you get the back order," she says. "And now we're waiting to see if we get a second season [of The Class]. There's no calm period, ever."
Thus, she says, you must be resigned that everything involved in the process of making a pilot is a gray area. "You have to weigh the chances of getting picked up versus maybe you just want to make this really awesome pilot that you know is not going to get picked up just so you [can have] been a part of it," she says. "I test a lot for things that I don't get during pilot season, which is always fun, because you have to actually sign the contract, and then they tell you you didn't get the part. It's so brutal. It's sort of a rite of passage for every actor that comes out here, I guess."
Like Ortiz, Caplan has made several pilots that weren't picked up. But the experience of making the pilot, she says, can be rewarding. Many times in doing so you meet talented people whom you might have the opportunity to work with again or who introduce you to other valuable contacts. Caplan met one of her best friends, writer-producer Marc Silverstein, when she was cast in a pilot he did a few years ago, and she has since worked with him on a pilot called Splitsville. And working with Related executive producer and Friends co-creator Marta Kauffman inadvertently led to Caplan nabbing the job on The Class, which was co-created by Kauffman's pal and fellow Friends co-creator David Crane. "David Crane watched that show because of Marta," Caplan says. "[Related] died, but there's no way I would have gotten [The Class] had I not been a part of that dying show."
Caplan says that although pilot season is ridiculously chaotic, there's one simple credo that gets her through: "As cheesy as it is, I really, really do believe that everything happens for a reason. That cliché has sort of manifested itself in my career, and it's never really let me down."