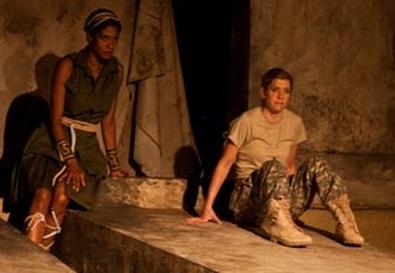 The tragic fates of the Greek warrior Ajax and a female American soldier in Iraq are intertwined in "Ajax in Iraq," Ellen McLaughlin's ambitious but uneven anti-war play currently running in a Flux Theatre Ensemble production. It's an intriguing notion, but in practice it proves to be a theatrical misfire. Rather than building on and informing each other, the two stories get in each other's way, derailing momentum and leaving us with little insight beyond war is very bad.
McLaughlin presents these tales in alternating scenes. In half of them we see the mighty Ajax driven mad by Athena after he feels slighted by the Greek leaders Agamemnon and Menelaus. His madness impels him to slaughter a herd of animals he believes to be his tormentors; then, when he recovers his wits, his shame drives him to commit suicide. In the other half, we watch AJ, a female war hero, slip ever deeper into depression and despair from repeated rapes at the hand of her commanding officer, until she too eventually breaks and commits suicide. Mixed in are speeches directed toward the audience by soldiers, families of soldiers, and veterans who've returned to a country that they don't fit into and that wants little to do with them.
Most of the actors acquit themselves well, but three stand out for their ability to etch sharp characters with a minimum of stage time. Lori E. Parquet brings fire and fear to Tecmessa, Ajax's war bride, making her an individual we understand despite the vast span of time and culture between us. Tiffany Clementi's brief scene as an agonized wife who no longer understands or loves her traumatized husband eloquently brings home the cost of war to the families of veterans. And Mike Mihm humanizes his Odysseus, allowing him to be as appalled by Athena's actions as we are.
Director August Schulenberg works hard to weave the various plot strands and standalone monologues together, but there's only so much he can do with the play's avalanche of disparate characters and speeches. His best moment comes in a crisp staging of an early scene among five female soldiers.
Will Lowry's set is the best "mash-up" of Iraq and Troy in the entire production. A blood-soaked tent fits easily into either world, and a map of Iraq drawn in sand on the ground, which is then effaced during the play, symbolizes the messiness of war in a simple but arresting manner.
"Ajax in Iraq" is by turns surprising, obvious, moving, and tedious. While its heart is in the right place, in the long run it turns out to be more earnest than enriching or entertaining.
Presented by Flux Theatre Ensemble at the Clemente Soto Vélez Cultural & Educational Center, 107 Suffolk St., NYC. June 4–25. Thu.–Sat., 8 p.m.; Sun., 3 p.m.. (Additional performance Wed., June 22, 8 p.m.) (212) 352-3101, (866) 811-4111, www.theatermania.com, or www.fluxtheatre.org.