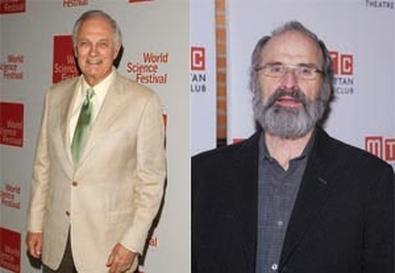 Alan Alda is known by much of the world from his starring role on "M*A*S*H." He is also a film actor ("Flirting With Disaster"), a theater actor ("Art"), a writer-director ("Betsy's Wedding"), and quite the raconteur.
Daniel Sullivan is a director noted for his collaborations with America's great playwrights—including Wendy Wasserstein, Jon Robin Baitz, Donald Margulies, David Lindsay-Abaire, and Lynn Nottage. Sullivan served as artistic director of Seattle Repertory Theatre in the 1980s and '90s. Who knew he also worked as an actor in the 1960s and '70s?
They're collaborating on Alda's world-premiere play "Radiance: The Passion of Marie Curie," opening Nov. 1 at the Geffen Playhouse in Los Angeles. The play centers on Marie Curie, the ultimate hyphenate: Polish-French physicist-chemist whose life bridged the 19th and 20th centuries as she studied radiation. "The play," Alda has said, "tells so much about her, but it also tells about who we are as a species—these knowledgeable animals that we are, and how we're almost doomed by that thirst for knowledge."
Alan Alda:
Is this the same Back Stage that I used to read in New York, about where to line up to read for a part? I must have been one of your first readers. I thought you were older than that. I started looking for work 54 years ago. I discovered Back Stage after four years of walking the streets. I don't think I ever got a job out of it. And I'd like my money back.
Back Stage: How did you get your earliest acting jobs?Alda:
My father brought me onstage when I was 6 months old, but I wouldn't call that an acting job. I was an apprentice when I was 16, and I played leading parts that year. But the first time I was really looking for work as an actor and got work was in an Equity Library Children's Theater production of some play where I played Prince Charming, and we got $10 a performance. Had to put up the scenery ourselves and cart it around.
Daniel Sullivan:
I had a similar experience. My first professional job was a touring children's theater show, in San Francisco, $80 a week, and I drove the truck and played the Tin Woodman. And the woman who ran this thing would book us anywhere. She one time booked us in the veterans hospital psycho ward. We played there at night, like 8 o'clock. And when I got to the point where I said, "I don't have any heart!" somebody went [crazed voice], "Heh, heh, heh." And then somebody came up onstage and asked me where the bathroom was. That was for a year. My wife was Dorothy.
Alda:
Did you ever drive a cab? I drove a cab, in New York. Just a few months.
Sullivan:
I didn't actually ever audition, because I joined the [San Francisco] Actor's Workshop right out of San Francisco State [College], and I was doing that while I was doing the children's theater. So I never went through that whole process of actually looking for an audition.
Alda:
Oh, I auditioned continuously, for about eight or nine years, drove a cab, was a doorman, colored baby pictures. And we lived for three months off the racetrack.
Back Stage: Can either of you remember your worst audition?Alda:
I remember an audition for a play that my father [Robert Alda] was in, so I was sort of a "must." I didn't realize how important it was; I thought we were just reading the play. I thought I had the job. So I looked over, and across the room I saw the producer with his head in his hands. But I was actually very good in it by the time I rehearsed in it. But I think he was ready to cut his wrists.
Back Stage: Did either of you have naysayers who said you'll never make it?Sullivan:
I did. I did summer stock in The Robin Hood Theatre in Delaware when I was in college. My friend and I, Jack Davis, drove across the country from San Francisco. We didn't realize it—we would also have to build the scenery. I remember the two producers took both of us aside and said, "This is not for you. You're too smart for this."
Back Stage: What did you notice when you auditioned actors for "Radiance"?Sullivan:
It's really about understanding the range of the character. That's what I'm doing when I'm looking at actors. It's not about a good actor or a bad actor. I'm not saying, "Wow, what a wonderful actor!" I might say, "Wow, what a wonderful actor, not right for this role." But I only discover it when the actor is auditioning.
Alda:
I also see that there's sometimes a difference between the way they read the scene and who they are and how they talk when they're themselves. And sometimes I feel I can find out from that what they have to draw on as a person that's useful to the character, and sometimes that comes out in the reading and sometimes it doesn't. But it always feels a little better if I get a hint that this person has something that's probably going to come out consonant with the character.
Back Stage: So you like a little chat when they walk in the room?Alda:
I like a little chat.
Sullivan:
I'm not a big chatter. Alan can do the chatting. I guess, over the years, I spent a lot of time in an audition situation, and over the years I've realized everybody knows it's an awkward situation. You try to do what you can to dispense with that. But finally everybody knows what it's actually about. It's like, when people have a first day of rehearsal, and you know the actors are nervous about reading the script for the first time through. And if you sit there and talk about the play and your idea for the whole thing, you know that just about half of what you're saying is going in, because the actors are going [piteously], "Can we just read the script?"
Back Stage: When you were starting, whom did you look up to?Sullivan:
For me, it was all the great ones of the period. It was Olivier. It was Marlon Brando. It was movie stars, just like most kids now, until they become familiar with theater and see a lot of theater.
Alda:
I usually was—and still am—interested in observing and figuring out a really good performance, because I noticed that actors, no matter how good they were, could do bad performances. Even the greats, people I'd identified as great, could come up with a lousy performance. I had favorite performances that I was trying to understand. Mostly mine. No, that's a joke. Mine were often terrible in the beginning. I would find mentors in the companies I worked in, and I would learn a lot just from watching. The best place for me ever to watch, and this is where I think I learned the most, was standing in the wings, because I used to see magicians when my father was in vaudeville, and I'd see how they did the trick, 'cause from the side you're not getting the illusion, you're getting how the illusion is created. I would get that same understanding watching actors, 'cause I'd only be a few feet from them. I'd see them sweating and spitting, but I'd see the energy and the focus that went into a really good performance. And watching from the side, a few feet away, I could see things you can't see watching from the front. And from the front you're either taken in or you're not, but you don't really know why. But you know more why when you're watching from the side.
Sullivan:
I remember in San Francisco, because San Francisco was a tour town, in the '50s I saw "West Side Story," so Jerome Robbins was a huge hero when I was a kid. And I saw a production of "The Visit" with the Lunts. And I didn't know it at the time, but it was Peter Brook who had directed that, when he was just a director. And it was absolutely extraordinary. It changed my life. Both of those [productions]. [Alfred Lunt's] was a great performance. It was the most beautifully behavioral, specific thing. [Lynn Fontanne] was a little fancy.
Back Stage: Dan, at what point did you stop watching the acting and start watching the directing?Sullivan:
Onstage. I would realize I'm not really in this role; I'm just watching what everybody else is doing. So, sort of, I was always taken out of the play, because I would always be critical of what everybody's doing. It was hard for me to keep the kind of focus that you have to have as an actor. I was too curious about everything else.
Back Stage: During rehearsals for "Radiance," what sorts of questions have you been asking Alan? Sullivan:
They're usually questions of clarity. How does this work? How will this be perceived? What were you thinking when you wrote that line? How did you imagine the scene starts; we're in the middle of the scene, what do you think is being said just before we start that? It's really about, in some ways, making my job easier, because if I can get into Alan's head, I can figure out how to do things. It's also for the actors to know, so it keeps the conversation going, it focuses the conversation.
Alda:
The more questions, the better, because any kind of stage writing has to be so compacted that eventually when you get familiar with it, you see [that] what each line is really glints on the surface of a deeper ocean of meaning. But at first it may be hard to understand how those glints add up to something. So a lot of questions make them all make more sense.
Back Stage: Have either of you ever disagreed with your collaborator—the writer with the director and vice versa—about what the subtext is, or does "correct" subtext matter for the ultimate product?Sullivan:
I think there's always going to be moments where if I see a thing a certain way [and] Alan sees it another way, when he explains the way he sees it and it makes sense, then it makes sense. If Alan says he sees it a certain way, I say, "Yeah, but it could be this way," Alan says, "I understand what you mean, but you're wrong," that's the way it is.
Alda:
It doesn't happen very often. I think it's like the way they describe the Supreme Court: They may feel strongly about things, but they never raise their voice, and they persuade one another with rational thought. And not even arguments but just thinking it through. I get the impression that we're both equally committed to something that works theatrically and is truthful and serves the purpose of the play itself, so that neither one of us is looking for great moments that stick out like sore thumbs but something that makes it a satisfying theatrical experience, that's got some strength to it.
Sullivan:
That's true, and you have to take your ego out of it. You're just looking for the truth of it—what's going to make this work.
Alda:
Very often, during the rehearsal, I'll say, "Here's what I had in mind when I wrote that." But I don't say that to impose it on everybody; I just want them to know what the logic was, and if there's better logic, or if there's better imagery that I can go for, I want to know about that.
"Radiance: The Passion of Marie Curie" plays at the Geffen Playhouse, 10886 Le Conte Ave., L.A., Nov. 1-Dec. 11. (310) 208-5454. www.geffenplayhouse.com.