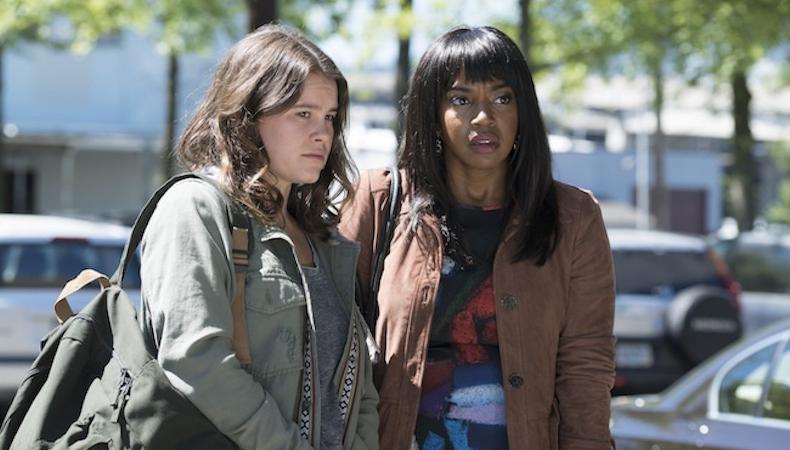 Alan Ball sees your bleeding-heart liberalism and raises you one tough pill: Even the most selfless of intentions can have unforeseen consequences.
Enter "Here and Now" and its central characters, a multicultural family of six. In the Oscar ("American Beauty") and Emmy ("Six Feet Under") winner's welcomed return to familial drama, Ball has three of the four adult children adopted from Liberia, Colombia, and Vietnam—or, in his words, "places where America had done things that weren't entirely honorable"—as a means of helping their uber-progressive adoptive parents "create some good in the world." And he situates the Portland, Oregon–dwelling clan on the cusp of a personal tectonic shift—a shift that comes not just because philosopher patriarch Greg (Tim Robbins) is having an existential crisis, or because ex-hippie-turned-helicopter mom Audrey (Holly Hunter) is fraying at the edges; nor is it because their son Ramon (Daniel Zovatto) appears to be experiencing a psychotic break or because daughter Ashley (Jerrika Hinton) is flirting with extramarital affairs. It also isn't because their other son Duc (Raymond Lee) is isolating himself or their daughter Kristen (Sosie Bacon), the family's only biological child, is spending her high school days higher than a kite. It's simply because they are faced with the same pitfalls that most Americans face today.
On-the-nose, messaged discussions spared, this family is thrust into nuanced circumstances involving racism and sexism, religious prejudices, mental illness, nonbinary gender expression, hate crimes, and President Donald Trump. In other words, with "Here and Now," Ball has created the timeliest new series on television.
READ: How to Get a Show on HBO
"I feel like the characters in the show are our window into this strange new America that we live in—[and] to the America that we grew up believing in and thinking that we lived in that doesn't exist anymore," Ball says. "We don't really know what this new one is going to be and how it's going to affect all of our lives, both individually and as an entire nation. That, to me, is the deeper theme."
We see these effects play out on our ensemble. Greg is most famous, for instance, for his years-old book, "The Layperson's Guide to the Here and Now"—an empowering account of optimism and, as one character puts it, "presentism." But now he's now caught soapboxing at his 60th birthday party about the futility of optimism and the world's inherent chaos. His son Ramon may be losing sight of reality through increasingly vibrant and inexplicable hallucinations, but Greg is losing sight of it by closing his eyes to his own philosophies. It's a descent into depression fed by the day's headlines.
Looking to Ball's previous projects, it's evident the meticulous care he takes with his original characters, and this family is no exception. It's a wonder that with such particular affection, he finds actors befitting his vision. That's his secret, though: He doesn't allow himself to be restrictive before the actors audition.
READ: Is Diversity in Casting the New Normal?
"I've been doing this long enough [to] realize that if you have a really fixed idea of what the character should look like and how they should say the lines, you're limiting yourself," Ball says. "There's nothing more exciting than when somebody comes in and plays the scene in a completely different way than you thought it would play when you wrote it, and it ends up being better."
When it came to casting "Here and Now," the only mandate was for the actors to match the four children's respective races. Otherwise, anyone was fair game. If you're an actor hoping to join Ball's next cast, though, he does advise that proper training is necessary. It doesn't matter if he doesn't know your name, but you shouldn't come to him completely green.
"I gravitate toward actors who have training, because I know how time is of the essence in production. There are a lot of great actors who are very charismatic and very telegenic, and if you were a movie and you had time to spend an entire day on three pages, yeah, you could get what you needed. But I need somebody who can come in and knows the beats in the scene and knows how to play them."
Other than that, Ball says, "I want every actor who walks through the door to surprise me and to be the person."
Want to hit the small screen? Check out Backstage's TV audition listings!