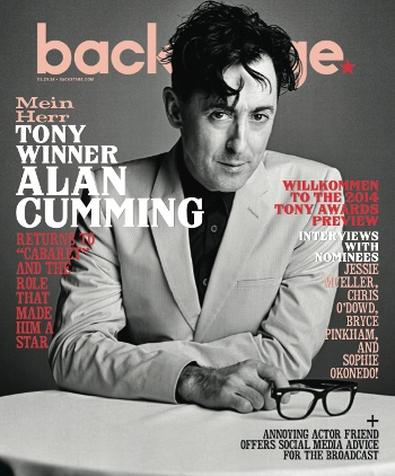 Alan Cumming graces our cover this week, and he chats with Backstage about reviving his Tony Award-winning performance in "Cabaret." Read the full story now!
---
Alan Cumming on Replacement Casts
"I'm a crusader against over-mythologizing acting," Alan Cumming says about the many replacements in "Cabaret" over the years. "I think it's a pandemic in American theater. I really try to discourage it. With [the song] 'I Don't Care Much,' it's not even a part of the original [1966 production]. I think it had only been recorded by Barbra Streisand. It wasn't written for this show; it has no connection to the show, so it's a mood, a moment, it's a turn in the story. I feel sad when I sing it. You can make it what you will.
"When you go and take over for someone, you don't have time to go back to rehearsal and rediscover something. I've never had to do it, but I think it's a mistake to make the person look completely the same as the person they are replacing. Last time it was on, years and years after I left, I'd be flipping through a magazine and—gasp!—there I am. But it wasn't me: It was someone's impersonation of me. I think it's something you can find for yourself or, if you are going to do that, do a complete impersonation. I don't know. I think it's about people who are comfortable in the part. You have to be a really good actor and a really good performer—and those aren't necessarily the same things.
"I did what I thought was right. I didn't try to be different. I think it's the hardest thing to do. I think there is room for people to bring their own personality to this role and still do it within the parameters of how this production is set for that character. Just don't do a complete impersonation—or else do a really good one."
Inspired by this post? Check out our Broadway audition listings!