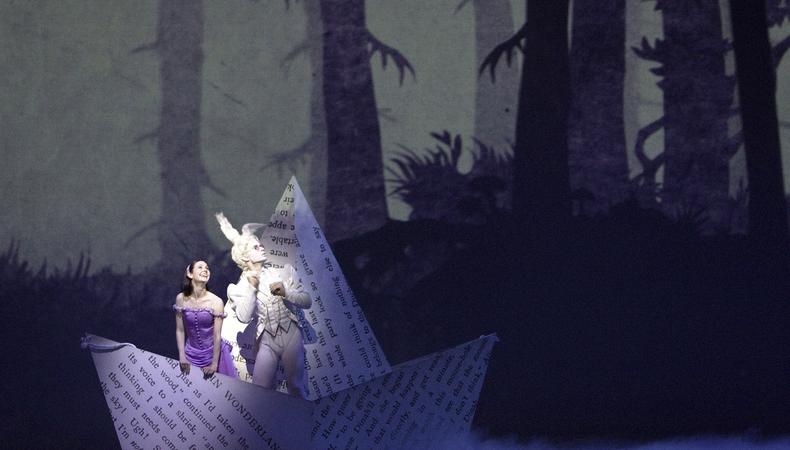 Principal dancer Aleksandar Antonijevic moved instinctively to music as a child before he even knew what dance was. He began his professional career in Zurich and then joined the National Ballet of Canada in Toronto, where he's found an artistic home for more than 20 years.
Antonijevic has performed classics like "Swan Lake," "Giselle," "Onegin," and recently Alexei Ratmansky's "Romeo and Juliet," but he's still excited by new artistic challenges like "Alice's Adventures in Wonderland." The co-production between the Royal Ballet of London and the National Ballet of Canada is choreographed by Christopher Wheeldon and opens at the Dorothy Chandler Pavilion in Los Angeles on Friday. The imaginative production is not necessarily what one might expect from a ballet, according to Antonijevic. "It's a very colorful, very big, very Broadway-like production," he says.
Can you talk a little about your character in "Alices in Wonderland"?
Aleksandar Antonijevic: He is one of the characters that is there from beginning until the end, almost going on this journey with Alice. Over the years I've usually done the prince roles and the white tights and the classical steps, where you don't really have that much freedom to experiment and to go out on a limb, but now, when I do something like White Rabbit, I can really go for it and go crazy and it never seems too much over the top.
It's kind of stressful because, obviously, as the rabbit you have to be so psychotic and so energetic and running and gesturing and even the steps have to be done so staccato and so fast that it's kind of exhausting. Actually, we have really fast costume and make-up changes going from a "normal looking" period character like Lewis Carroll into a rabbit with white skin and white hands and big white wig with the ears. We literally run off and there's four people [changing the costume] and somebody's plastering the white face on your face.
How do you prepare for physically challenging roles?
Antonijevic: We do Pilates. We do gyrotronics. We lift weights. I personally love playing tennis. I do spin classes. You learn over the years how your body responds to physical exhaustion and then you tailor your day to that. We all eat well, drink lots of water. Our whole day is sort of structured around the fact that you have to be on at 7:30 when the curtain goes up and be really well prepared physically.
How do you approach a role that someone else has originated?
Antonijevic: It's always a little bit of a challenge when somebody's created a role to step into their shoes because obviously they worked closely with the choreographer and created something that is suitable for their aesthetic and their sensitivities. I personally tend to not like to see other people perform a role. I always approach all my new roles very instinctively. Obviously we have to follow what the choreographer wanted in terms of balletic steps, but I think that there's always a world of opportunity there to give it your own stance. Christopher was wonderful to work with because he was most concerned with and most interested in us telling the story, not so much that we duplicate the interpretation of the Royal Ballet. When people insist on something being done exactly the same, it's very limiting.
Are you interested at all in choreographing one day?
Antonijevic: Well, what I'm interested in and doing quite a bit of is photography. I have been photographing the company for three years and have had some wonderful solo exhibits here. So choreographer yes, because obviously, whenever we hear the [Romeo] score actually on the radio, you know exactly where that is in the ballet, you know which step you were doing. So you see music differently as a dancer because you envision steps. So I do have some ideas in my head, but I've never really given it a try. But photography on the other hand is something that really came into my life unexpectedly and is really a source of inspiration.
So is your photography focused mainly on ballet?
Antonijevic: All my photography really has the look of fine art photography. Obviously, I have these beautiful physical specimens around me, so my biggest inspiration is [the] human body in space and molding that body with light. What I find so amazing about dance is that our awareness of spatial position is unparalleled, and we're able to express different emotions with the most minor details and changes of position. I did an exhibit of sort of a documentary look at the National Ballet behind the scenes of our life, our daily life and exercise.
Do you have any tips for young dancers starting their careers?
Antonijevic: Being a dancer is not easy. Every job is hard. But being a dancer you know you have to work hard everyday. So it's a very draining kind of life and you have to find inspiration somewhere. You have to find this dedication, this blind dedication to keep on going because the older you get, obviously the harder it gets. It's all a personal journey.
"Alice's Adventures in Wonderland" runs Oct. 19-21 at the Dorothy Chandler Pavilion, Los Angeles. For more information, visit www.musiccenter.org.