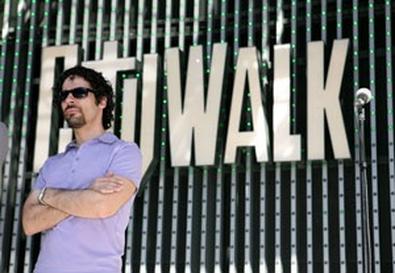 Musical theater fans can list their favorite composers and lyricists by name, and performers probably have a wish list of potential musical collaborators, but members of either group may not be as aware of the important role musical supervisors play in bringing all the musical elements together behind the scenes. Alex Lacamoire, the music supervisor on the new "
Bring It On: The Musical
" (running Oct. 30 to Dec. 10 at the Ahmanson Theatre), describes his job as the "traffic control center of the music in the show." Lacamoire wears multiple hats on the show, loosely based on the 2000 cheerleading film, also serving as co-arranger and co-orchestrator. The show features a book by Jeff Whitty ("Avenue Q"), music by Lin-Manuel Miranda ("In the Heights") and Tom Kitt ("Next to Normal"), and lyrics by Miranda and Amanda Green ("High Fidelity"). Lacamoire has arranged music for such Broadway hits as "Wicked," "Legally Blonde," and "
In the Heights
," for which he won a 2008 Tony Award for best orchestrations.
Music has always been a part of his life. "I've been told stories that even when I was 2 years old, I would sit in front of the stereo speaker and just stare at the speaker and be transfixed by music," he recalls. "So this is definitely something that I feel like I was born to do." Ironically, "What I Was Born to Do" is the title of "Bring It" 's first song. Lacamoire has been playing piano since age 4 and has always loved all styles of music. That love for music intertwined with a love for the theater in high school when he was called on to join the band for a production of "Bye Bye Birdie."
He says, "I loved the music of theater, I loved the people in it, I loved the camaraderie of the people involved, I loved the outgoingness of the people who performed it, so theater is always something I've gravitated towards, and I just found out by the time I was in high school and college that it was something that I had a knack for."
At
Berklee College of Music
, he studied different styles of music, which paved the way for a versatile career. "All the things I've done are very different, but I feel very lucky that these are all styles that I feel like I either know about or have studied or just love," he explains. "I love all kinds of music. I feel lucky that I've learned just enough about all these styles of music that I'm able to create music that references these styles when needed."
Lacamoire has been involved with "Bring It On" since the beginning of its development process. He'd worked with director and choreographer Andy Blankenbuehler on "In the Heights" and "9 to 5." During the latter show, they forged a working relationship, so when Blankenbuehler was hired to direct and choreograph "Bring It On," he brought on Lacamoire. "So basically I got on the project because I had worked with Andy and we had worked so well together," says Lacamoire. "Basically anything that Andy does from here on out, he says he will hire me for anything he does, which is great."
As music supervisor, Lacamoire has also been involved in the casting process for both "In the Heights" and "Bring It On." Although his role is to assess the vocal abilities of those auditioning, he also takes the bigger picture into consideration. He notes, "If there's someone that really inhabits the role from an acting perspective and has the look and the feel that we're looking for—even if they aren't the best voice we've ever heard—I still know that the other things that they have on the table are worth going for, and their voice can either be worked on by me or I can find ways to make the song fit better in their voice."
Dancing Challenges
The demanding choreography in "Bring It On" posed unique casting challenges. "You have to be at a high level of performance just to be able to execute the moves that [Blankenbuehler] crafts," Lacamoire says. Because of this degree of difficulty, the productions needed professional cheerleaders, but most didn't have musical theater experience. For many of the cheerleaders, their audition was the first time they'd sung in public. This created a challenge for Lacamoire because he had to "determine whether or not someone had the ability to sing and belt, to make sure they had pitch, to make sure they had rhythm. Because sometimes people have that, but you wouldn't know it." To complicate matters, because they were cheerleaders, they often didn't have a book of songs. "So Andy came up with a brilliant idea, which is when we have auditions we have a stack of top songs that these cheerleaders probably know and that they can sing for us," says Lacamoire. The cheerleaders were given songs such as "This Love" by Maroon 5, "Ordinary People" by John Legend, or "Since U Been Gone" by Kelly Clarkson. Then Lacamoire would work with them for five minutes on just the chorus, encouraging and nurturing their natural singing abilities, to find skilled cheerleaders who also had the necessary vocal abilities.
Lacamoire really liked the development process, because he felt that he was given a lot of input on the vocal arrangements, which he worked on with Kitt. "Because Andy is very big on musical transitions and using music and dance to get from point A to B in the story," he says, "I ended up creating a lot of transitional cues that happened in the show." For the end of Act 1, Lacamoire created the rhythmic melody for Kitt to use in creating the notes for the song. He was also able to "string together" the different sections that Miranda had written for the song "Saturday Night Jackson" in a way that made the story make sense for Blankenbuehler. Because of the dance-intensive nature of the show, Lacamoire had to simplify the harmonies to make them as easy as possible.
"So normally people might write for four-part harmony," he continues, "[but] there are a lot of times in the show where we have two-part harmony just because we have to factor in that we're losing half the voices because they are doing stunts onstage." Knowing that he "had input on the way a song feels and what the groove is and what it does and whether it's going to make someone tap their foot or whether it's going to make someone excited or whether it's going to move the story further" is rewarding to Lacamoire. He acknowledges that his role is behind the scenes but is also aware that even though people may not notice what he has contributed to a song, "if it wasn't there, they would notice it."
"Bring It On: The Musical" continues at the Ahmanson Theatre, 135 N. Grand Ave., L.A., through Dec. 30. (213) 628-2772. www.centertheatregroup.org/tickets/.