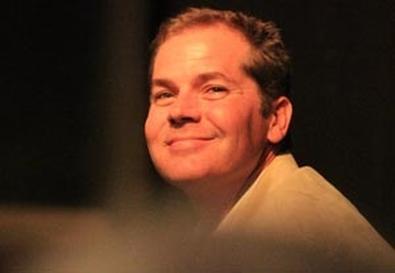 Actors who've worked with Alex Taylor generously praise his coaching skills. "If you allowed it," says Scot Shamblin, "I would gush for pages about this guy. He's really changed my game—what I do and how I feel about the craft."
Specifically, Shamblin cites Taylor's ability to help him locate keys to characterization within a text. "He helped me find that the script is actually a gold mine," says the actor. "You just have to pay attention to what is there on the page—not going off and making choices that aren't represented or backed up by anything in the script."
Private coaching makes up about 25 percent of Taylor's teaching work. Most of those he coaches are Meisner-trained actors with whom he has previously worked. When he deals with those not versed in Meisner, he says, the chief challenge is finding a common vocabulary.
By way of example to explain his basic approach to scene work, Taylor says, "If you and I were doing a scene, and you were my younger brother, and you have an addiction problem, and the scene calls for getting you into rehab, then that's gonna be my focus: on getting my brother into rehab. And my personal reason why, of course, would be simply because I love you and care about you, and I don't want to see your life messed up. And so that's what I'll do."
Taylor says having such focus lets the actor concentrate on his or her scene partner. The actor will do what's needed to fulfill the objective and will rely on natural instincts to find actions that will spur the partner. "Sometimes I may get angry, sometime I may be hurt. [This focus] allows me to be a real human being, as opposed to an actor 'playing it out,' " he says.
Sometimes actors will say they have received little or no direction from a casting director. Taylor believes such actors are looking at things from the wrong perspective: "The person they're working with is their sister, their mom, their boyfriend, a friend, a neighbor. And that's how they need to be treated—not like a casting director, a reader, or an actor." Taylor adds that when actors say directors give them "nothing," what it often means is "they're not getting what they had planned to get."
And what if a director's or CD's instructions are in conflict with the advice of an acting coach? Taylor advises that actors listen to the director, finding a way of inwardly justifying the choice: "Our job is to help tell the story—not just to do whatever we want."
As Back Stage reader and actor Michael Mayorga notes: "Alex has a great sense of people and how to tap into their strengths. He is able to bring life to a scene and also help the actors working on the scene discover things that they would never find on their own. His dedication to his students is a rare quality in Los Angeles and one that is a welcome quality."
Alex Taylor, The Sanford Meisner Studio, 4150 Riverside Drive, Ste. 205, Burbank, CA 91505; (818) 335-1140,; www.thesanfordmeisnerstudio.com

Taylor was the Readers' Choice winner for this category and favorite monologue coach in 2010.
Runners-Up:
- Diane Christiansen, Diane Christiansen Coaching, (818) 523-8283,
www.dianechristiansen.com
- Joseph J. Pearlman, Joseph Pearlman Coaching, (917) 754-2221,
www.josephpearlman.com
- Gregory Berger-Sobeck, Berg Studios, (323) 666-3382,
www.thebergstudios.com