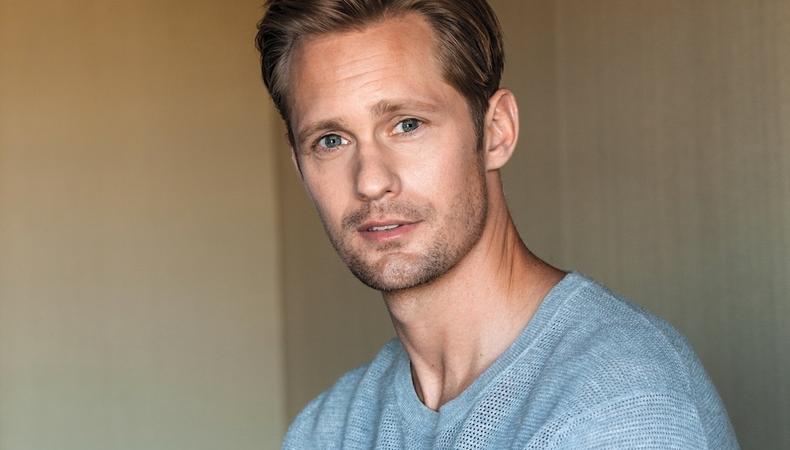 When Alexander Skarsgård strides into the neighborhood café, heads turn. For starters, he's six-feet-four yet somehow looks twice that size. And, of course, he's almost ludicrously handsome. Despite the fact that he was up until 6 a.m. that morning filming his hit HBO series "True Blood," Skarsgård looks like he just stepped into a photo shoot.
Given those cheekbones and his inherent charisma, Skarsgård seemed destined to be a star. Brit Marling, who stars in the film "The East" and co-wrote the script with director Zal Batmanglij, says few actors could have played Benji, the magnetic leader of an underground collective that exacts revenge on dangerous corporations. "You watch him on 'True Blood,' and that show is so far out, but Alex has a way of making you think it's real," she says. "Zal and I thought that if he could make you believe in that world, surely he could be a charismatic revolutionary leader who has people dropping out of their lives to follow him into the woods. Who else could pull that off?"
"The East" is one of three acclaimed movies Skarsgård has in theaters, including the ensemble thriller "Disconnect" and an adaptation of Henry James' "What Maisie Knew." All that, and "True Blood" is back, stronger than ever, for its sixth season. While he admits to being in an ideal place in his career, it's interesting to note that the first time fame came calling, he wanted nothing to do with it.
The oldest son of Swedish actor Stellan Skarsgård, he made his film debut when he was only 7 years old, in his father's film "Åke and His World." When he was 13, he achieved fame with the lead role in the TV production "The Dog That Smiled." Offers started rolling in, and Skarsgård promptly quit. "It wasn't a break. I was done with it," he says. "I enjoyed the acting part of it, but I wasn't comfortable with the attention. I wanted to be a regular kid; I wasn't comfortable with people reading about me and knowing so much about me." His father supported him completely. "The best advice he ever gave me was when he told me it was OK to quit. He said it has to come from within, and if you're not 100-percent sure, don't do it. He was working onstage at the time, not doing international films. And he said, 'Ninety percent of my friends who are actors, brilliant actors, can't support themselves.' "
When he turned 20, the siren call of performing lured him back. "I didn't want to wake up bitter at 55 for not having tried," he says. He moved to New York to attend theater school at Marymount Manhattan College, and "from day one, I fell in love." Another love in the form of his current girlfriend lured him back to Sweden after only a year. After working every odd job from busboy to barista, he landed a role in a movie called "Happy End." Others followed; most notable to American audiences was his turn in "Zoolander" as male model Meekus, whose cheerful gasoline fight ends in tragedy.
While in Mozambique shooting the HBO miniseries "Generation Kill," he first caught wind of Alan Ball's upcoming series "True Blood." At the time he was less than excited. "Someone just said, 'Oh, it's a show about vampires. You're this Viking vampire,' " he recalls. "This was before 'Twilight' and all the vampire hype. So I was like, What are you talking about? Then I heard it was Alan Ball and HBO, and the combination of the two made me think this could be interesting." He put himself on tape from Mozambique; his audition scene was Eric Northman's first scene in Season 1, and the producers were interested. But the show conflicted with his "Generation Kill" schedule, and he wasn't available. "I wasn't going to do it," Skarsgård says. "And then the writer's strike happened, and 'True Blood' had to push. And it helped me be able to do the show."
His sexy, commanding turn as Northman made him an overnight star for the second time. It also ensured that a slew of scripts were sent his way, all of which involved characters who were basically "non-vampire versions of Eric." As much as he loves the character, Skarsgård says he has no interest in duplicating roles. "I want to have fun, and I want to be challenged. I want that mystery of a new character," he says. "If I have all the answers before I even start the process, where's the growth or adventure in that?"
Instead, he has gravitated to smaller, independent films. Like his father, he worked with Lars von Trier, appearing in "Melancholia." Even though that film was about the end of the world, Skarsgård calls it "one of the most fun sets I've ever been on." He has nothing against big films—he appeared in last year's "Battleship"—but says his day job affords him a new luxury. "I've always freelanced as an actor, and you always have to worry about the next paycheck. When I booked 'True Blood,' I promised myself I would take advantage of the fact that for the first time in my career, I could afford to turn down big money to go and do small, character-driven indies."
There is no diva behavior on set, according to Marling. "In 'The East,' there were monologues in the script, and Alex would actually say, 'I don't think Benji needs to say all of this; I think it's clear with what's happening in the story,' " she says. "That's pretty rare to have an actor say I don't need these lines—let's trust where the story is going."
How does his representation feel about his eschewing the big paychecks, considering the catering budget for "Battleship" was probably greater than his salary for "The East"? Skarsgård laughs and says, "They're actually incredibly supportive. My agents get me, and they're very much on my side."
"True Blood" fans are a passionate lot, so how is he handling the onslaught of attention, considering it made him quit once before? "I approach it differently than when I was 13," he says. "Then, it made me really insecure and paranoid. Now I know that if someone comes up to me, it's because they like what I do and what I do has affected that person. I invest so much blood, sweat, and tears into my projects that it's wonderful when people respond to that. I've done projects I care about a lot and no one saw it. So I can't find the attention horrible. I've been on both sides, and it's definitely better when people care about what you do."
Asked if he can reveal anything about the new season, Skarsgård chooses his words carefully. "There's a war going on this season because for the first time in 1,000 years, humans are a real threat," he says. "Eric's been busy fighting witches and other vampires, but never humans. You'll find out how and why, but humans have become a danger." He adds that the most difficult scene he's ever had to perform on the show is coming up this season, though he can't go into detail. "I recently had to do a very emotional scene with a blood bag," he says, allowing a small smile. "I can't talk about it too much, but that was quite difficult."