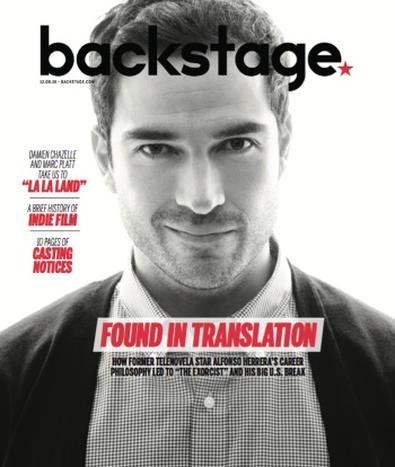 The day after Election Day, Alfonso Herrera is sitting in the high-ceilinged atrium of the Chicago complex where he lives between shooting days for Fox's "The Exorcist."
He speaks for a few minutes about politics, a topic that brings sweeping hand gestures and frustration in equal measure. He's passionate about the subject. Perhaps unsurprisingly, Herrera's care about political underpinnings, both within and outside of his native Mexico, was influential in his decision to start a film acting career.
His role in 2014's political satire "The Perfect Dictatorship" ("La Dictadura Perfecta"), from acclaimed filmmaker Luis Estrada, was a stark departure from the telenovela type he'd built a career on. Playing a television producer in the dark comedy was his first major film role, and "Dictatorship" went on to become one of Mexico's largest-grossing films of all time.
In just two years, Herrera's career has moved swiftly into the American mainstream and resulted in a complex slew of characters: a rodeo circuit rider, an underappreciated gay lover, and now, a priest dealing with demonic possession. For the actor, doing the homework to develop a deep understanding of script, motive, and the real circumstances in the story's fictional world is the key to fleshing out multifaceted roles like these.
On "The Exorcist," Herrera plays Father Tomas Ortega, a young priest confronted with very real demons, both external and internal. "Every single human being has those demons. We have our light and our darkness, and that darkness was what I was very curious to explore with Tomas, especially his fears, his doubts," Herrera says. "What's happening right now [in America], it's a perfect example of how this external situation is exploding our most animal fears and doubts about what's going to happen with the country. What's going to happen to me? What's going to happen to everything that is around me?"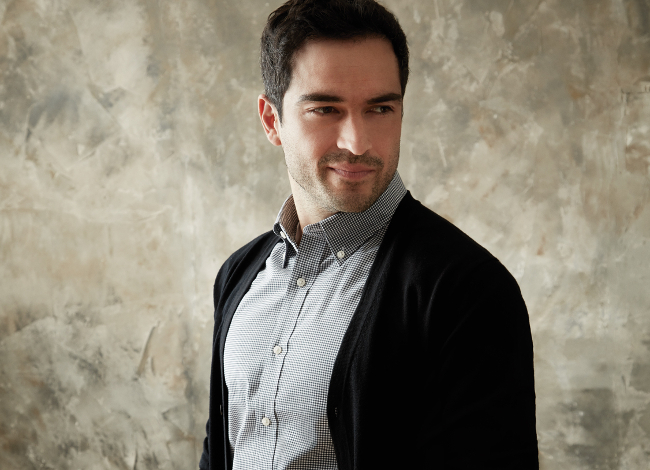 Deep dives into character study weren't always the goal for Herrera, who as a child split his time between divorced parents in Mexico City and Guadalajara.
"Being so little and having to travel so much to see my mother, to see my father, I think it generated curiosity in me and made me someone who cannot stand still," he says. "Now I cannot stop. I can't stop moving."
His curiosity and passion for travel could have resulted in a career in aviation, which an 18-year-old Herrera was intent on studying. But at the time, Herrera was part of a theater company and playing Haemon in a production of "Antigone" when the father of an actor in the company, producer Fernando Sariñana, asked him if he'd like to audition for a film he was directing. One of the actors in that project, "Amar Te Duele" (2002), ended up being a producer on the popular Mexican TV teen drama "Rebelde."
Herrera's acting career is proof that good work begets work. Prior to "Dictatorship," the actor was completely pigeonholed by his international success in telenovelas "Clase 406" and "Rebelde," and later RBD, the now defunct pop band the latter show yielded. It wasn't until he chose to do a film rather than renew his contract with "Rebelde" programmer and producer Televisa that he was able to diversify his skills onscreen. The decision paid off big.
In 2015, Netflix picked up "Dictatorship" to stream in the U.S. and soon thereafter cast him in its original series "Sense8." In the surreal Wachowski-created wonderland about a group of mentally linked people spread across the world, Herrera played a gay man in a closeted relationship. That same year, he was cast in the John Travolta role in Fox's remake of "Urban Cowboy," though the network dropped the show following the pilot.
READ: "How to Audition for Netflix"
But that exposure with Fox led to a lead role in the network's reboot of "The Exorcist," which debuted in September and features a cast with serious acting chops, including Geena Davis, "House of Cards" star Ben Daniels, and Alan Ruck, aka Cameron from "Ferris Bueller's Day Off."
"I had seen Alfonso in 'Sense8' and thought he was amazing," says Daniels, who plays the more demonically experienced Father Marcus Keane on "The Exorcist." "I was really excited to hear that we would be chemistry testing during the audition process for [the series]. We clicked immediately, and what can be a hugely daunting and pressured experience for any actor was actually rather exciting. He hurled himself into the audition, he was totally unguarded. I thought, Great! We're off!"
Herrera's confidence comes from his meticulous preparation. "I like to read the scene a lot," he says. "And after I know the scene back and forth, like, all my lines, there's this amazing feeling when you're on set and you know the lines perfectly—you can just fly with it."
Being deeply entrenched not only in the script but with his character's needs was crucial to crafting his believability.
"When you know the character 100 percent, you can react to any stimulus that occurs on the outside," he explains about the supernatural setting of his show. "It's not that I try to connect my fears with Tomas' fears, but I was trying to be very precise with what Tomas was feeling—what were the fear and the main doubts he was feeling? If you have that very, very clear, you can have a more clear picture of what you're trying to portray."
Even when dealing with satanic forces on "The Exorcist" or mind-bending sci-fi fantasy as he did on "Sense8," Herrera always begins with his character's intention as a point of reference. "If I have the intention, the only thing I have to try to do is find different ways to go from Point A to Point B. That way, when I'm on set, I have different perspectives and different options to attack the scene," he explains.
But remaining flexible with his scene partners is also essential to an authentic performance. "The real test of an actor, for me, is to be fluid in the moment and not stubbornly hang on to something that you've told yourself is the only way a scene can be played," says Daniels of his co-star. "Alfonso's rigorous homework meant that he would arrive to set very centered, not only with his character work, but also with the fact that he was working in a secondary language. He was always word-perfect, which meant that he could really play. He's very open and honest as an actor and totally connects with you during a scene, whether the camera is on him or you."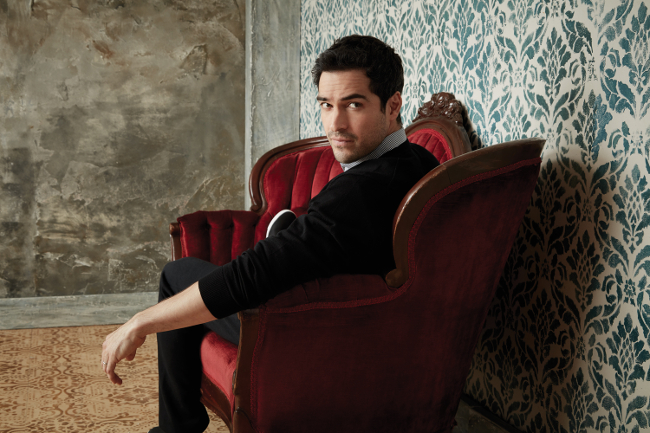 Considering Herrera is now father to a newborn baby boy, that dedication to his craft is even more admirable. (He admits sleeping has all but gone out the window.) The work hasn't stopped, and the actor is now considering a producer role on a documentary, plus he's heading back to Mexico to host another season of "La Ciencia de lo Absurdo," the Spanish version of National Geographic's comedic informational show "Science of Stupid." But he says he'd jump at the chance to keep working in Hollywood.
To young actors hoping to land a job in this industry, he says: Be prepared to be in the game for the long haul.
"This is like a marathon, it's not like a 100-meter race," Herrera says, pounding his chair to drive home his point. "It's a marathon, and you have to be very constant. Sometimes there are going to be ups and downs, but it's not how fast you go or how fast you're going to get there, it's how steady your pace is.
"Sometimes you're gonna feel very excited, sometimes you're gonna run fast, and sometimes you're gonna feel tired, but you have to keep running. That is the important thing."
Looking to break onto the big screen? Check out our film audition listings!