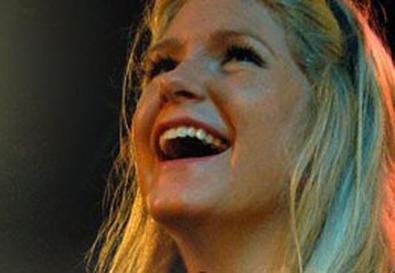 "Alice" is, thankfully, not "Wonderland 2.0." Forget the Frank Wildhorn bombast, the meaningless special effects, the limp Tea Party and Disney jokes. Andrew Barbato and Lesley DeSantis' nearly through-sung musical adaptation of "Alice's Adventures in Wonderland" hews closer to the spirit, if not always the letter, of Lewis Carroll. And being more pointedly about a child's right to dream, it exudes more charm.
Not that Barbato and DeSantis don't give us many head-scratching moments. This Alice (Rocio Del Mar Valles, strong-voiced and spirited) might exist in the present or the past; there are no contemporary references, but her stubbornness and backtalk feel distinctly modern. She's just turned 13, is from a broken family, rebels against her harpy of a mother's urgings to grow up, and hates piano lessons. Hence her spontaneous decision to run away and fall down that rabbit hole.
In Wonderland, the Carroll drifts in and out of focus. I haven't read the book in ages, but was the mouse really a sea captain who's been kidnapped by a cat for 19 years? The Cheshire Cat, Mad Hatter, and March Hare are little more than walk-ons, Tweedledum and Tweedledee are cheerfully pugnacious brothers, and the Duchess is a madwoman with an obnoxious crying infant. More or less unchanged are the White Rabbit and Queen of Hearts, who is Alice's mom in a higher vocal range.
It's a quick tour through Wonderland, but thanks largely to Barbato, who directed, there's some wonder in it. With virtually no set, how do you convey Alice growing large? Have her climb a ladder, unfurl fabric on it to represent her dress, and presto, she's 10 feet tall. Turn the ladder on its side, hand Alice a ship's wheel, and it's a boat. Open some umbrellas, they're a mushroom patch. Fun.
The authors trample the let-kids-stay-kids theme into the ground, the lyrics can be off-point ("I won't let your purity/Take hold of me," the Queen of Hearts bafflingly tells Alice), and the melodies wander rather aimlessly up and down the major scale, rarely stopping for an accidental, but they're always mood-appropriate. Well-wrought this "Alice" isn't, but at a little over an hour, it doesn't wear out its welcome while displaying modesty, ingenuity, and a genuine child's sense of wonder.
Presented by Cellar Door Stage and Erica Ruff Productions as part of the Midtown International Theatre Festival at the June Havoc Theatre, 312 W. 36th St., 1st floor, NYC. July 20–30. Remaining performances: Sat., July 23, 8:30 p.m.; Sun., July 24, 1:30 p.m.; Sat., July 30, 11 a.m. (212) 352-3101, (866) 811-4111, or www.midtownfestival.org.