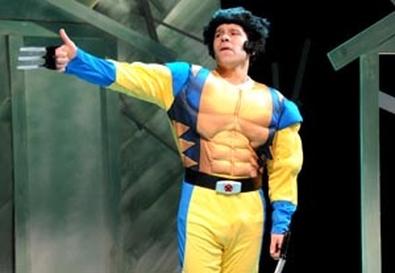 Qui Nguyen's "Alice in Slasherland" is not, as one might suppose, a mash-up of Tim Burton's take on the Lewis Carroll classic and "Sweeney Todd." Instead, the play giddily riffs on teenage slasher movies. As with all of Nguyen and director Robert Ross Parker's collaborations, there's some terrific fight choreography from Nguyen, and while there's a certain gleeful loopiness to the proceedings, the piece is unfocused and at times seems sadly recycled.
The mayhem begins when Lewis (played sweetly and with crack comic timing by Carlo Alban) inadvertently opens a conduit to hell, unleashing a host of bloodthirsty demons as well as the creepy goth girl Alice (the imposing and wryly amusing Amy Kim Waschke). Lewis befriends her, and she turns out to be the one entity who knows what's going on.
The duo embarks on vanquishing the killer demons, aided by Margaret (whom Bonnie Sherman renders as a teen spitfire), the cheerleader Lewis loves, as well as Edgar, a jive-talking teddy bear (one of several marvelous creations from puppet designer David Valentine). Manipulated and voiced with élan by Sheldon Best, this gloriously nonsensical addition to the familiar film formula is the play's most inspired device.
Equally impressive is a stop-motion short film (video design is by Matthew Tennie) that tells the "true" story of "Alice in Wonderland." Such video intermezzos are standard fixtures—and frequently a highlight—of Nguyen's shows, but this one, which borrows from more than five centuries of pop culture, is particularly witty.
The company is rounded out by the multiply cast Tom Myers and Andrea Marie Smith, who each find moments to shine as both living and undead characters; he is especially memorable as a Frenchman who inhabits a daft sheriff's body. But despite such merry moments, "Alice in Slasherland," as a whole, never quite cuts it.
Presented by Vampire Cowboys Theatre Company at Here Arts Center, 145 Sixth Ave
.,
NYC. March 21
–
April 10. Thu
.–
Sun
.,
8:30 p.m
. (
Additional performance Sat
.,
April 10, 4 p.m
.) (
212
)
352-3101
, (
866
)
811-4111, www.theatermania.com, or www. here.org
.