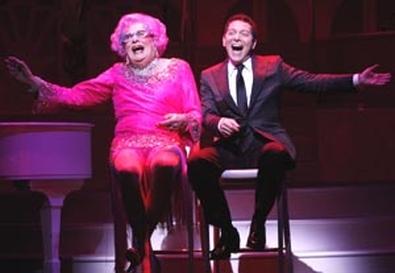 As the curtain fell on "All About Me," the new revue starring the unlikely pair of singer-pianist Michael Feinstein and drag artist-comedian Barry Humphries as Dame Edna Everage, I felt as if I'd just spent 90 minutes watching YouTube clips. Some were funny, some were entertaining, some were so-so, but they were all familiar and felt as if I'd randomly chosen them after typing in the stars' names in the search engine. This is somewhat surprising, as the show is directed by Casey Nicholaw, who staged the marvelous "The Drowsy Chaperone," and written by Humphries himself—he's devised two previous Broadway outings for the Dame, both of which were brilliant—and the ingeniously daffy playwright Christopher Durang. These three talents have come up with a pasted-together "showbiz entertainment" resembling a TV variety special from the 1960s—safe and only mildly amusing.
The premise is wafer thin. Each star believes the show is a solo bit—hence the title—and their joint appearance is due to a colossal booking error. An aggressive stage manager forces them to collaborate, and they wind up warbling one of those "together forever" medleys that were a staple of Carol Burnett's old show.
Each trots out his signature act with few surprises. Dame Edna insults members of the audience in a "loving" way and lets loose with topical jabs at such targets as New York governor David Paterson, but the quips on Bernie Madoff, South Street Seaport's Bodies exhibit, Madonna's penchant for adopting third-world orphans, and more are long past their sell-by date. Humphries is a skilled clown, and he garners maximum laughs with Edna's rubber-faced grimaces. He's also a scream when he takes Edna into new territory with a riotous rendition of Beyoncé's pop hit "Single Ladies (Put a Ring on It)." Stephen Adnitt, credited with designing the Dame's gowns, adds visual punch.
When Edna first enters, after Feinstein has performed a few numbers, she thanks him for doing the "warm-up." Unfortunately, the joke contains more than a hint of truth. Edna's gigantic presence overwhelms Feinstein, whose specialty is tender ballads of the Great American Songbook. He's at his best when gently caressing a lyric like Lorenz Hart's for "My Romance" to his own solo piano accompaniment of Richard Rodgers' sublime melody. When he plays the big-band singer with sustained money notes and hyped-up arrangements from the onstage orchestra, it comes across as somewhat forced.
Jodi Capeless makes an impressive debut as the bossy stage manager who displays unexpected vocal ability, and Gregory Butler and Jon-Paul Mateo provide eye candy and proficient dancing as beefy chorus boys.
"All About Me" is a pleasant enough way to pass an evening, but it's so short, lightweight, and familiar that it evaporates from memory the minute you hit the pavement outside Henry Miller's Theatre.
Presented by Jeffrey Richards, Jerry Frankel, Eagle Productions, Jamie deRoy/Remmel T. Dickinson, Richard Winkler/Dan Frishwasser, Mallory Factor, Cheryl Lachowicz, Chris Yegen, Judith Resnick, Jon Bierman, Christopher Hart Productions, CTM Media Group, Stewart F. Lane/Bonnie Comley, Michael Filerman, Barry & Carole Kaye/Irv Welzer, Terry Allen Kramer, Terrie J. Lootens, Stein & Gunderson Productions, WenSheJack Productions, and Mickey Conlon at Henry Miller's Theatre, 124 W. 43rd St., NYC. Opened March 18 for an open run. Tue., 7 p.m.; Wed.–Sat., 8 p.m.; Wed. and Sat., 2 p.m.; Sun., 3 p.m. (Sun., April 11, performance at 2 p.m.) (212) 239-6200, (800) 432-7250, or www.telecharge.com. Casting by Telsey + Co.