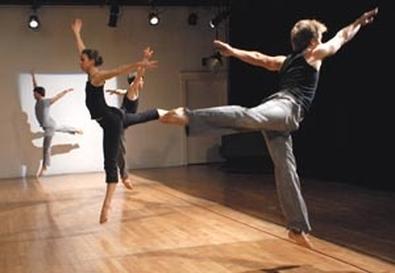 Josh Beamish is a Canadian dance artist whose work deserves much greater and more widespread recognition in the U.S. than it has yet received. Not only is Beamish an inspired choreographer, but he founded and directs a sterling seven-member company with which he performs—brilliantly!—also using it to present new works by other outstanding Canadian dance makers.
In "Allemande," one of the most gratifying evenings of dance presented on New York's downtown arts scene this season, Beamish's Western Canada–based troupe, Move: The Company, performed American premieres of pieces by Simone Orlando, Lara Barclay, and Matjash Mrozewski and the world premiere of Beamish's enthralling sextet "Allemande."
Constructed largely of duets, which shift in mood and design as a third party assertively enters the space and prompts the exit of one of the original two dancers, "Allemande" is a brisk, busy work built of small, precise ballet-based actions, seasoned with a sharp contemporary aesthetic. Beamish's choreographic talent lies in how he is able to make series of fast, disparate isolations flow together into logically connected phrases that add up to larger and profoundly expressive movement statements.
And while in other contexts this sleek, technical style of contemporary dance is often executed with a detached quality, Beamish's dancers perform with passion and relate to one another in an almost haughty manner, lending an interesting emotionality to an already intriguing dance. The work's most emotionally captivating interpreter is Cai Glover, who also brings astute sensitivity to his performance in "Caught Excerpt," Barclay's intricate, touching depiction of a couple struggling with how best to unite their individual energies and impulses.
Set to a poignant assemblage of Johnny Cash recordings, Orlando's "Studies of Cash" employs heartrending video footage (by Lynne Spencer), a comic karaoke scene that leavens the sadness, and a marvelous choreographic fusion of raw athleticism, folk-dance elements, and classical lyricism to portray the grim sentiments associated with Cash's music and life. The program is completed by Mrozewski's "Secret Self," a meandering quartet that, despite some exquisite dancing by Barclay, feels choreographically unoriginal and unclear in terms of content and meaning.
Presented by Move: The Company, in association with Joyce SoHo, at Joyce SoHo, 155 Mercer St., NYC. March 17–20. Thu.–Sat., 8 p.m.; Sun., 3 p.m. (212) 242-0800 or www.joyce.org.