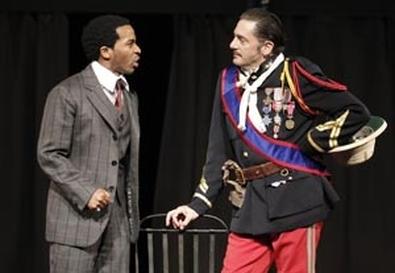 "Shakespeare in Bed": That's the sexy slogan the marketing department at the Public Theater has come up with to advertise the company's Central Park season of "All's Well That Ends Well" and "Measure for Measure," presented in repertory with the same cast. While both works do deal with carnal issues, they are known as "problem" plays because of their credibility-stretching plots. "Measure" has had a resurgence in productions in recent years due to its strong depiction of sexual hypocrisy, which contemporary directors have used to draw parallels to the inappropriate behavior of current political figures. "All's Well," however, the first production on the Delacorte Theater bill, remains a problem child.
The basic storyline asks us to sympathize with the Cinderella-like Helena, who is hopelessly in love with the boorish, undeserving Bertram, the Count of Rousillion. This titled young man disdains Helena because she is his social inferior. After saving the life of the King of France thanks to the medical skills she learned from her physician father, now deceased, Helena gets her man when the grateful monarch forces the obstinate count to marry her. But the cur flees to the battlefields of Italy without consummating the union. After many melodramatic machinations involving Helena's faked death, rings, and blindfolds, Bertram has a last-minute conversion and requites his wife's passion.
Marianne Elliott's recent production for London's National Theatre and Richard Jones' 1993 staging for the Delacorte solved the problem by reinventing the play as a fairy tale, so the more fanciful twists and Helena's seemingly futile adoration were more acceptable. For this edition, Daniel Sullivan has directed a straightforward "All's Well," set in roughly the same period as his "Merchant of Venice" last season: Europe of the late Edwardian era leading into World War I. The environment is elegantly realized by Scott Pask's stylish and simple set, Jane Greenwood's tasteful period costumes, and Peter Kaczorowski's evocative lighting. Kudos also to Tom Kitt's sweetly romantic original music.
Anchoring this fantastic adventure in a realistic milieu can work if the leading lady and man can accomplish the difficult assignment of making their characters' questionable actions believable. While Annie Parisse and André Holland are both solid performers, they fail to completely click. Parisse is too weepy in her early scenes, coming across as a foolish dreamer, but she gathers strength as Helena follows Bertram to Italy and plots to gain his heart, transforming the lady into a valiant heroine. Holland fails to vivify Bertram's basic nobility, but he does effectively employ humor to leaven the count's nasty treatment of Helena and his hound-dog pursuit of Diana, a comely Italian lass. Unfortunately, there is no sexual spark between the two leads, a necessary element to put across the impossible plot.
Fortunately, the supporting stories more than make up for the deficiencies of the main thread. Eighty-one-year-old John Cullum is a compelling King of France, convincingly conveying the ruler's diminishing power and its return under Helena's care. Tonya Pinkins gives the Countess of Rousillion, Bertram's regal mother, a steely spine. David Manis and Caitlin O'Connell provide welcome comic relief in clownish roles. But the show is stolen by Reg Rogers' Snagglepuss-like Parolles and Dakin Matthews' sagacious Lafew. The interchanges between this foolish braggart and sly courtier are delivered with such dry wit and precise timing that they form the core of the production, which should be the love story of Helena and Bertram.
Presented by the Public Theater at the Delacorte Theater, Central Park (enter at Fifth Avenue and 79th Street or Central Park West and 81st Street), NYC. June 25–July 30. Schedule varies. (212) 967-7555 or www.publictheater.org. Casting by Jordan Thaler and Heidi Griffiths.