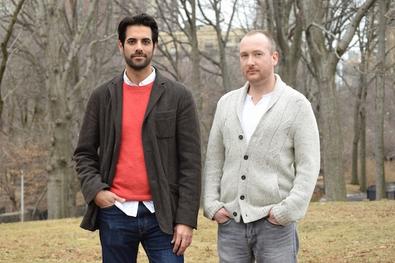 Dave Waldron and Tony Behringer are familiar names to background performers in the NYC area. The two have taken the lead on background casting for long-running New York-based shows and films, perhaps most notably "Law and Order: SVU." This month Waldron and Behringer are putting on their producer hats and launching an Indiegogo campaign for a new Web series, "Alphabet Boys." What makes "Alphabet Boys" stand out from the rest of the Indiegogo launches you'll see later this month? How about the participation of some "SVU" and "Today Show" alums? We talked to Waldron and Behringer about how they got started working with background, what sets principal casting apart, and what they hope to achieve with their new series.
You have been doing background casting for years. What made you decide to make the jump to producing and casting your own work?
Waldron: Since I was very young, I knew I wanted to be in entertainment. I used to think I wanted to act. After years of "hitting the pavement" and finally realizing that wasn't actually what I wanted to do, my attention turned to casting. The great thing about casting is that it introduced me to every aspect of the industry from wardrobe to props to producing. As I moved up in the casting world and began to work more closely with producers and show runners, I realized that I had a passion for it. I loved the idea of taking a concept or a show and being the driving force behind it.
Behringer: I have always known I wanted to work in the entertainment industry in some capacity. It's the reason I ended up in New York City. Back in the day I thought I wanted to be in front of the camera, but realized my talents and expertise are much more suited for behind-the-camera multi-tasking on whatever hundred obstacles happen on a TV or film set each and every day. It took me several years, but I know producing is where I belong.
How does principal casting differ from background? How did you cast the supporting roles for "Alphabet Boys"?
Waldron: With background casting, we are really casting a look. We are creating a visual world in the backdrop of the scene based off of what the production is asking for and what the location calls for. With principal casting, it's a complete package. It's about finding someone who's got the acting chops and the right look, while also making sure that the actors have chemistry with each other. The hardest part of the casting process for us was creating this world that flowed and finding the right balance of chemistry. Most of the cast of "Alphabet Boys" has worked together on the stage at one point or another, which makes that level of comfort between them all the more palpable. We had to make sure that all four main actors had great chemistry no matter what combination of them was in a scene, so that meant watching numerous submissions and then bringing them in to read together. We also lucked out that our producer (and cast member) Stephanie Martignetti, who has done numerous Broadway performances, was able to tap into her contacts in that community to get the word out so highly talented people were auditioning.
How did you get some of the bigger names (Jenna Wolfe, "The Today Show," and Diane Neal "Law and Order: Special Victims Unit") attached?
Waldron: The amazing thing about the entertainment industry is that it is an artist's world. In my 13 years as an extras casting director I have met so many interesting and amazing people—all of whom were willing to support this new venture. I have known Neal since I started on "Law and Order: Special Victims Unit" back on Season 6. I met Wolfe a few years ago and we were fast friends. So, of course, when we were creating the Web series, we knew our writer and co-creator, Abby Emmett, had to create roles for them. Once the pilot script was completed, we approached Jenna and Diane to come on board and they said yes. It really is all about surrounding yourself with creative and positive people.
Behringer: What has been amazing is that many actors came to us once they heard we were starting a project. In fact, we are hoping once we start shooting the rest of the season that a few more "names" we have been interested in would love to be a part of the "Alphabet Boys" world.
Do you believe Web series are the next big thing? As an executive producer, what is your goal for this project? Do you want it to live on the Web or parlay into a television series similar to the trajectory of "Broad City"?
Waldron: I really do believe that the Web is the new medium. It's instantly accessible to almost everyone, whether on your computer, your iPad, or your phone. There are so many avenues like Netflix, Hulu, Amazon, Yahoo, and Google that are streaming television shows and films now. Not only is the instant access key, but it also gives you the freedom to do things the way you want them to be done. If you can believe it, you can achieve it. We'd love to get the entire first season (eight episodes) of "Alphabet Boys" online by the end of the summer. We filmed the pilot and we're doing an Indiegogo campaign to raise the funds to shoot the rest of the series. We want to garner attention and an Internet following and then (hopefully!) pitch the series to a Web-based distributor such as Netflix, Amazon, or Hulu. So, yes, we'd love to be the next "Broad City" in that respect.
Behringer: There is this fantastic thing happening in the world of Web and television right now; the two are morphing to accommodate viewers at this very moment. Places like Netflix, Hulu, and Amazon have really turned up the stakes for the traditional networks, but competition is good for business and I think there is room for both Web series and television as long as it's a quality product. Being a business person at heart I would have to say I will be happy for "Alphabet Boys" to live wherever we can get the project funded! It is our goal to create a fun world for our viewers and retain creative control over that process. Our intentions for Season 1 are to remain on the Web.
When can Backstage readers expect to see "Alphabet Boys?"
Waldron: Our goal is to film the remaining seven episodes of the season in Mid-May/June. So we are hoping to be on a Web near you by summer of 2015!
Check out the Indiegogo campaign for "Alphabet Boys" and support the cause!