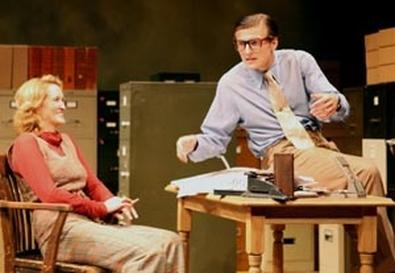 Michael Frayn has established himself as a master of both slapstick farce ("Noises Off") and complex drama ("Copenhagen," "Democracy"), but his 1975 play "Alphabetical Order," which contains elements of both, fails to satisfy as either.
Currently being presented by the admirable Keen Company, which specializes in little-known or forgotten works, the play takes place in the library of a failing provincial English newspaper. Long before the Internet, publications used to employ archivists to clip and file news stories for future reference. But this archive is a total mess, with dozens of files and folders spilling out thousands of scraps of paper onto every possible surface, including the floor.
Frayn sets up his central premise—the chaotic state of the library reflects the disorganized personal lives of the staff—early on, and there are no surprises thereafter. In following the basic format of dozens of similar workplace-based sitcoms, movies, and plays, a newcomer brings order to the confusion and robs the office of its cheerful if crazed atmosphere. There are some slight variations to the formula, though. The organizer is not a stuffy killjoy but the seemingly shy Lesley, who apologizes incessantly for her improvements yet gets her way in the end. In addition, the current sorry state of print media gives the proceedings an uncomfortably relevant ring. But these virtues, plus Carl Forsman's tight staging, do not make up for the play's basically predictable structure.
The cast is a mixed bag. Audrey Lynn Weston fails to bring dimension to the whiny Lesley, while John Windsor-Cunningham seems to have stepped out of an episode of the old Britcom "Are You Being Served?" as the smart-aleck office messenger. Brad Bellamy barely registers as Arnold, the hangdog office drunk. On the up side, Angela Reed makes the confusion of Lucy, the head librarian, endearing. William Connell, as her indecisive lover, finds the little-boy fear behind his character's smugness. Likewise, Margaret Daly displays the loneliness beneath the feature editor's prim exterior, and Paul Molnar imparts the ache covered up by the office jokester's clowning.
Kudos to scenic designer Nathan Heverin for creating such a delightfully messy stage picture and to stage manager Justin Scribner and his crew, who must have spent days cutting up newspapers. They also manage to get the endless debris all cleaned up during a short intermission.
Presented by Keen Company at the Harold Clurman Theatre, 410 W. 42nd St., NYC. Sept. 28–Oct. 23. Tue., 7 p.m.; Wed.–Fri., 8 p.m.; Sat., 2 and 8 p.m.; Sun., 3 p.m. (No performance Thu., Oct. 7; additional performance Wed., Oct. 20, 3 p.m.) (212) 239-6200, (800) 432-7250, or www.telecharge.com. Casting by Judy Bowman.