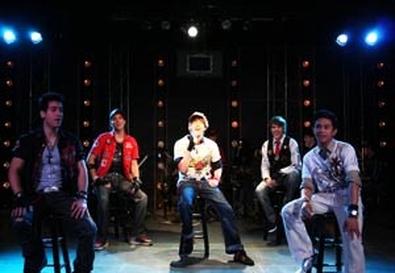 It's the last concert for this Christian-based boy band, and the group's "Soul Sensor DX-12," a digital device mounted above the stage, displaying the number of burdened souls present in the theater needing to be saved, is presumably mega-taxed in West Hollywood—especially, one might assume, considering the concert's current gay-oriented performance venue. Besides "celebrating our Savior's slow and gruesome death," the goal of the Boyz—aptly named Matthew, Luke, Mark, Abraham, and Juan—is to reduce the number on their machine to zero in 90 minutes of fervent song and dance teetering between beat-box rhythms and traditional hallelujahs.
Frankly, Kevin Del Aguila's slim book is rife with more minor conflicts than an old episode of
Father Knows Best
, particularly unsatisfying considering all the places he could have explored while satirizing the blandness of faith-based music performed by overcompensating kids working from indoctrinated belief systems mixed with pure adrenaline. There's no intellectual reason for the Boyz to try so hard to convert their audience except that they've been brainwashed into seeing this as their calling—making it all-too apparent there's danger in collective blind faith when the egos of four of them account for the last numbers left blinking on the DX-12's readout at the end of the concert.
Yet what director Patrick Pearson wrenches from this quintet of extremely appealing and übertalented young performers is a hundred times more interesting than the slight script or Gary Adler and Michael Patrick Walker's predictable score. When turned over to Pearson, music director Christopher Lloyd Bratten, and his knockout band, and performed by these five charismatic kids who work their butts off interpreting choreographer Ameenah Kaplan's delightfully tongue-in-cheek moves, magic happens. Jake Wesley Stewart is the major standout as the Vinnie Barbarino–esque Luke, a guy who substitutes the word
exhaustion
for
stoned
. The ridiculously sweet-faced Jesse Bradley, with his Clearasil commercial smile and confident vocal power, is a true find for L.A. musical theater as the group's leader, Matthew. Clifford Bañagale is a charmer as the closeted Mark, a slightly sad and conflicted kid in love with Matt. Robert Acinapura and Kelly Rice as, respectively, the Boyz' resident Hispanic and Jewish members, effortlessly rise above their otherwise glaringly stereotypical characters.
Presented by and at the Celebration Theatre, 7051-B Santa Monica Blvd
.,
Hollywood
.
July 10
–
Aug. 23. Thu
.–
Sat
.,
8 p
.
m
.;
Sun
.,
3 p
.
m
. (
323
)
957-1884. www
.
celebrationtheatre
.
com
.