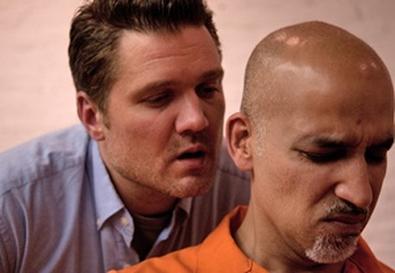 Torture: It's not a pretty topic, and author Patricia Davis doesn't promise it to be. But she does package it into a solid play. Thought-provoking and fast-paced, "Alternative Methods" is a Fringe gem.
Spotlighting interrogation tactics used by the United States government, the play focuses on a newly trained psychologist brought in to question a detained Iraqi doctor suspected of tending to an al-Qaida operative. After witnessing instances of torture, she must quickly decide between going along with prescribed plans and standing firm on ethical treatment.
Though the music choices are at times unfitting (such as Jay-Z's "99 Problems") and the script could use some tightening, the performances counteract these flaws. Charlie Kevin's portrayal of a seasoned interrogator is dynamic, pairing a cool cowboy attitude with outbursts of rage and anxiety. Hend Ayoub also delivers a powerful performance, her character tearfully witnessing and coping with the demise of her detained husband. Josh Liveright's direction builds tension and keeps the play plowing forward.
Presented by Patricia Davis Productions as part of the New York International Fringe Festival at La MaMa ETC, 74A E. Fourth St., NYC. Aug. 15–28. Remaining performances: Fri., Aug. 20, 5:30 p.m.; Sun., Aug. 22, 1 p.m.; Wed., Aug. 25, 8:15 p.m.; Sat., Aug. 28, 9:45 p.m. (866) 468-7619 or www.fringenyc.org.