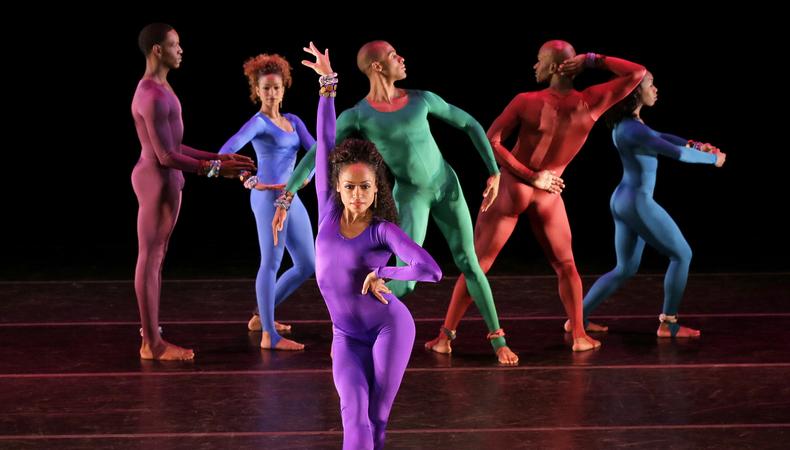 Since Robert Battle's installation as artistic director in 2011, Alvin Ailey American Dance Theater has finally begun to establish a diverse, adventurous repertoire of works that's of the same high caliber as the troupe's exceptional dancers. Fortunately, the company is in residence at New York City Center for the entire month of December, dancing lots of mixed-bill programs, as it will take the viewing of more than one performance to fully appreciate all that Battle is adding to the group's offerings.
Dec. 1's triple bill showed just an inkling of this new and improved stature while reinforcing the notion that the Ailey dancers are unparalleled, capable of raising even mediocre choreography to significant heights. Danced by this company, even the Hokey Pokey might appear to be great art. Of the program's three contrasting works, one was superb (Ailey's "Revelations), one was good (Rennie Harris' "Home"), and one was not so hot but worthy of presentation nonetheless (Garth Fagan's "From Before").
Inspired by stories of people living with HIV, the rhythm-driven, hip-hop-influenced "Home" opened the program with a celebratory spirit, expanding a vernacular vocabulary of breakers' toprocking steps and floor work (tame by b-boy standards) with fluid, high leg extensions and hard-edged leaps. Created on the Ailey company in 2011, the stylistic amalgamation was performed with a "cool" assurance and dreamy pleasure that drew us into its sense of contentedness. It served as a reminder that this is a company not just of top technicians but also of physical artists who can make us feel something abstract, such as the title's suggestion, perhaps, of our eventual return to a "home" that is not of this world.
The choreographically slight group work "From Before" was made startlingly beautiful by the dancers' emphasis on the weight, clarity, and sensuality of Fagan's West Indian–rooted dance language. Though overrated as a choreographer, the Jamaican-born Fagan holds an important place in modern-dance history. Like Katherine Dunham a generation earlier, he finds kinship between Afro-Caribbean dancing and the movement principles of modern dance and explores it on the concert stage. Just as his choreography for Broadway's "The Lion King" owes much of its appeal to Julie Taymor's design concepts, the success of Fagan's concert work owes more to the beauty of the traditional vocabulary that underpins it than to his skills as a craftsman. Structurally, Fagan's pieces meander, existing interchangeably in memory.
The evening ended, as many Ailey performances do, with "Revelations," the company's signature work. Danced to rousing and heartfelt spirituals, the 1960 crowd pleaser is considered a masterwork of the American modern-dance canon. Guest artist Matthew Rushing gave a breathtaking interpretation of the challenging solo "I Wanna Be Ready," his balance, strength, and control imperturbable as he made visible a centeredness rooted in the calm confidence of a deep mind-body connection. Similarly impressive were Akua Noni Parker and Michael Jackson Jr., whose stately adagio in "Fix Me, Jesus" elicited gasps from the audience.
Presented by Alvin Ailey American Dance Theater at New York City Center, 131 W. 55th St., NYC. Nov. 28–Dec. 30. (212) 581-1212 or www.nycitycenter.org.
Critic's Score: A