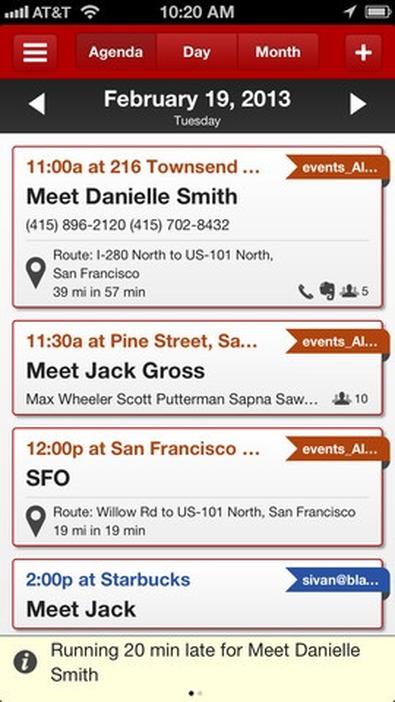 What It Is
NeverLate
What It Does
Smart calendaring iOS app with traffic information, integration with other services, and more.
Where to Buy It
https://itunes.apple.com/us/app/neverlate/id568604969?mt=8
What It Costs
Free
Acting, singing, dancing, dialects...Your life as a performer emphasizes all these abilities—and probably plenty more—but the most important just might be something you won't learn in a studio: punctuality. Getting to auditions, rehearsals, performances, classes, or (sigh) your day job is a vital component of building, fostering, and expanding your career. But because even if you're the most prepared person in the world you can be stalled by street snarl or even just rush hour, you need a way to stay on time even when things are at their craziest.
For this, NeverLate can help. Though on the surface yet another calendaring app (free, for use with the iPhone 3GS or later), it integrates functionality from multiple different sources to keep you and your schedule more organized than ever.
Probably the most useful for actors, especially those who live in Los Angeles, is its live traffic information. When you're about ready to leave for your next appointment, NeverLate will tell you up front how congested the roads are and how long you can expect your trip to take—letting you make the smartest transportation decisions right at the outset. Should things change after you get in the car, NeverLate will tell you that, too; it constantly monitors changing road conditions, and informs you if you need to make an adjustment. Of course it works with your phone's navigation system to provide driving directions as well.
Even if you're lucky enough for traffic to not be a concern, NeverLate has you covered in other ways. It provides instant access to phone numbers (complete with one-touch dialing), e-mail addresses, and photos of your most valuable contacts. There's an option to view all your events on a map rather than chronologically, so you can plot out your day visually. You can link it with Evernote so you can aggregate all your most important data (such as names, phone numbers, character sketches, and so on) in the calendar entry where they're most relevant. Or attach a LinkedIn profile so you'll be able to get up to speed on the people with whom you'll be meeting. Smart geocoding also helps the app identify places you go all the time (home, the gym, and so on) and automatically associate calendar entries with the correct addresses.
Being on time, every time, is a lifetime commitment for everyone, and there's no silver bullet. You'll still need to expend some effort to keep all your materials accurate and updated, and getting out the door when you need to is also your own problem. But for everything else, NeverLate puts a surprising amount of power, and an impressive arsenal of timeliness tools, right at your fingertips.