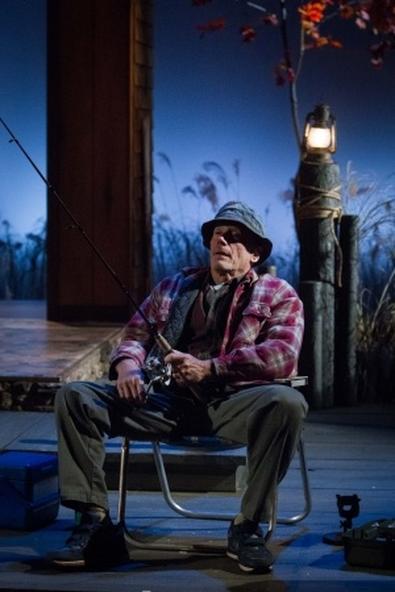 Bruce Graham's affecting family drama "The Outgoing Tide" might have been pitched as "On Golden Pond" meets "'Night, Mother." It is, you may gather, not about happy circumstances. But, like those two celebrated plays about life, death, and reconciliation, "The Outgoing Tide" is laced with considerable humor, has affection and respect for its characters, and pulls you into its story. A lot of these qualities come through poignantly in this estimable if uneven production from the Delaware Theatre Company, with Emmy Award winners Michael Learned and Peter Strauss playing long-married couple Peg and Gunner, who have retired to year-round living in their summer cottage on the Chesapeake Bay.
Gunner, a blue-collar guy and former owner of a small trucking company, is suffering from Alzheimer's, and a concerned Peg hopes to get him into an assisted living facility. But Gunner, who has stretches of great lucidity, is completely resistant, so Peg turns to their son, Jack, on a visit to the cottage, to help her. Jack (played by Ian Lithgow) has his own problems: he's in the midst of divorce proceedings, concerned about his dysfunctional teenage son, and still chafing from his own childhood that was marked by his father's relentless teasing and his mother's cautionary tales ("I know a boy who sat too close to the television and his eyeballs melted…"). How Gunner determines to take control of his own fate, make peace with Jack, and win over Peg to his end-of-life plan makes up the gist of the story.
If the plotting seems a bit formulaic, it is nevertheless convincing. The characters are well-drawn, the dialogue is pungent, and director Bud Martin, also Delaware Theatre Company's executive director, has gracefully staged the action on Dirk Durossette's handsome set that reveals both the deck and interior of the family cottage. The script's frequent time shifts from present to past and back again are handled with a telling simplicity.
Learned is a lovely Peg, an intelligent and sensitive woman caught up in a tiring and desperate situation and trying to do what she thinks is right. Things are a bit problematic elsewhere, though. Strauss delivers an energetic turn as Gunner, bringing emotional heft to the man's recognition of his failing mind, but at the same time he overdoes the rough edges—the "dems," "dese," and "dose's," the hunched posture and bent-knee gait—to the point that the role threatens to become a caricature. On the other hand, Lithgow's Jack is so understated he often seems simply disengaged. Nevertheless, Lithgow is quietly moving at the play's conclusion, and despite the bumpiness of the production, "The Outgoing Tide" may well flood your emotions with its emotional truth.
Presented by Delaware Theatre Company at 59E59 Theaters, 59 E. 59th St., NYC. Nov. 20–Dec. 16. (212) 279-4200 or www.TicketCentral.com. Casting by Stuart Howard and Paul Hardt.
Critic's Score: B