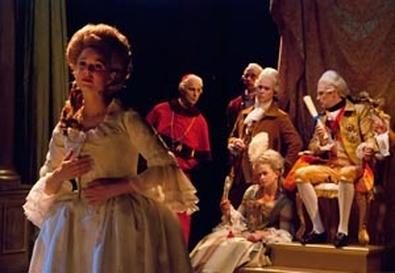 By casting Miles Anderson as Salieri, director Adrian Noble helps kick any potential rust off this Peter Shaffer play. Adding in Jay Whittaker as a sneerful and no less passionate Mozart, Shaffer's man-versus-God opus crackles blisteringly and musically along.
Anderson's Salieri, who ages 32 years and never leaves the stage, is, rather ironically, not a showman or a frustrated would-be star. Rather, he feels himself cosmically cheated. Anderson delivers those lengthy monologues, addressed to God or to the spirits of mediocrity, without hamminess or actorly excess. The play offers no shortage of juicy fulminating character roles—including its foulmouthed Mozart—but Noble ensures there's not an ounce of bloat. Indeed, cues are picked up so quickly, one sometimes feels that the cast has a stopwatch in its talented midst.
Set designer Ralph Funicello keeps the stage largely bare, employing a vertically moving arch and the center rising platform for the myriad stages and concert halls—opulent and mean—where Mozart's seminal works premiere, triumph, or crash as the case may be. Praise is due also to sound designer David Bullard and music director Charlie Reuter for allowing the music to be the additional character.
Whittaker's Mozart takes getting used to, and not just because Mozart is written as being an insufferable lout with a bad laugh. Whittaker is tall and vaguely hawkish, his voice sounding distinctly like that of the disgraced comedian Gilbert Gottfried, and to portray Mozart he takes on an angry petulance that hides any latent charisma. His Mozart and Winslow Corbett's lower-born Constanze Weber seem an unlikely match, although Corbett shines in her scenes with Anderson. Constanze, alas, drops out of this play about men rather quickly.
Noble has cast his Venticelli (the unnamed "little winds"), who bring Salieri his news and gossip, as women (Georgia Hatzis and Ryman Sneed), a pair of court dames with inexplicably elongated noses. In a nifty bit of synchronicity, Charles Janasz—who played a Venticella in the last Broadway revival of "Amadeus" —here plays the pompous chamberlain Count von Strack.
Presented by and at the Old Globe Theater, 1363 Old Globe Way, San Diego. June 12-Sept. 22. Tue.-Sun., 8 p.m., in rotating rep with "Much Ado About Nothing" and "The Tempest." (619) 234-5623 or www.oldglobe.org.