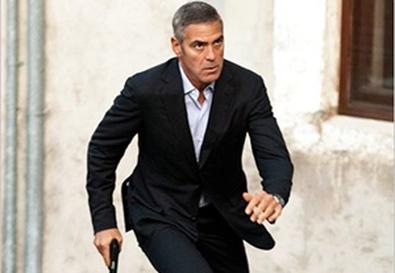 "The American" has all the elements of a cool flick. It's got a big-time movie star and superb actor in George Clooney; gorgeous Italian settings; a suspenseful Hitchcockian-thriller scenario; and a talented director in Anton Corbijn, who directed the brilliant character study of rocker Ian Curtis, "Control." So why doesn't this late-summer release totally engage us? It may be the desire of the filmmakers to turn it into an homage to 1970s European art-house movies—the minimalist exercises directed by the likes of Michelangelo Antonioni. What Corbijn has put onscreen—being marketed as an exciting action crime thriller—is a deliberately paced study of a man alone, surrounded by death and looking to get out. The dialogue is so spare it plays almost like a descendent of a spaghetti Western. You can almost hear the silence.
Clooney plays Jack, an American abroad—and an assassin. When a job in Sweden ends badly, he relocates to the Italian region of Abruzzo, far from the killer lifestyle he has been thrust into. There he instead takes on the task of developing a super-gun for another mystery assassin named Mathilde (Thekla Reuten). Meandering through this village, he befriends a chatty priest, Father Benedetto (Paolo Bonacelli) and has a hot—and we mean sizzling—affair with a prostitute named Clara (Violante Placido). But can he trust her? And is he really safe in this seemingly peaceful environment?
What "The American" has going for it in spades is a Clooney performance we have never seen before. The actor dials it down several notches to create a portrait of a man haunted by the nature of the profession he has chosen and forced to live in a space where he can trust no one. Clooney, with limited dialogue and pained expressions throughout, goes deeply internal to portray a guy trapped in so many ways and unable to set himself free. His scenes opposite Placido are the exception; with her, in some of the most truly erotic moments caught on film this year, his character fully comes to life. One heartbreaking sequence set by a river bank poignantly finds him doubting her sincerity, a telltale sign seen only in Clooney's eyes that this is a truly damaged man looking to retrieve an ounce of humanity, even if the odds are not good. Evoking the essence of classic screen acting, Clooney develops a multilayered, fully three-dimensional person, but one that keeps an emotional distance from the audience. Placido is gorgeous and quite affecting as Clara, even if a hooker with a heart of gold is not the most original of screen creations. Bonacelli is lively and colorful as the priest with lots of sage advice, while Reuten is very fine as a mysterious colleague who could spell trouble.
Audiences drawn in by Clooney and the action images the film's trailer conveys may be disappointed, but those looking for something with quiet integrity and the soul of European auteurs in this very different cinematic time will find much to savor.

Genre: Drama. Written by: Rowan Joffe. Directed by: Anton Corbijn. Starring: George Clooney, Thekla Reuten, Paolo Bonacelli, Violante Placido.