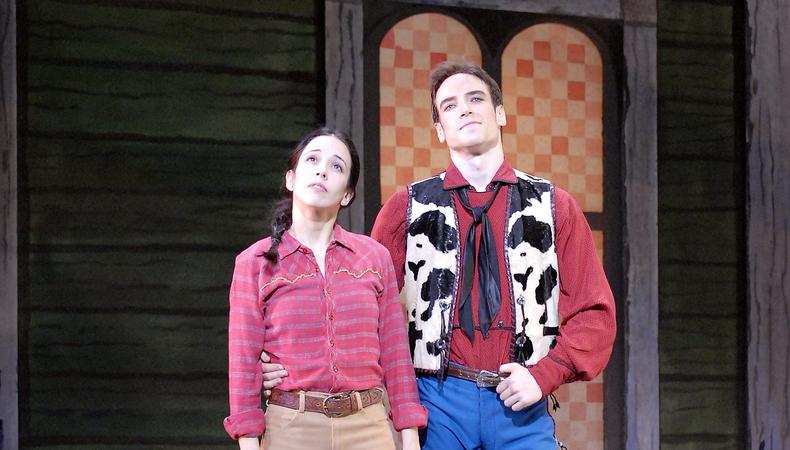 For any self-respecting commemorator of landmark events in American dance history, the place to be Tuesday night, Oct. 16, wasNew York'sCityCenter. There American Ballet Theatre was giving the opening performance of its week-long fall season, the main event of which was a special anniversary presentation of Agnes de Mille's "Rodeo." With its Wild West setting, Aaron Copland score, and cowboys hoofing with modern dance–influenced ballet technique, "Rodeo" represents one of the first truly American ballets. There is not a swan, fairy princess, or evil queen in sight.
The trailblazing ballet debuted on Oct. 16, 1942, exactly 70 years to the date (and almost to the hour) of ABT's spiffy performance. Fueled by Xiomara Reyes' poignant portrayal of the tomboyish cowgirl and handsome Sascha Radetsky's charming depiction of the champion roper, the production also features polished athletic dancing from the corps of cowboys and an impressive a cappella square dance performed to the sounds of the dancers' hand clapping and calls from dancer Kenneth Easter. Preceding the ballet was an engrossing film about its history, a mini-documentary produced especially for the occasion by Steeplechase Films. It contains archival performance footage as well as interviews in which de Mille demonstrates the physical principles underlying her creation of some of the ballet's movement vocabulary.
The evening opened with an outstanding rendition of modern-dance choreographer Mark Morris' "Drink to Me Only With Thine Eyes," a gleeful work for 12 dancers created for ABT in 1988. Set to jaunty Virgil Thomson piano music, the piece, like every dance Morris makes, displays a sophisticated understanding and inventive reflection of its musical accompaniment. The work is playful, not in the lightweight connotation of that word but as it applies to children: people for whom play is their work, the way in which they discover things, study them, and hence learn about the world. In this case the world is Thomson's music, and as Morris' dancers cavort about the stage they show us what it's all about. They creep on pointe with bent knees as the melody walks up the steps of a scale. On accented beats they jump into a tight fifth position with arms crossed in an X shape overhead, planting themselves conspicuously as we start to comprehend the feel of an accent.
Sandwiched between the evening's ensemble works were two duets that thrilled—one emotionally, the other physically. In a breathtakingly sad excerpt from James Kudelka's "Cruel World," Julie Kent and Marcelo Gomes brilliantly exposed the psychological undercurrents of a relationship between a depressed woman and her tenderly supportive lover. He stayed extremely close to her the entire time, yet she never looked at him. Each big lift felt repressed, unfinished, ending abruptly in a controlled right-angled shape or fizzling down into a spin.
Young technical phenomenon Danil Simkin showed off his jaw-dropping altitudinous leaps in the flashy duet from George Balanchine's "Stars and Stripes." His partner, Sarah Lane, danced beautifully, despite what looked like shaky support from him.
Presented by America Ballet Theatre atNew York CityCenter, 131 W. 55th St., NYC. Oct. 16–20. (212) 581-1212, www.nycitycenter.org, or www.abt.org.
Critic's Score: A+