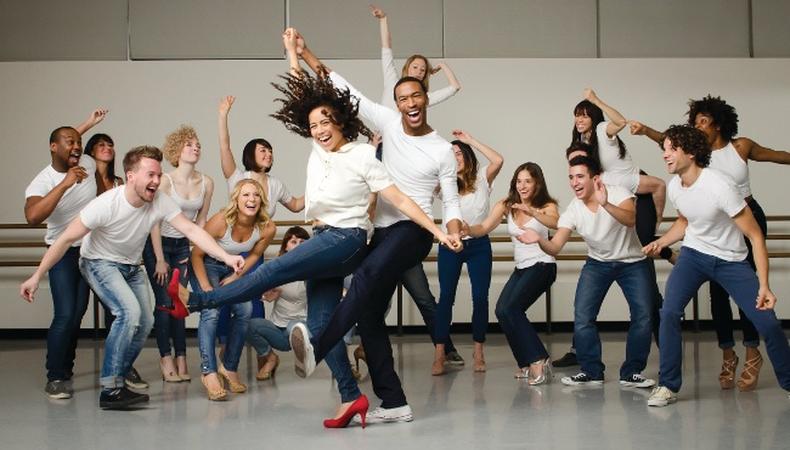 The landscape of dance on Broadway may have changed over time, but the past has been present throughout the 2014–2015 season's stages. And ensemble productions such as the ballet-focused "An American in Paris," the tap-heavy "Dames at Sea," and hip-hop-centric "Hamilton" have proved it's more important than ever for dancers to maintain a sense of versatility. In favor of that argument is American Dance Machine for the 21st Century, coming to New York City's Joyce Theater Dec. 21–Jan. 3.
Based on the idea that dialogue, songs, and sets can all be preserved while choreography largely disappears (even shows that were caught on film collect dust in library archives), ADM21 reconstructs performances from shows incorporating everything from ballet and tap to modern and musical theater dance, with the help of performers from the original casts or the choreographers themselves.
Former dancers like Gemze de Lappe, who was cast in one of the first national companies for the production of "Oklahoma!" and worked closely with choreographer Agnes de Mille, helped reconstruct and stage ADM21's rendition, while "Grand Hotel" associate choreographer and dance captain Niki Harris revived the Tommy Tune–choreographed 1989 show, which ADM21 founder and producing artistic director Nikki Feirt Atkins called "brilliant in its simplicity and understated subtlety."
When casting the production, Atkins told Backstage that versatility was the No. 1 skill she and her director, "Wicked" choreographer and Tony winner Wayne Cilento, needed to tackle the variety represented in a show that runs like a jukebox musical of dance numbers. A cast of 22 dancers, including many who have performed in Broadway productions such as "On the Town," "Memphis," and "Newsies," will bring the original choreography to new fans.
"I looked at things and thought some just might be too musty and dusty to re-create for today's audience," said Atkins. "I said, 'Give me something that ended up on the cutting room floor but that's still fabulous,' and I found 'Mr. Monotony,' and 'Charleston' from 'Billion Dollar Baby.' "
Additional shows to be represented at this year's performance, which will feature a live band, include "A Chorus Line," "Pippin," and "Bubbling Brown Sugar," along with choreographers de Mille, Michael Bennett ("Dreamgirls"), Mia Michaels ("So You Think You Can Dance"), Jerome Robbins, and Susan Stroman, the first woman to direct and choreograph a full-length ballet for the New York City Ballet, among others.
When asked how ADM21 fits into what's happening on Broadway now, Atkins said, "It doesn't. It's a thing unto itself because it doesn't fit into the regular Broadway variety. This is 10, 11, 12 different choreographers, a living archive. It could also be seen as pure entertainment for people who aren't interested in the history, but while entertaining the audience, it'll be educating them. Hopefully they'll want to look in the program, go home, and read about the show they just saw a dance from."
For more information, including how to purchase tickets, visit joyce.org/performances.
Inspired by this post? Check out our dance audition listings!