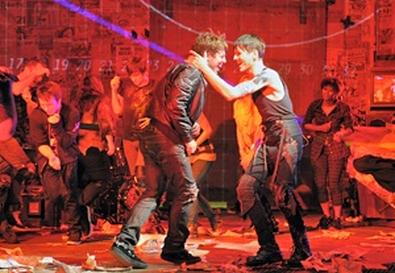 Members of the cast of the new musical "American Idiot" were all smiles last night at Vanity Fair and USA Network's second annual Character Approved Awards in New York, where they performed songs from the show. The musical, based on the best-selling album by the alt-rock band Green Day, is moving to Broadway after completing a twice-extended, sold-out run at California's Berkeley Repertory Theatre.
"We're so excited," cast member Mary Farber said about the move. "I've never been a part of anything like this."
The young cast is a mix of Broadway newcomers and veterans, but those at the party all expressed love for the spirit behind the show, their castmates, and Green Day.
"There's something so special about it," said actor Michael Esper. "It's a special group of people. There's so much heart in the show. Everyone believes in it so much and leaves it all on the stage every single time."
Christina Sajous, a cast member who proudly declares her status as a native New Yorker, said, "I can't wait to see where it goes. It has a lot of amazing elements, a lot of truth, a lot of heart, and I think it appeals to a wide audience."
Actor Stark Sands revealed that he's a fan of Green Day's music and insisted that the show stays true to the album's message. "Even if I wasn't in this," he said, "I'd be so excited to go see it."
"American Idiot" begins previews at the St. James Theatre on March 24 and opens April 20.