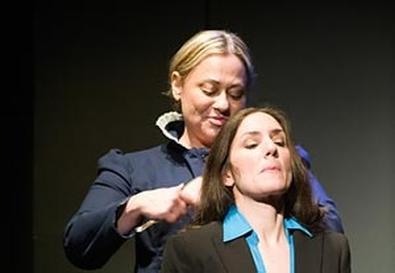 Short on plot and long on bloated, preachy monologues, Jackie Ruggiero Jacobson's "American Mud" is nonetheless a provocative, intelligent play, hurriedly directed by Jose Aviles and well-acted by Anjoli Santiago, Marjorie Goldman, and Jacobson.
The episodic work concerns the tribulations of three modern archetypal females: Adamaris, the world's first cloned woman and a 2012 U.S. presidential candidate; Charlotte, a young, idealistic Everywoman who is campaigning for Adamaris; and the historical suffragist Susan B. Anthony, who nurtures the clone and serves as both conscience and foil for her and Charlotte.
Jacobson's play feels born of honest frustrations derived from the disturbing experiences women are still subject to on a daily basis, as well as their ongoing struggles to find their voices, be fulfilled, and make a difference in today's seemingly postfeminist society. Though rich in thoughtful political commentary, the text is delivered so rapidly that its penetrating points don't always fully resonate.
Presented by Straw Flower Productions as part of the New York International Fringe Festival at the IATI Theater, 64 E. Fourth St., NYC. Aug. 20–27. Remaining performances: Sun., Aug. 21, 8 p.m.; Mon., Aug. 22, 6:15 p.m.; Thu., Aug. 25, 3:45 p.m.; Fri., Aug. 26, 4:15 p.m.; Sat. Aug 27, 7 p.m. (866) 468-7619 or www.fringenyc.org.