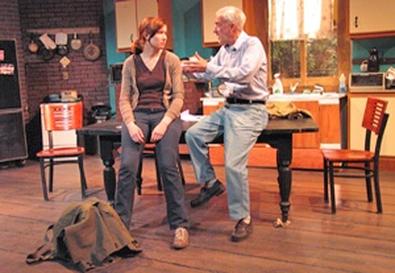 Should you have missed out on family fireworks over the holidays, "American Soldiers" offers a poor alternative: five unlikable characters yelling at one another for two hours.
Returning war vet Angela (Kate Reilly) has a plan. She's going to move from her Long Island home and take her younger sister, Marie (Julia Giolzetti), and her bartending former boyfriend, Hutch (Nick Coleman), to the middle of nowhere in Colorado, because she hates the hypocrisy and traditional values of her hometown. But Angela's Vietnam vet father (Stu Richel) and her older brother, Carlo (Tom Pilutik), a politician, want her to stay. Not because they particularly like her, but because they don't want the family to break up.
In Matt Morillo's play, which he also directs, there's little reason to root for this family. Angela retains the infuriating calmness of a cult member throughout everyone's arguments against leaving. Marie is more interested in clubbing in New York City than anything else. Carlo is a self-righteous prig who starts bombarding Angela with his dreams of political power for her as soon as she walks through the door. This is not a loving but unraveling family; it's a collection of opposing viewpoints cultivated for the sake of explosive family drama. But without a likable character, the proposed dramatic fireworks fizzle out quickly.
Only Richel and Coleman give comfortable, relaxed performances, making Morillo's sometimes didactic dialogue sound natural. Pilutik, never quite sure of what to do with his body, settles for gesturing from the elbows down while bellowing, and Giolzetti is simply at a loss with her superfluous character. Reilly can't quite transform herself into the fiery, wounded heroine the play needs. With her thin, untrained voice, Reilly's Angela seems more like a wayward daughter fighting for a later curfew than a war vet who is fighting for her chance at a happy life outside of suburban confines. In the end, her story of anger and disillusionment is as generic as Morillo's title.

Presented by Nick Coleman, Matt Morillo, Tom Pilutik, and Theater for the New City at Theater for the New City, 155 First Ave., NYC. Jan. 14–31. Thu.–Sat., 8 p.m.; Sun., 3 p.m. (212) 868-4444 or www.smarttix.com.