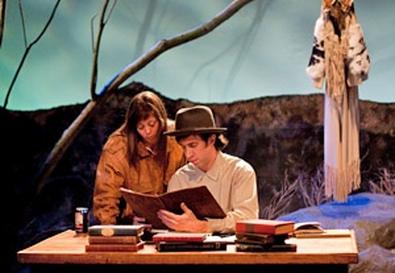 There's a good play buried inside "American Treasure," some kind of riposte to consumers of Dan Brown–style historical adventure stories and continued misappropriations of Native American history. Sadly, whatever is brilliant about Julia Jarcho's newest play is unrecoverable beneath mazelike dialogue and the production's misfired pacing and film-noir parody.
To properly punch a hole in the slick history-is-a-code-to-be-cracked veneer of films like "National Treasure," one would need to play up the fun while exposing the veneer. Instead, Jarcho obfuscates her adventure story, hiding her plot points in a thick haze of innuendo as though she's worried her audience might follow along and have a good time. As a result, the central caper of "American Treasure," which involves an immortal Native American named Hauntuss living in a Smithsonian diorama and a spate of scalpings by an insane taxidermist named Cooper, is next to impossible to follow. It may be Jarcho's intention to suggest that certain mysteries are not meant to be solved, but an audience needs to understand what needs solving in the first place.
The problem is exacerbated in performance, in which Jarcho, who also directs, has her central characters—a "history detective" and his client, a take-no-prisoners daughter of the Wild West—deliver their lines with a rapid-fire deadpan that is forced rather than farcical. Two actors take on all the play's characters, but Aaron Landsman refuses to change his style from one figure to the next. Jenny Seastone Stern does better, particularly as the overcaffeinated bookstore manager Cynthia, but it's not enough to rescue the evening.
The strongest moments happen upstage on a mockup of a desert scene in which a reborn John Smith engages with the beautiful Hauntuss. Here the pace slows, and one can hear a writer teasing out the way language barriers produce love as well as limit it and questioning whether history is really about who gets to tell whose story. The real question in these scenes is whether certain stories should be told in the first place. That would've been a good play. I wish I'd seen it.
Presented by 13P at the Paradise Factory, 64 E. Fourth St., NYC. Nov. 29–Dec. 12. Wed., Thu., Sat., and Sun., 8:30 p.m.; Sat., 7:30 and 10 p.m. (212) 352-3101, (866) 811-4111, www.theatermania.com, or www.americantreasuretheplay.com.