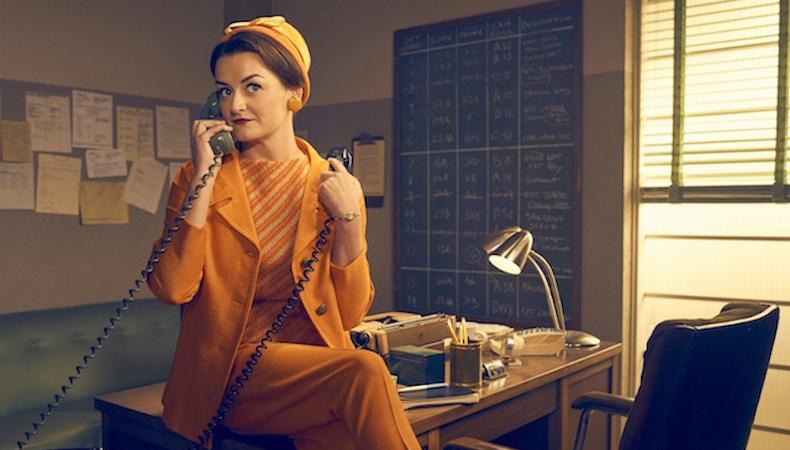 It wasn't long ago that British transplant Alison Wright was waiting tables, training at the Lee Strasberg Theatre and Film Institute and the Barrow Group, and making the audition rounds in New York City. Then her small-screen debut came along with "The Americans" in 2013, and the rest is history. This year alone has seen her co-star in Amazon's "Sneaky Pete" and FX's "Feud"—plus she's making her Broadway debut this month in Pulitzer Prize winner Lynn Nottage's new play "Sweat."
Wright stopped by the Backstage offices March 9 to discuss her late-blooming successes, booking her first feature film through Backstage, and working for the long haul. Catch four takeaways below, and watch the whole video on our Facebook page!
She landed a gig opposite Scarlett Johansson through Backstage.
"I actually booked my first big job from Backstage—back in the day when it was a paper, not a magazine! I ended up having three weeks of work on the big-budget film 'The Nanny Diaries.' That was a direct submission through Backstage without having any representation at all. It was major."
READ: 7 Tips for a Better Headshot
When it comes to headshots, she says, 'Let your freak flag fly.'
"I was under some weird illusion that my headshot should fool people into thinking I was better [or] prettier than I actually was. Let me relieve any readers.... Your headshot needs to look like you, just you exactly as you are. That's it—you're enough. Casting directors want real people, authenticity. They are casting roles across the spectrum that reflect society. Women don't have to conform to that slice of agreeable, attractive, sexual object. It will be detrimental to your sanity to present some fantasy version of yourself. Girls, I guarantee [that] you're enough just exactly as you are. Let your freak flag fly."
'The Americans' was her first time on a TV set.
"[Your first time on set], you just hope for the best and hope no one can tell that you don't know what you're talking about. It's just like, OK, turn the ears up to a million percent because I'm not going to know the expressions. You know, they're telling me to wipe the lens. I'm like, 'Am I supposed to? I'll clean it! What does that mean?' [There are] all these things that you just don't know until you know. You just try to pick it up as you go and not mess up and be a million percent prepared. You're not going to know until you're there."
READ: How to Get a Show on FX
She's proof that 'everybody's path is different.'
"If there's something else that you want to do and something else that you're good at, go do that instead [of acting] because that will infinitely be easier than whatever this is. If you want to do this career, you may have to do something else for 10, 15 years. You may have to have your day job for more than a decade, like I did. Certain people might get a break right out of their conservatory, and for somebody else, it might take years and years. Margo Martindale, who I'm a great fan of and who I've worked with on two TV shows now—she got her first Emmy at 60. Everybody's path is different. Really, it's just about getting as good as you possibly can at the craft. Put in the work and someone will find you."
Want to break out on Broadway? Check out our Broadway audition listings!