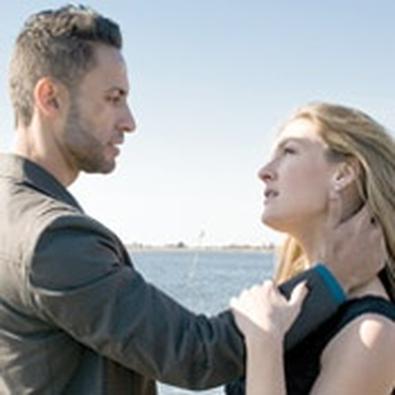 In 2006, actor BethAnn Bonner had minimal television acting experience, and she had never seen a soap opera in her life. Yet after some cajoling by a friend, Bonner arrived at the Los Angeles cattle call for the third season of Soapnet's I Wanna Be a Soap Star, a reality show that pits 10 actors in competition for a contract role on One Life to Live.
Said Bonner, "I told my friend I'm not going to audition for this: This is reality television, a). B) It's reality television on something I know nothing about."
To her amazement, Bonner emerged as a finalist from among thousands of wannabe soap stars and contended on the program for about two weeks. She ultimately lost, but she got to meet with One Life to Live executive producer Frank Valentini at the final taping. A few emails and phone calls later, Bonner was flown to New York for a screen test and was given a contract role. "I think he knew from the beginning he wanted me to be this love interest for the Latino heartthrob on the show," Bonner said. "I was just at the right place at the right time."
A reality show may not be the traditional way to land a role, but from NBC's Grease: You're the One That I Want! to an upcoming Canadian version of the BBC's How Do You Solve a Problem Like Maria? to MTV's Legally Blonde: The Search for the New Elle Woods, actors, producers, and casting directors are facing the proliferation -- and in some cases the legitimization -- of a new avenue of opportunity.
Reality casting shows entered the TV landscape in 2006 when composer Andrew Lloyd Webber created How Do You Solve a Problem Like Maria?, a competition for the role of Maria von Trapp in a West End production of The Sound of Music. The process, not unlike that of American Idol, began with a nationwide casting call that narrowed thousands of hopefuls to 10 finalists, who were then eliminated one by one in a public vote. The show attracted some 6 million viewers per episode and was nominated for a BAFTA Award.
The success of Maria inspired Lloyd Webber to create two more BBC casting shows: Any Dream Will Do, to cast the lead in a revival of Joseph and the Amazing Technicolor Dreamcoat, and I'd Do Anything, to cast the leads in Oliver!. Lloyd Webber's shows also inspired Grease: You're the One That I Want!, which helped the current Broadway revival of Grease rake in $14.2 million in advance ticket sales.
The Reality of Reality
For novice TV actors like Bonner, a reality casting show is a rare opportunity. Unlike most TV series, which hold auditions by appointment with represented actors in New York and Los Angeles, reality shows hold nationwide auditions open to anyone. "I would say that only 2 percent of people auditioning in the open cattle call were actors," said Bonner. "The rest were crazy people from L.A. who wanted their five minutes of fame."
Manager Phil Brock, owner of Studio Talent Group in Los Angeles, is not opposed to casting through reality shows, but he believes that their burgeoning popularity could be detrimental to professional actors. "Any form of exposure is a great thing," he said, "but I think every professional actor would rather be on a scripted program than on a reality show." Brock's clients are mostly seasoned actors, though some have appeared on reality programs. "As a talent manager I say, 'Great!' " he said of reality show open calls. "But from the perspective of a traditional actor, it's tougher if you see a Joe Actor coming up from the plains in Illinois and walking off with the lead that you've studied for for six years."
The new casting format initially caused alarm for Tara Rubin, casting director of such Broadway shows as Spamalot, Jersey Boys, and The Little Mermaid. In 2006, Rubin spoke out against casting via reality shows in a Back Stage article, saying, "To reduce that process to something that takes place with cell phones on television, to subject that process to people who don't give notes in an encouraging or artistic way.... It seems that as a country we've come to love watching a person be humiliated on national television. That doesn't have anything to do with anything I've done in 20 years in an audition room."
Now Rubin acknowledges that the format seems "here to stay for a while," and though she still prefers the intimacy of traditional auditions, she has opened her mind to reality-show casting, particularly when professionals are involved. Some of her colleagues, such as Lloyd Webber's CD David Grindrod, who was a judge on the original Maria show, play an integral role in these programs, despite their leaving the ultimate decision to the public. (The winner of Soap Star has been decided by industry judges, but the upcoming Season 5 will incorporate public voting.) "I like the idea that experienced and qualified professionals are participating," said Rubin. "It lends these shows some integrity."
But Rubin still has reservations because reality shows are focused on producing good TV, not good theatre. "The producer wants to ensure that the series itself has its own drama and excitement that has nothing to do with the conventional process," she said.
According to Bonner, the producers of Soap Star created high-stress situations for the contestants in the interest of drama. For nearly her entire stay on the show, she was sequestered with nine other actors in a small room with bunk beds. By night, the contestants would memorize scripts, which deprived them of sleep; by day, they would audition under adverse conditions, such as extreme heat, while facing elimination. "It was awful," she said. "I think smart reality television shows have a formula for high drama."
Mass Appeal
Ken Davenport, a producer of Off-Broadway's Altar Boyz, takes a tough-love approach to actors facing the challenges of casting via reality show. "Actors have always had to work hard and make sacrifices," he said. "In the end, you're either talented or you're not." In fact, Davenport would welcome an Altar Boyz reality casting show, if someone offered to produce it. "In a sense, reality TV shows have become the best casting directors for certain types of productions," he said. "They have more money and more resources and more reach than anyone they can hire here. Would I do it for a high drama? No. Would I do it for Grease and Altar Boyz? Yes."
Davenport feels that many industry professionals are bound by a kind of elitism. Even the voting method, besides being a ratings driver, is a populist exercise. "The ones doing the voting are the ones buying the tickets, so it's very important to see who they're paying attention to," he said. "We're often very snobbish and don't want to resort to anything commercially driven, but then you think that reaching out and finding fresh, undiscovered talent is kind of the American dream."
The goal of Legally Blonde: The Search for the New Elle Woods, scheduled to debut on MTV June 2, is to find a Broadway-caliber star for the lead role in the musical Legally Blonde. The program, now in postproduction, began with a nationwide casting call in January for women under 30. According to Amanda Lipitz, a producer of the Broadway show and executive producer of the reality show, the MTV program will differ from other reality casting shows. Instead of being a performance showcase like American Idol, the series will follow 10 female actors on their search for a real Broadway career. "The whole audition process was very real," said Lipitz. "I think America has a real hunger for what goes on behind the curtain."
For producers like Lipitz and Davenport, the financial incentive is no secret. Broadway is a $5.1 billion industry, according to the League of American Theatres and Producers, and 65 percent of ticket buyers come from outside New York City. Lipitz expects the reality show to cause a multimillion-dollar spike in Legally Blonde's Broadway revenue, as Broadway does not have the impact on millions of Americans the way MTV does. "Right now, a Broadway show is something that we go to and leave and don't think about anymore," she said. "But people in Middle America will hear the word Broadway over and over, and they'll see that their favorite star from MTV is on Broadway and they'll buy tickets."
Bonner, who now has an active fan base, said she would not do another reality show unless the accommodations were pristine. But she does not regret the unconventional way she seized her breakthrough role. "I don't feel like I'm a sellout at all," she said. "Who am I to judge reality TV if it got me where I am?"
Andrew Salomon contributed to this report.
Halley Bondy can be reached at halley.bondy@nielsen.com.