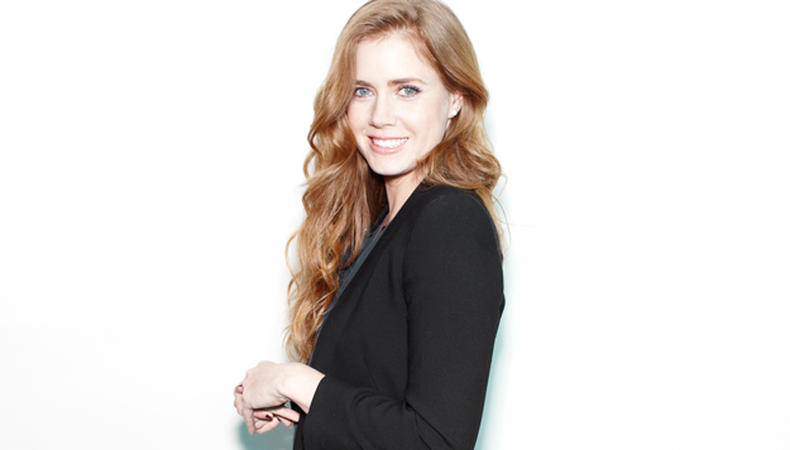 Amy Adams is caught off-guard when told she's been named Backstage's performer of the year. Seated in a hotel suite on a rainy morning, Adams appears flattered but a bit shocked. She offers up other suggestions, such as her co-star in "The Master," Philip Seymour Hoffman.
"He does stage and movies," she says. "Shouldn't Philip get it, like, every year?"
As anyone who has worked with her will tell you, Adams is notoriously modest, even after a year that kicked off with her critical and box office smash "The Muppets" still in theaters, saw her return to the stage after an absence of more than a decade in a bold new production in New York of "Into the Woods," and ended with her appearing in three prominent films—"Trouble With the Curve," "The Master," and "On the Road." Not bad for an actor who says, "I don't consider myself an intellectual, so to get to work with artists I consider pure genius is so flattering."
So how does the three-time Oscar nominee view herself? "A full-on, try-hard nerd!" she says with a laugh. "I'm very gregarious and out there." Still, "The Master" director Paul Thomas Anderson didn't hesitate to cast her as Peggy Dodd, the steely and decidedly non-gregarious wife of cult leader Lancaster Dodd (Hoffman), who raises objections to her husband's friendship with WWII veteran Freddie Quell (Joaquin Phoenix). Saying it was a "simple choice," Anderson adds, "Amy can do no wrong by me. She's one of our new greats. I'm very happy she said yes."
Adams says the decision to do "The Master," which is earning her buzz for a fourth Oscar nod, was also an easy choice for her. "The script came to me, and I sat down with Paul to talk about it," she says. "I trusted Paul's vision, always. I just wanted to talk it out with him and hear his ideas." The film was made under a shroud of secrecy, with many people speculating it was not-so-loosely based on Scientology founder L. Ron Hubbard. But Adams, who is probably tired of the question, dismisses such talk. "It's not a film about Scientology," she says. "It's a movie about relationships and these two men. I think it deals a lot more with post-traumatic stress than any one religion."
Though Adams is most associated with sunny characters—including an actual Disney princess in "Enchanted"—the actor says she is continually looking to challenge herself. To that end, she appeared as the Baker's Wife in the Public Theater's ambitious Shakespeare in the Park production of Stephen Sondheim's "Into the Woods" in Central Park. Adams, who got her start singing and dancing in dinner theater in Minnesota, hadn't been onstage since a small community theater production of "Crimes of the Heart" when she first moved to Los Angeles.
"I'd been auditioning and auditioning, and I just felt I needed a challenge and wanted to develop a character from beginning to end," Adams recalls about doing stage work in L.A. "I got what I wanted; I didn't want anything out of it except the experience of doing it. I think a lot of people in L.A. do theater as a showcase and end up disappointed when it doesn't lead to work. Any time you are doing something for an unforeseen result, you'll be disappointed."
Shortly after "Crimes of the Heart," Adams went on to book her breakthrough roles in "Catch Me If You Can" and "Junebug." Her dream had always been to sing on Broadway, but though she was in the final round of callbacks for the stage adaptation of "The Wedding Singer," Adams did not get the part. "They weren't sure my voice was strong enough for eight shows a week—and it probably wasn't," she says. But it ended up being a blessing in disguise. "Had I got that part, I wouldn't have been available for 'Enchanted,' " she says. Her performance as Princess Giselle in that film made Adams an A-list star. Broadway would have to wait, as hit films—"Doubt," "Julie & Julia," "The Fighter"—followed in rapid succession.
So the limited three-month run of "Into the Woods"—a show she adores—was a good fit for Adams' busy schedule. "I had such a reverence for the original," she says. "I knew this would be different, though. Physically and visually, my take on the Baker's Wife was different. It was a big presentation—the wig and the costume and environment informed so much. And she was a little goofy because I'm goofy." Adams says the experience was a singular one in many ways. "I learned in the process I tend to be a much more reactive actor, as opposed to an active actor. And the Baker's Wife needs to drive the scene, so that was a great challenge for me."
Though the show and Adams garnered mostly positive reviews, with Entertainment Weekly calling it "once-upon-a-lifetime theater," there were dissenters—particularly the New York Times' Ben Brantley, whose take on the production Adams found out about while in the park with her daughter. "My kid was playing with some other kids, and I got to talking with the parents," she says. "They didn't know who I was and asked what I was doing in town. I said I was working at the Delacorte Theater, and they said, 'Oh I hear the lighting's good.' And I said, 'What?' And they said, 'The New York Times review, that's basically all they liked.' And I thought, I have to go read this review. It's a good thing I'm thicker-skinned from living in L.A.—that would have been a really harsh reality."
Following that review, Adams says she "took an Internet break" and is just now finding her way back online. Ultimately, the review didn't matter. "We were full every night with so much positive energy," she says. "And theater is a wonderful team sport; my favorite part was working with that cast, knowing we were all in this together. Again, I got what I wanted out of it."
After her flurry of films this fall, Adams won't be back onscreen until next June, when she'll appear as Lois Lane in the Superman reboot "Man of Steel." "I never would have imagined I would play Lois Lane, though I used to pretend to be her," Adams says. "It wasn't that I wanted to be a reporter; I just loved her spunk and how she seemed smarter than everybody else." In February she will shoot David O. Russell's currently untitled drama about the ABSCAM scandal of the early 1980s opposite Christian Bale, Bradley Cooper, and Jeremy Renner. Russell, who directed Bale and Adams in "The Fighter," has nothing but praise for his leading lady. "Amy has an extraordinary fierceness and connection that comes right from her heart and her soul out of her eyes," he says. "Any time you see her step into a scene, she's right there, all of her emotions. Even though she'll say she's intimidated to do something, she is fearless. I can't wait to be working with her again; I think she's going to do things we haven't seen her do before, which is exciting."
After that, the performer of a very busy year says she hopes to get some time off. "I think I need to assert a break for myself," she says. "Which is a very lovely problem to have as an actor."