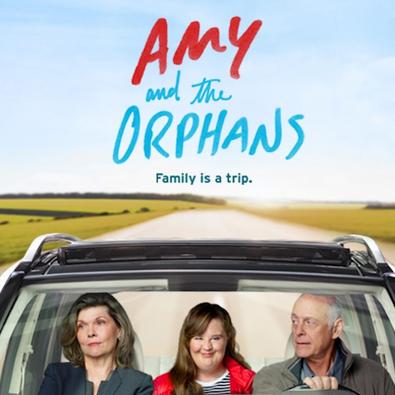 At a recent Wednesday matinee of Off-Broadway's "Amy and the Orphans," high school students joined audience members with special needs or disabilities for what's called a "relaxed performance." The lights went down—but not completely. And together, they saw history being made.
At a relaxed performance, audiences can move around in the theater and even talk back or make sounds, allowing people of all abilities to be exposed to live theater.
Lindsey Ferrentino's "Amy and the Orphans" stars Jamie Brewer, who has Down syndrome. The play marks the first time an actor with the disability has starred in an Off-Broadway production. Additionally, Brewer has also been nominated for a Drama Desk Award for her role in the play—another first for an actor with Down syndrome. Based on Ferrentino's own growing up with an aunt who had Down syndrome, the show was written for Brewer.
Brewer, who has starred in multiple seasons of "American Horror Story" (Adelaide 'Addie' Langdon) as well as modeled, had done community theater at the Dionysus Theater in Texas. But this play, directed by Scott Ellis, has been an opportunity to up her game as an actor. "It feels amazing and also very humbling and exciting," she says.
The road to bring actors to this level of professional theater has been a long one, says Brewer's agent, Gail Williamson of Kazarian/Measures/Ruskin & Associates.
Known as the "Hollywood Down syndrome Maven," Williamson specializes in representing actors with disabilities. "I always tell people, 'If anyone else wants to work with with you, let us know,' " Williamson says. She wishes, she adds, that every agency was inclusive to actors of all abilities.
READ: CSA Is Giving Actors With Disabilities Their Due
Children with Down syndrome get the earliest "acting" training, Williamson says. They often spend significant time in a therapist's waiting room, an experience similar to sitting in casting appointments and auditions. And then therapists teach them how to perform a task, and they rehearse over and over, sometimes while being filmed to document the progress.
Furthermore, there are some intrinsic qualities people with Down syndrome possess that naturally make them good actors, Williamson says, including directness and in-the-moment presence. "If you're willing to be flexible and work with them, they'll be such honest actors," she says.
Tony Award winner Debra Monk, who co-stars in the play, now running at Roundabout Theatre Company's Laura Pels Theatre, adds that audience members with Down syndrome see Brewer and her understudy Edward Barbanell as heroes. "Amy" is the first time Monk has starred opposite an actor with a disability, and she describes Brewer as "quite extraordinary," adding that, "She has no fear and so much confidence and joy." (She also notes that Brewer began rehearsals for the show already off-book.)
Examining the broader theater landscape, it would appear that more room is being made for inclusivity. This theater season, the Broadway revival of the play "Children of a Lesser God" stars both deaf and hearing actors. Katy Sullivan, who walks on thigh-high titanum legs, and Gregg Mozgala, who has Cerebral Palsy, are nominated for Lucille Lortel Awards for the Off-Broadway (and Pulitzer Prize-winning) play, "Cost of Living."
Still, professional theater has been slow to cast actors with disabilities such as Down syndrome. Williamson muses that it is perhaps due to fear that these actors won't be able to keep up or memorize lines. Additionally, when it comes to challenges faced by actors with disabilities, there are laws in place that keep people from pursuing the profession in order to maintain certain federal benefits. "Laws need to be amended so that actors are not kept at the poverty level," Williamson says.
But any progress is still progress. For a recent production of "Annie" at the Hollywood Bowl, casting agents asked Williamson to send tapes of young female actors with Down syndrome to audition. The ask alone was a big step, Williamson says, and one of the actors now has a call back.
As for her future onstage, Brewer says she would make a good Glinda in "Wicked" or Anna in "Frozen." Whatever roles are in store post-"Amy," she won't limit herself as, she insists, "I have the same voice as everybody else."
"Amy and the Orphans" is running through April 22.
Looking to get onstage? Check out Backstage's theater audition listings!